Final take: A sobering reality
As I made the rounds this week to speak in Kearney, Beatrice and Omaha, you could just sense the fear Husker fans had for the Ohio State game on Saturday.
Nebraska fans are smart. They know the type of talent Ohio State has, and they know what type of coach Urban Meyer is. They also watched what he did to the Huskers in both 2012 and 2016.
The Buckeyes were a 24.5 point favorite - the largest home spread against the Huskers in the modern era. When that number first hit on Sunday, I don't think people really wanted to believe it. It was a giant gut punch to start the week that came to a sobering reality on Saturday night as OSU walked off the field with a 56-14 victory.
Oho State outclassed, outcoached and outperformed Nebraska in nearly every aspect of the game. It's one thing to do that to UNLV or to a half full stadium of fans at Rutgers, it's a whole another thing to do it to a proud program like Nebraska in front of 89,346 fans who invest their entire fall to this football program.
"We've been fairly realistic about where this team appears to be overall and then week-to-week, as I've talked to you about that, and I didn't sense anything about them not getting ready, us not getting them ready, them not getting ready to really go after it," head coach Mike Riley said. "I think that we really just had a hard time, obviously, keeping up with what they were doing with the totality of their offense."
When University President Hank Bounds made the comment he wants to see Nebraska "compete" better on the football field, this was obviously not what he had in mind.
I think the thing that bothers Husker fans the most is this team has more talent than that. Nobody is saying NU is good enough to win the Big Ten in 2017, but they should be able to compete a level where they aren't giving up 633 yards, 41 first downs and 56 points at home.
There is too much pride and too much invested into this program for things to ever get out of hand like that.
"I'm still amazed by our fans, especially today," quarterback Tanner Lee said. "They are a big reason we work hard. We want to play well for them. We didn't do it today, so that's tough and that hurts us, but it'll give us motivation for this next week and the week after."
So what will next week bring? There's a chance we could learn a big piece to the future, as many think a new Athletic Director could be named over the bye week.
All I know is this football team has five games remaining, and you could argue the Huskers will be an underdog in at least three or four of them.
"I have a ton of faith in the guys we have in the locker room," senior linebacker Chris Weber said. "What we've been through – spring ball and summer conditioning – we can finish the season strong, we can be a resilient group that can change the narrative. I really believe that."
Now on to the breakdown...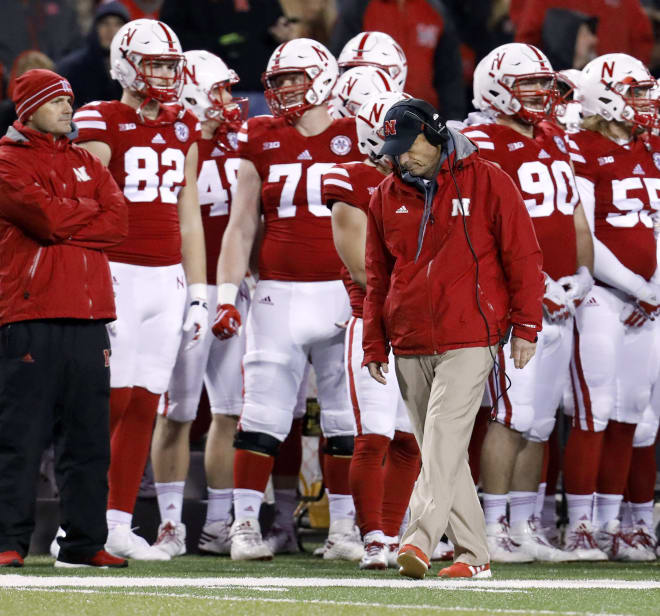 What I saw on Saturday 
***When your kicker makes one of the best tackles of the night that tells you what type of game it was for Nebraska.
***A total of only five players talked for Nebraska after Saturday's game. That's probably the smallest number I can remember in a while, as there just wasn't much to say following this loss.
***I was surprised the staff initially started Mikale Wilbon over Devine Ozigbo. The way Ozigbo played the previously three weeks it's hard to tell people he hasn't been the best running back.
***Wide receiver Stanley Morgan Jr. was pretty beat up after Saturday's game. He had a hard time walking as he left the locker room area.

***Tanner Lee's failed Hail Mary attempt into the wind before halftime showed what kind of arm strength he really has. Very few quarterbacks could launch a ball 55 yards into a wind like we saw Saturday.
***Wide receiver JD Spielman continues to be one of the lone bright spots for this Nebraska offense. He's got a future in this program.
***When I saw Ohio State's linemen come out for warm-ups they looked like grown men. I knew they had elite talent, but seeing it in person on the field showed that even more.
***With the way the football season has turned, along with fall break on UNL's campus, Saturday may have been the smallest crowd I've ever seen in a Husker student section for a night game match-up like this.
The final grade out
Rushing offense: F
Nebraska's running game was a non-factor, especially early when they wanted to establish their offense. Running backs Devine Ozigbo and Mikale Wilbon combined for 27 yards on 12 carries. That is about as poor of a line as you'll ever see from Husker backs. When the longest run of the night came from back-up quarterback Patrick O'Brien, I think it kind of sums up the rushing offense in a nutshell.
Passing offense: C+
Really hard to be critical of quarterback Tanner Lee. He didn't make any bad decisions to hurt Nebraska and completed 23-of-38 passes for 303 yards and two touchdowns (obviously a lot of those yards came when things where out of hand). JD Spielman also was one of the lone bright spots with a school record 200 yards receiving on 11 catches.
Rushing defense: F

When Ohio State ran, they did whatever they wanted. Running back J.K. Dobbins had just five second half carries, but still finished with 106 yards on 12 carries. His 52 yard touchdown run set the tone for what type of day it was going to be for the Blackshirts. The Buckeyes finished with 279 yards on 47 carries.
Passing defense: F
Statistically quarterback J.T. Barrett played one of the best games against Nebraska in opponent history. He finished 27-of-33 for 325 yards and five touchdowns. Those numbers probably could've even been worse if not for a few pass interference penalties the Huskers committed to prevent big plays. Barrett had all day to throw, and not having Antonio Reed and Aaron Williams to start the game hurt, then losing Joshua Kalu made things that much worse in coverage.
Special teams: Incomplete
You could argue this was the one phase of the game Nebraska won on Saturday night. They got solid punting from Caleb Lightbourn, and forced Ohio State into a few kickoff miscues. Drew Brown also made a big open field tackle. However, it's also pretty bad Nebraska failed to force Ohio State into a single punt for the second year in a row. It really was a non-factor Saturday with the way the game played out.
Sean Callahan can be reached at sean@huskeronline.com and he can be heard each day at 6:45 am and 5:05 pm on Big Red Radio 1110 KFAB in Omaha during the football season. He can also be seen on KETV Channel 7 in Omaha during the fall and each week he appears on NET's Big Red Wrap-Up Tuesday's at 7 pm.