Final take: A season changing performance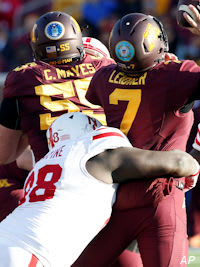 [rl]MINNEAPOLIS - To say a performance like Saturday was needed by the Nebraska would be the understatement of the century.
After losing four games this season where the Huskers either had the lead or were tied in the final minute, NU finally got the performance they've been searching for.
The underdog Huskers (3-4, 1-2) marched into Minneapolis with an army of Nebraska fans behind them and physically assaulted the Gophers (4-3, 1-2) for four quarters in route to a 48-25 victory. It was the most points allowed by the Gophers all season and the most they've given up as a defense since Oct. 1, 2011 -
Jerry Kill
's first season at Minnesota when they surrendered 58 points to Michigan.
"We are a group of kids that don't like losing," junior defensive end
Greg McMullen
said. "It hurts us knowing we are in the situation that we are in, but we are going to keep fighting every single game until the very last one against Iowa. We are fighters and that's what we are going to do.
"We are just happy to get back on track. Hopefully we can carry this to Northwestern next week at our place."
As you look at the Huskers upcoming stretch of Northwestern and Purdue, it all of a sudden looks very manageable - especially if they play like Saturday.
NU scored touchdowns and attempted field goals on seven of their first eight possessions and nine of 11 overall on Saturday.
The defense on the other side forced three turnovers and held the Gophers to just 65 yards rushing on 26 attempts. Minnesota's offense played desperate and out of their comfort zone, passing the ball 40 times on Saturday.
"This is big," senior cornerback
Jonathan Rose
said. "This is one of those 'you knock the dust off, and now you can get back to being the program you've always been known to be.' I feel like we were just in the hole and we kept digging ourselves deeper and deeper.
"Now we finally found a way to get out of this hole and get back to the top. I feel like this win will open the doors for us to finish the season on a high note."
After what has been a six week stretch full of questions, doubt and last second heart break, it was also nice on Saturday for the players to sit back and relax in the final minutes of the fourth quarter.
It was quite scene seeing head coach
Mike Riley
and his players celebrate with the 10,000+ Husker fans that made the trip to Minneapolis.
"It's just a great feeling to kind of almost be comfortable at the end and not be holding your breath the whole game," junior linebacker
Josh Banderas
said. "It just takes years off your life. It was good to finally take our anger out."
Now on to the post game breakdown….
What I saw on Saturday
***Nebraska only dressed 26 defensive players on Saturday, which really puts in perspective the lack of depth they are playing with right now. They went into the game knowing they could really only play three linebackers and six defensive linemen. Of their 70-man travel roster, 20 of the players came to NU originally as walk-ons.
***The game within the game was Minnesota started a freshman at center. Nebraska's defensive line feasted on the interior of the Gopher offensive line. They forced Minnesota to be one-dimensional.
***It was great to see linebacker
Josh Banderas
back in there making plays.
Mark Banker
said he brought a physical element to the middle they've been missing the last few weeks with the way he hit
Mitch Leidner
a few different times on Saturday.
***Offensive linemen
Ryne Reeves
and
Chongo Kondolo
executed their blocks perfectly on Saturday during
Terrell Newby
's 69 yard touchdown run to start the game. That was huge early to answer the Gophers opening scoring drive.
***The lack of penalties was also a big part of the success on Saturday. The Huskers had just 25 yards of penalties after averaging around 100 per game to start the season. It kept the offense in sync and in rhythm.
***After starting the game with a nine play, 75 yard scoring drive, Nebraska's defense settled in forcing a Gopher punt or turnover on six of their next seven possessions. Nebraska had scoring touchdown drives or field goal attempts on seven of their first eight possessions on Saturday.
The final grades
Rushing offense: B+
Nebraska started the game with a home run play from running back
Terrell Newby
for 69 yards. This was huge setting the tone for the day. Newby finished with 116 yards on 13 carries, and they got another 59 yards from the trio of
Andy Janovich
,
Devine Ozigbo
and
Imani Cross
.
Passing offense: A
Nebraska's receivers went up and made plays on Saturday.
Alonzo Moore
,
De'Mornay Pierson-El
,
Cethan Carter
and
Jordan Westerkamp
all showed up in a big way. This was a Gopher secondary that was considered one of the best in the Big Ten, and
Tommy Armstrong
carved them apart for 261 yards, and most importantly no interceptions. We also saw the value of Westerkamp and Pierson-El today for this offense.
Rushing defense: A+
This is the most dominating element of this football team. If Wisconsin and Minnesota can't run on Nebraska, I don't know who can. Quite simply you cannot run up the middle on the Huskers. The Gopher running backs had just 45 rushing yards on 16 carries and the long run of the day was just 14 yards. Minnesota's offensive line got owned up front.
Passing defense: C
Minnesota came into today's game with a throwing game plan and they had success early on.
Mitch Leidner
was efficient, completing 16-of-17 first half passes for 156 yards, but only got 14 points out of it. In the second half he was 10-of-23 and threw two interceptions. The Gophers converted only 2-of-8 second half third down plays and 3-of-10 over the final three quarters. It wasn't pretty, but the Huskers eventually settled in.
Special teams: B-
Sean Callahan can be reached at sean@huskeronline.com and he can be heard each day at 6:52 am and 5:05 pm on Big Red Radio 1110 KFAB in Omaha during the football season. He can also be seen on KETV Channel 7 TV in Omaha during the fall and each week he appears on NET's Big Red Wrap Tuesday's at 7 pm.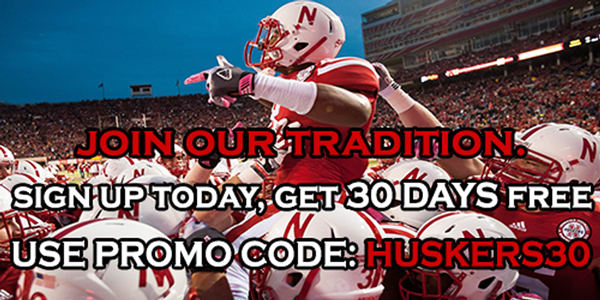 Click
Here
to view this Link.