Final Take: A Blackshirt performance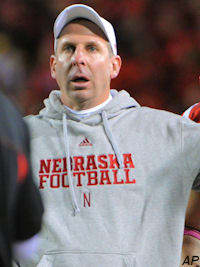 A week ago after Nebraska's 29-28 win over Northwestern head coach
Bo Pelini
tried to hand out the Blackshirts to his starting defense.
Normally players would gladly accept the coveted Blackshirts, but not this group.
They felt like the job wasn't done until they beat Michigan and slowed down another mobile quarterback in
Denard Robinson
. After holding the Wolverines to just 188 yards of offense and earning a crucial 23-9 Legends Division victory, it's good to know the Blackshirts are back.
"You know, I tried to give them to them last week and they didn't want them," Pelini said. "They said they didn't think they'd earned them yet, so that's how I feel about it. It shows the character of our kids and the type of standards that they have.
"They didn't want them last week. They said they hadn't earned them and we'll revisit it after the Michigan game. I think they earned them."
A year ago Pelini handed out the Blackshirts after NU's win over Michigan State, but the next week the Big Red laid an egg and lost at home against Northwestern.
Senior safety
P.J. Smith
said that wasn't going to happen this year.
"We felt like last year after we got our Blackshirts we went out the next game and did horrible," Smith said. "When they gave them out to us we decided we didn't deserve it. We shut down Michigan and now we deserve to get them. That was what we did and was our whole mind frame, to just shut them down."
With the win on Saturday Nebraska becomes the clear favorite to win the Legend's Division. However, a year ago they were in this same position after beating Michigan State and dropped two of their final four games in conference play.
Saturday was a nice win for the Huskers, but as we know nothing with this team is guaranteed and these next four weeks should be an adventure all the way to Indianapolis.
"Obviously, with the Big Ten standings, it was kind of a must-have. Not that it wasn't still possible to get to the Big Ten championship, but it was out of our control if we lost it," senior linebacker
Sean Fisher
said. "We kind of talked about how we wanted to control our own futures and winning tonight took us one step closer to that. Obviously, that doesn't seal any deals or anything like that. Now we just keep it up against Michigan State and just take it one step at a time."
What I saw on Saturday
***We've lost a lot of good men over the years asking Pelini "when he's going to hand out the Blackshirts." After the game I jumped on the grenade and asked Pelini that question and surprisingly he said he tried to hand them out last week. I thought it was pretty telling the defensive players refused to accept the Blackshirts until they beat Michigan. It was a cool scene seeing the players walking around with them following the win on Saturday night.
***It was a tale of two halves on Saturday. Michigan ran 40 plays compared to Nebraska's 24 in the first half, but the Wolverines ran only 24 plays to Nebraska 41 in the second half. In all Michigan had just 52 yards of total offense in the second half compared to Nebraska's 173. Michigan held the ball for 20:45 in the first half, while Nebraska had the ball for 19:09 in the second half, including 11:27 in the fourth quarter.
***You get the impression that senior
Sean Fisher
is starting to emerge as NU's top linebacker with redshirt freshman
David Santos
. Fisher finished with 7 tackles, including 2 tackles for loss, while Santos had 10 tackles and 1 TFL.
***Nebraska struggled to run the football inside at Michigan, but I like the adjustment made by
Tim Beck
to run more outside stretch plays in the fourth quarter. The Wolverines had a hard time stopping them and they got tired towards the end of the game.
***Clearly this game changed when Michigan quarterback
Denard Robinson
went out, but it wasn't like he was dominating the game before the injury. Yes Michigan would've been better off with Robinson, but I thought Nebraska had a good game plan to contain him and stop his designed runs for minimal to no gain.
***Tough blow to see redshirt freshman wide receiver
Taariq Allen
go down with what appears to be a season-ending injury.
***Nebraska went with junior
C.J. Zimmerer
at fullback on Saturday for most the way. Zimmerer did a good job of holding up and creating running lanes. Kind of surprised we haven't seen more of him this year.
***Tip your hat to senior kicker/punter
Brett Maher
. He played easily his best game of the year on Saturday. I really like the rugby style punts NU mixed in with Maher.
***Coming into the game you got the sense from Michigan's media members they didn't respect Nebraska's defense and they didn't think NU's offense could hold up against the Wolverine's defense. My guess is they'll leave Lincoln with some different thoughts about the Huskers.
***Two words Pelini doesn't want to hear: "driver's seat." After the game several people wanted to talk about how NU was in the "driver seat." Pelini wanted no part of that talk. With four game left on the schedule, I can see why. There's a lot of football left to play.
The final grades
Rushing offense: C+
Nebraska struggled to run the ball at times on this talented Michigan defense, but they were able to muster a second half scoring drive capped off by an Abdullah touchdown to put the game away.
Passing offense: B
I thought Martinez did a nice job of managing the tempo and flow of NU's passing game. Martinez didn't force balls that weren't there and he did an excellent job of looking off defenders and going through his progressions. His interception didn't end up hurting Nebraska.
Rushing defense: A
Even when Robinson was in the game, his longest run was just 7 yards. The Huskers completely shut down Michigan's running game, and coming into this game that's what they wanted to do. The Wolverines finished with just 95 yards rushing on 37 carries. Running back Fitz Toussaint had only 38 yards on 15 carries.
Passing defense: A
Michigan was 9-of-27 for 93 yards and threw three interceptions. The Wolverines had just one pass longer 20 yards. The Huskers did a great job of covering down field, but most importantly they took advantage of turnover opportunities.
Special teams: A
Nebraska needed to win this phase of the game on Saturday and I felt like they did. The return game was serviceable, but most importantly NU controlled field position. Maher was perfect on three field goals and averaged 42.2 yards on four punts. I like the rugby style punts NU mixed in with Maher as well. Michigan's longest kickoff return was only 26 yards.
Sean Callahan can be reached at sean@huskeronline.com and he can be heard each day at 6:50 am and 4:50 pm on Big Red Radio 1110 KFAB in Omaha during the football season. He can also be seen on KETV Channel 7 TV in Omaha during the fall and each week he appears on NET's Big Red Wrap Tuesday's at 7 pm.
[rl]