Final take: Survive and advance
I think Saturday was a good reminder that life in the Big Ten is never easy.
Even as a 21 point favorite against a struggling Illinois (1-3, 0-1) team, it took everything No. 15 ranked Nebraska (5-0, 2-0) had to finish off Lovie Smith's Illini squad 31-16.
It took an 18 play 75 yard drive that ate up 10:42 on the clock where Nebraska was bailed out by a horse collaring penalty on a third-and-12, a pass interference penalty on fourth-and-4 and a officials review of the spot on fourth-and-1.
It took shuffling in a little known walk-on named Cole Conrad on the offensive line, lining him up next to two other walk-ons Dylan Utter and Sam Hahn.
It took the adversity of losing wide receiver Jordan Westerkamp, tight end Cethan Carter and running back Devine Ozigbo to injuries and other guys stepping up in key moments for the Huskers to go on a 21 point scoring run in the fourth quarter.
"Did you all stay around for the fourth quarter? It didn't look like much up until then," head coach Mike Riley said following Saturday's win. "I'm really proud of this team because it was also pretty obvious that (Illinois) had the edge early. They were on top of it earlier than we were, they were making more plays and they were tackling well and making us miss.
"There was a lot of hard stuff, but I'm really pleased with our ability to stay in it and then play better and make big plays to win the game. That's great stuff. We obviously have a lot of work to do to improve those other things, but that part of it is a great quality to have."
A year ago these were the games Nebraska found ways to lose. The learning lessons from last season's 3-6 start continue to help this team in 2016. Nebraska is now 8-1 over their last 9 games since starting 3-6 under Riley.
Most of us assumed the Huskers would get to 7-0 this season without much of a challenge. Once again Saturday was a reminder by no means has Nebraska arrived.
This team has it's flaws, but they are finding ways to win and the senior leadership has stepped up in key moments. One of those guys was tight end Trey Foster, who's third down touchdown catch from Tommy Armstrong put the Huskers up 24-16.
"They are a good team. They are a good Big Ten team," Foster said of Illinois. "They've got a great defensive line that's going to give teams fits every single week. We respected them with that.
"We know we need to do things in the next couple of weeks where we aren't turning the ball over and finishing drives; but that's a good team and I give it to them."
Another one of those seniors that stepped up was running back Terrell Newby, who had 113 yards in the fourth quarter alone, to finish with 140 yards on 27 carries.
"I knew I had to kind of carry the load from there on when I saw Devine (Ozigbo) kind of go out with an injury," Newby said. "I accepted it and I did everything I could in my power to get the victory."
Now on to the breakdown....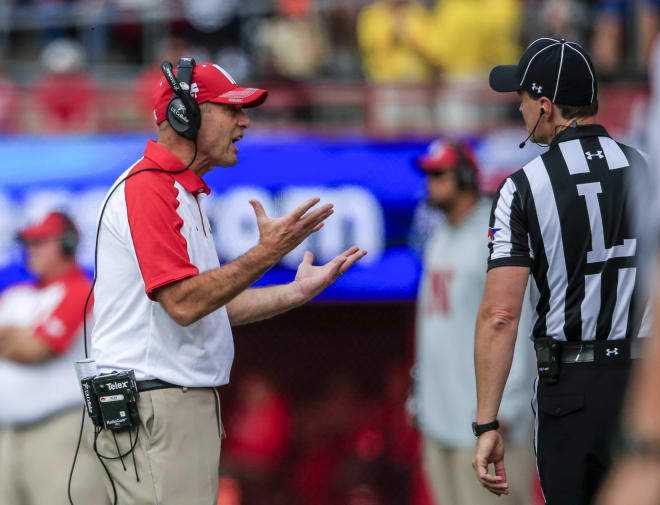 What I saw on Saturday 
***The bye week for Nebraska couldn't be coming at a better time, as the Huskers have several guys that will need these next 14 days to heal up for Indiana. It's a much better bye week draw than what the Huskers had a year ago - Week 12.
***Illinois's defensive line talent is for real. I was very impressed with what they did up front. They also took advantage of the Huskers situation on the offensive line.
***Evidently Lovie Smith still must think he's in the NFL. I was shocked by his decision to punt on fourth-and-2 in the fourth quarter considering how tired his defense was by that point.
***I thought the fact Nebraska went away from running Tommy Armstrong in this game was a sign of respect to Illinois's defensive line. They really shut down the zone read and option game for Nebraska.
***Of all the injuries on Saturday, the one that worries me the most is tight end Cethan Carter, who left with an ankle and elbow injury. The way he came down on his elbow did not look good.
***Evidently Bruce Read read the message boards this past week - let De'Mornay Pierson-El have some punt return opportunities. Pierson-El had three returns for 42 yards on Saturday. Before today the Huskers had just three returns the previous four games combined.
***With Carter out, it was great to see senior tight ends and Lincoln Southeast products Trey Foster and Sam Cotton both come down with huge third down catches. Those were big plays in the final outcome of this game.
***Turnovers are deadly. Today was another good reminder of what -2 in the turnover category can do. It made this a much closer game than it probably should've been.
The final grade out
Rushing offense: B-
Considering the circumstances Nebraska faced with their offensive line and the injury to sophomore running back Devine Ozigbo (ankle), the Huskers found a way to gut out 203 yards rushing, including 140 yards on 27 carries from senior Terrell Newby. Through three quarters the Huskers had just 89 rushing yards on 31 carries from the Illini. They had 114 yards on 18 carries in the fourth quarter to close the game. Their lack of running success was a big factor on why this game stayed so close.
Passing offense: B-
When it counted quarterback Tommy Armstrong made plays through the air. His interception before halftime was very costly, but his touchdown pass on third down to Trey Foster was one of the best throws he's made this season. On the day the Huskers were a combined 11-of-15 on third and fourth down conversions. Armstrong finished the day 16-of-23 with 220 yards. Brandon Reilly also dropped what looked like to be a touchdown pass over the middle.
Rushing defense: C
It was another shaky day for the rushing defense. Illinois averaged 5.9 yards a carry and had two different 31 yard runs, including their lone touchdown of the day. There were a lot of missed tackles and as safety Nate Gerry said, Illinois got a lot of "leaky" yardage in the run game that needs to be cleaned up over the bye week.
Passing defense: C+
Nebraska was able to get some pressure on Illinois quarterback Wes Lunt, but he did have some success throwing the ball over the middle, especially when Illinois went on their little 16 point scoring run over the second and third quarters. At the end of the game the passing defense really stepped up once it was obvious the Illini had to abandon the run game.
Special teams: B+
The only thing keeping me from giving special teams an A was the decision by Mike Riley to try a 56 yard field goal, which gave Illinois the ball on the 40 yard line and set up their first touchdown. Riley said after the game he'd like to have that decision over. Other than that, De'Mornay Pierson-El was excellent in the punt return game and the kick coverage was outstanding. Another fun fact from Saturday was the Huskers didn't attempt a single punt and they only faced one fourth down on the day.
Sean Callahan can be reached at sean@huskeronline.com and he can be heard each day at 6:45 am and 5:05 pm on Big Red Radio 1110 KFAB in Omaha during the football season. He can also be seen on KETV Channel 7 in Omaha during the fall and each week he appears on NET's Big Red Wrap-Up Tuesday's at 7 pm.