Ferguson details decision to flip to Nebraska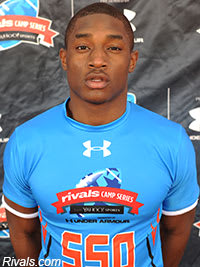 So when the 6-foot-2, 210-pound linebacker heard Riley had taken the job at Nebraska and Bray was going to follow, it was a no brainer that he was going to Nebraska too.
"It wasn't that I left the school because of the school, Oregon State is a great school" Ferguson said. "I mean, I went out there and visited just last week. But I didn't commit to Oregon State because of the school. I committed to Oregon State because of the people who were recruiting me like Coach Bray, Coach Brassfield, and Todd McShane. They are like family and I felt like they were going to take care of me and make sure that I get coached hard and make sure that I get the best education and make sure that I get better on the field every day.
"So when it all happened, when Mike Riley left (for Nebraska), I kind of thought that Coach Bray would leave because he's a real good coach and he's young. There wasn't any doubt in my mind that Coach Riley wouldn't take him so I told him, 'Wherever you go I'm going. If you decide to go to Nebraska, I'm going to go too.' So he already knew what the deal was when he called me on Saturday and said he was leaving. I told him as long as I was with him and with Mike Riley I'll be fine."
Ferguson said that his relationship with Bray began early last year and the young linebackers coach, along with Riley, separated themselves from others coaches from the get go.
"Coach Bray, when he recruited me he never let up," Ferguson said. "He always stayed on me to make sure I was alright, to make sure I was OK, and to make sure that my school work was done. He talked to me after every game asking how I had done and what I could do to get better. A lot of my recruiters didn't do that. Since day one he's been asking me those questions so he just made me feel more comfortable and more comfortable. He has always talked about making me a better person, a better man and our relationship just grew.
"So now, I was just feeling like I didn't want to play for anyone else. He and Mike Riley were like that. Riley was always talking to me and he'd take the time to (direct message) me asking if I was doing alright and a lot of people never do that. So that connection, I didn't want to start over with nobody else."
"I grew up with Glenn Irons since the third grade so we've been cool since we were youngins on the playground playing basketball," Ferguson said. "Jaevon, he's just been like a role model to me. He wore No. 7 last year and I took on his legacy this year and wore No. 7. I look up to him. I just met Jariah when I was in the 10th grade. He's a real cool dude. Anybody that went to Karr, we're considered brothers. So it really did influence my decision to go up (to Nebraska) because I knew that I have brothers up there."
Ferguson played primarily defensive end for Edna Karr this past season where he recorded at least 20 sacks on his way to being named District 9-4A Defensive MVP and will come to Lincoln as an outside linebacker. That accomplishment is impressive in its own right, but even more impressive considering this year was only his second year playing high school football.
"I was named (defensive) district MVP and I believe I'm in the running for all-state," Ferguson said. "So that's pretty neat. I finished with 20 or 21 sacks this year and I don't remember how many tackles. I made a whole lot of tackles, but I was just the 'sack-man'. Everybody looks at me and says, 'oh that's T-Ferg, all he does is get sacks.' So I was just coming off of that edge and getting sacks, but when I was making tackles they were usually for a loss."
Ferguson plans to take an official visit to Nebraska in January and will be playing in the Offense-Defense All-American game in Orlando, Fla. over winter break.