{{ timeAgo('2021-02-22 11:56:08 -0600') }}
basketball
Edit
Fastbreak: Huskers ready for rematch with Penn State
Nebraska head coach Fred Hoiberg met with local media on Monday to give a preview of Tuesday night's rematch against Penn State, which NU defeated for its lone Big Ten victory earlier this season.
Here is a full recap of what he had to say...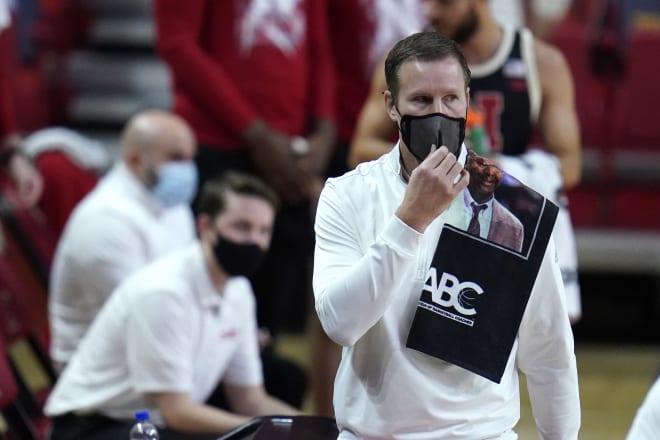 ***Hoiberg said, "as of right now," he planned to start the same five as usual against Penn State on Tuesday night.
He acknowledged that the Purdue game was not a good start but said the group of Dalano Banton, Trey McGowens, Teddy Allen, Lat Mayen, and Derrick Walker had been good to open games overall.
***That said, Hoiberg said the bench lineup of Thorir Thorbjarnarson, Shamiel Stevenson, Yvan Ouedraogo, and Kobe Webster would continue to see quality minutes together. He said he could pair McGowens or Banton with those four pretty well.
Hoiberg said he liked what he saw from that group vs. Purdue, specifically the ball movement, unselfishness, and willingness to make the extra pass to set up quality shots. He said that lineup played with really good confidence on both ends of the floor.
***Hoiberg said Nebraska had many good looks on shots against Purdue, and the Huskers missed some better looks than they made in the loss, especially in the first half.
***With all of the adversity NU has had to go through this season, Hoiberg was asked if he felt he'd gotten a fair evaluation of his team yet. He said NU had gone through many of the same issues as other teams, but few programs went through as many extremes as the Huskers.
"It's just one of those years where it is what it is, and you just have to make the most of the hand you're dealt," Hoiberg said.
***Hoiberg said Penn State was phenomenal last time out in its loss at Iowa on Sunday. Looking back on the first meeting with PSU, Hoiberg said Nebraska p[layed 32 good minutes but went cold down the stretch.
He said NU needed to play as close to 40 complete minutes as possible if it was going to get the same result on Tuesday night.
***Hoiberg said Nebraska took the day off on Sunday and got back to work on Monday and "got up and down a little bit." He said fatigue was still an issue for the Huskers, and it would likely be something he'd have to continue to manage for the rest of the season.
***Hoiberg said Derrick Walker had been a big part of Nebraska's success since the shutdown return, but conditioning was still an issue for Walker.
Hoiberg said Walker still got "pretty winded" after the first few minutes during games and has had to sub out right away. Hoiberg said Walker comes back with a strong second win in some games but hasn't in others.
***Hoiberg said he met with Walker on Monday morning and told him to focus on defending and rebounding and to "play as hard as you can for as long as you can" and come out when he needed a break.
***Hoiberg said Nebraska watched a film edit of the first Penn State game, focusing on both what the Huskers did well early and where they struggled late.
***Hoiberg said Nebraska's shooting struggles were partly due to fatigue, but the more significant issue has been confidence. The good news was he had been seeing guys like Thorbjarnarson, Stevenson, and Webster start to find their shots a little bit, and he hoped that would continue with more players the rest of the way.
***Hoiberg was visibly frustrated with Nebraska's inability to make free throws and layups all season, as it's changed the outcome of games.
Hoiberg said he was "challenge any team in the country to say they shoot more than we do" in practice. "That's pretty much all our practices are right now."
He said NU had been generating good looks all year, but they just hadn't been going down.
***Hoiberg said the top analytics he looked at after games and over the season were effective field goal percentages, shot distribution on both ends compared to what the game plan was going in, and shot attempts in the paint.
Hoiberg said he'd been stunned by how the Huskers had shot more free throws than opponents this season and still had only won one league game.