Farrar leaving Washington State, interested in Nebraska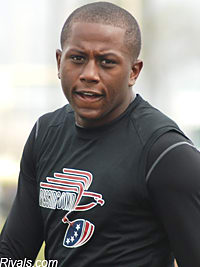 Nebraska could be in position to add redshirt freshman defensive back
Jeffery Farrar
whom has decided to transfer from Washington State.
Farrar has been given his release from the Cougars and informed HuskerOnline.com that he has a very real interest in continuing his education and playing career for the Huskers.
Farrar, a 2014 graduate out of Upland, Calif., originally committed to Virginia on August 7, 2013 prior to his senior season. He signed with the Cavaliers, but just before the beginning of fall camp the admissions department encouraged him to delay his enrollment and attend a prep school for a year.
Not wanting to go the prep school route, he ended up at Washington State which was one of the only programs he knew of with an available scholarship at the time.
"I committed to Virginia out of high school and the admissions people there wanted me to go to a prep school to become a better student," Farrar said. "Even though I was qualified to go to a Division I college she said that it was better for my future to become a better academic student first because they are a high academic school.
"So at that time (Washington State) was one of the only schools left that had a scholarship available."
Farrar arrived on campus midway through Washington State's fall camp and redshirted this past season. He says it was a personal decision to transfer and that he has had no off field or academic issues.
"I was just unhappy at Washington State," Farrar said. "It was a school that I didn't choose to go to out of high school. I was just really unhappy there at school and wanted to go somewhere that I'm comfortable and I feel at home."
Farrar says he is familiar with many of the Nebraska coaches from their time at Oregon State while he was going through the recruiting process. He's also close with a couple of current Huskers and likes what he has heard about the program from them.
"I'm familiar with some of the (Nebraska) coaches because they were at Oregon State," Farrar said. "I haven't directly spoken with any of the coaches there because they are trying to figure out the release, but I'm hoping to hear that they interested here soon.
"They recruited me out of high school and I spoke with their coaches before, but I don't think they recruited me that heavily because I had a lot of offers coming out of high school. So they probably kind of doubted that I would consider Oregon State.
"I know a couple of players there and they love it, they've only told me positive things. I know
De'Mornay Pierson-El
real well and I also know
Terrell Newby
. De'Mornay and I did the U.S. Army All-American Camp down in Texas and I was committed to Virginia and he is from Virginia so we just became close ever since then and he's doing really well out at Nebraska. I know Newby from my high school days.
"I just like the environment surrounding their program. They always fill their stadium and I like their mentality. Nebraska football is definitely big-time football. That's something that I would love to be a part of.
"So it would be a school that I would love to go visit then make a decision the next day or maybe even on the spot."
Farrar says he measured in at 6-foot-1, 205-pounds and clocked a 4.5 40-yard dash and had a 38-inch vertical in his most recent testing at Washington State. He had been primarily playing cornerback and nickel, but says he could see himself fitting in anywhere in the defensive backfield at his new school.
"I've been playing corner and nickel, but I could really play anywhere in the secondary, it doesn't really matter to me," Farrar said. "After I transfer to a Division I school and sit out a year I'll have three years left to play."
While Nebraska is where Farrar would like to land, he has also reached out to Wisconsin and is definitely interested in hearing from any other programs that may be in the market for a transfer at this point.
Although Farrar's future home is unknown at this point in time, Farrar says he'll be bringing the right work ethic and leadership qualities to the program.
"Any school that gets me is going to get a good guy," Farrar said. "Leadership-wise, I'm going to be doing the right thing. Even though I'll have to sit out a year I'll still be a leader all-around and be doing the right things. I just want to work on being an impact player somewhere."
As a senior at Upland High School, Farrar was named an All-Baseline League defensive back after recording 35 tackles and five interceptions. He helped to lead his team to the 2013 Baseline League title and a semifinal appearance in the CIF Southern Section playoffs.
Ranked as a 5.7 three-star recruit and he was considered the No. 36 overall athlete in the country, held over 15 offers and capped off his prep career as a Semper Fidelis All-American.

Click
Here
to view this Link.