Fan Day: All eyes on Bubba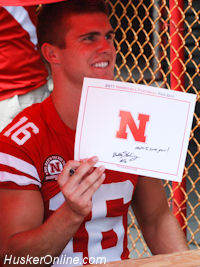 Even before the gates opened in Memorial Stadium for Fan Day on Friday there was a group of people huddled around the quarterback table waiting to catch their first glimpse of freshman quarterback
Bubba Starling
.
Friday's Fan Day sits exactly 10 days away from the Aug. 15 Major League Baseball signing deadline, which means the open autograph session inside Memorial Stadium could be the only glimpse Husker fans get of Starling in a Nebraska uniform.
Accompanying Starling in Lincoln on Friday were both his parents Jim and Debbie, along with his two sisters. All four of them were wearing Nebraska shirts and every indication was they loved their fan day experience.
You still have to ask yourself the question if Friday's Fan Day was just part of the of "negotiation game" Starling's advisors have told the family to play, or was it genuine?
Reports have surfaced that Starling's signing bonus number from the Royals could be anywhere in the neighborhood of $7 to $10 million.
Common speculation is Starling would be a fool to turn down that kind of money. However, just watching him on Friday talk with Husker fans and take pictures with young children you sure didn't walk away with the impression that being a Husker was out of the question.
There wasn't a more sought after autograph on Friday than Starling's at the quarterback table. Within minutes of when the doors opened at Memorial Stadium the line to get Starling's autograph was well over 100 yards long and stretched out into the tunnel of South Stadium.
For most players on the Nebraska football team their stance toward Starling and his future with the program is to just leave the entire topic alone.
"I talk to (Starling), but I'm not going to be the hundred millionth person to ask him about it," senior wide receiver
Brandon Kinnie
. "When he first got here we just talked and rapped with each other about life and little things� When he makes his choice, he makes it. It's his decision at the end of the day."
Meanwhile, while all the fan attention seemed to be focused towards Starling on Fan Day, let's not forget about sophomore quarterback
Taylor Martinez
.
All accounts are Martinez has done everything to take his game to the next level over the off-season. Friday marked the first time Martinez ever addressed the media on the sixth level of Memorial Stadium in the press box.
Martinez looked more comfortable than a year ago. He even admitted that it was difficult for him to be a leader of this football team last year as a redshirt freshman for a couple of different reasons.
No. 1, Martinez was still learning the offense and No. 2, with a veteran like Zac Lee in the program it was awkward at times for Martinez to want to take charge.
"I was the new kid on block and I was running scout team offense the year before that," Martinez said. "Coming in as a redshirt freshman I was pretty much playing quarterback for just three weeks.
"Zac (Lee) was pretty much the leader last year and it was hard to take the leadership role away from him."
Now there is no question about whom Nebraska's starting quarterback is. Martinez is running the show and he seemed much more comfortable as one of the leaders of this football team.
"I've been very anxious to get back ever since January and the spring, because I got reinjured in the spring," Martinez said. "I just can't wait for September 3."