Fall Camp Preview: Can Dedrick Mills be a 1,000 yard back in 2020?
As we approach the start of Fall Camp for Nebraska, we take an inside look at each position group for the Huskers.
Today we take a deep dive into the running back position, as NU will lean heavily on senior Dedrick Mills in 2020.
Other previews: QB
What we know right now: Mills will have to carry a big load in 2020
You can attribute the slow start for Dedrick Mills to several different things in 2019.
No. 1, Mills had never played in a shotgun-style offense over the course of his football career. The reads and cuts were new to him, and it took a while for him to get comfortable.
No. 2, early on during the season Maurice Washington was perceived as the better weapon at running back, and an effort was made to get him going. This never allowed Mills to get into a comfort zone.
No. 3, quarterback Adrian Martinez's struggles hurt the entire offense. NU's inability to operate efficiently as an offense took away opportunities from Mills. You could also pin this on the inconsistencies and struggles with the offensive line, and the perimeter blocking at wide receiver. 497 of Mills 733 yards rushing came after contract according to PFF.
All of that should be different in 2020 for Nebraska. Gone is Washington, and there's no doubt about who is NU's top running back this season.
The Huskers need Mills to carry the football for 20 carries a game and close to 1,000 yards - statistics will look much different in 2020 because of the shortened schedule and playing all Big Ten games.
The receiver play should also be better, along with the offensive line. All of this sets up nicely for Mills to have a breakout type season where he hopes to put himself in contention to play at the next level. When you look at the Big Ten as a whole, not one 1,000 yard rusher returns in the league. This too also sets up nicely for Mills to have a breakout season.
Key stats and number for 2020
2019 total snaps
| Player | Total snaps |
| --- | --- |
| Dedrick Mills - Sr. | 395 |
| Rahmir Johnson - RFr. | 53 |
| Brody Belt - So. | 16 |
2019 key numbers
Player
Carries/yards
Receptions/ yards
TD's
10+ yard runs
YAC

Dedrick Mills

144 carries

733 yards

15 catches

123 yards

10

25

497

Rahmir Johnson

21 carries

64 yards

1 catch

12 yards

1

1

51

Brody Belt

5 carries

32 yards

0 catches

0

1

22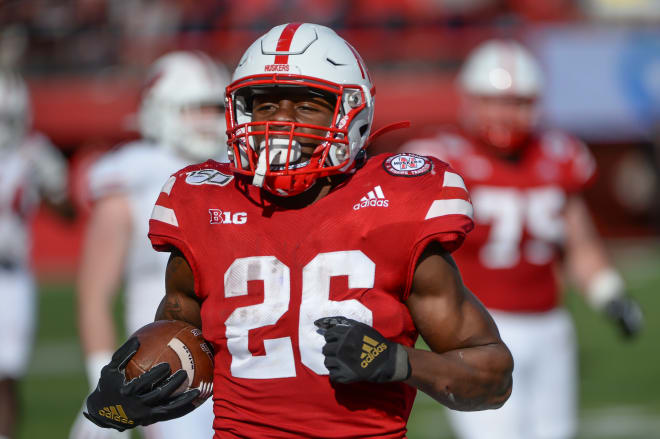 Biggest question: Who's No. 2 after Mills? 
Nobody has any idea what the running back position will look like after Mills in 2020.
There's always the possibility of Wan'Dale Robinson taking carries out of the backfield, but NU has been pretty adamant that will not be his role going forward.
NU will look more towards redshirt freshman Rahmir Johnson and true freshmen Marvin Scott and Sevion Morrison to win the No. 2 job behind Mills.
We got a taste of Johnson last year, but it was very difficult to walk away with very many strong takes with his 64 yards rushing on 21 carries. It was close to breaking a few big runs vs. Maryland but came up short.
Both Scott and Morrison also come to NU with very strong credentials.
It's about as talented of a duo the Huskers have signed at running back in a while. Both will get their shot, and the beauty of the four-game redshirt rule is you can get a feel for them before a decision has to be made on their future.

It would not surprise me at all if both Morrison and Scott burnt their redshirts. The biggest thing is the offense needs to play with better tempo and rack up more plays. A higher play count opens the door for the younger backs. There were only a few games last season where we saw that from the Husker offense.
Projected Fall Camp Depth Chart 
1 - Dedrick Mills, Sr.
2 - Rahmir Johnson, RFr.
OR Marvin Scott, Fr.
OR Sevion Morrison, Fr.
3 - Brody Belt, So.
OR Ronald Thompkins, RFr.