Desmond Bland commit: What does it mean for Nebraska?
Nebraska has added a big piece to its offensive line Friday as Desmond Bland committed to the Huskers.
The 6-foot-4, 300-pound offensive tackle out of Yuma (Ariz.) Arizona Western C.C. picked NU over offers from Arkansas, Arizona, Iowa State, Kansas State, Louisville, Missouri and UCF among others. He becomes the sixth known commit for Nebraska's 2019 recruiting class.
Here are some quick takes on what Bland's commitment means for Nebraska.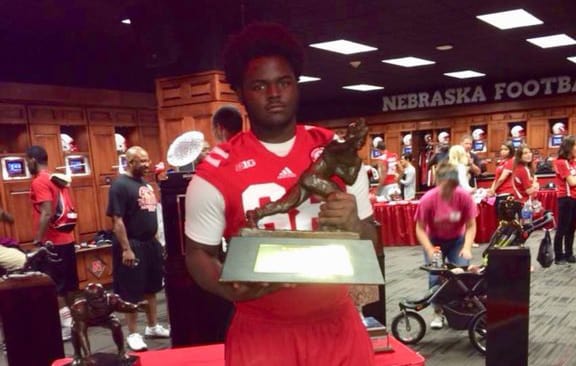 1. Nebraska has shown that they are not opposed to pulling talented players from the JUCO ranks that they feel can help their team immediately. They have been active in identifying their top JUCO targets this spring and they snagged their first one with Desmond Bland.
2. The Huskers have developed a nice little pipeline with Arizona Western C.C. since head coach Scott Frost was hired. NU added running back Greg Bell and wide receiver Jaron Woodyard from Arizona Western in its 2018 class. The addition of Bland will give Nebraska three former Matadors on their roster heading into the 2019 season.
3. Bland is very familiar with Nebraska. The Illinois native visited Lincoln prior to his junior year of high school for one of the Huskers' first ever Big Red Weekend recruiting events (pictured above) in 2014 under former head coach Bo Pelini.
4. Bland was a dominant offensive lineman coming out of Flossmoor (Ill.) Homewood Flossmoor High School in the class of 2016, but was unfortunately an academic causality. He signed with Arizona Western C.C. where he earned NJCAA First Team All-American honors (along with current Husker running back Greg Bell) as a true freshman. He redshirted last fall, but plans to play this season and is set to graduate in December where he will be a 2-for-2 transfer.
5. Versatility - Bland is an athletic lineman that could project as a tackle or as a guard once he gets to Nebraska. He started as a left tackle for Arizona Western as a true freshman - despite not having the prototypical height - and went on to become an All-American. Once he gets to Lincoln he could possibly fill some immediate needs at guard due to the graduation of seniors like Tanner Farmer and Jerald Foster or allow NU to shuffle things around at the tackle position.
6. Bland plays with great pad level and leverage. He has excellent knee bend, quick feet and heavy hands which help greatly with his pass protection abilities. Bland is extremely strong and once he latches on to a defender as a run blocker they generally end up on their back.
7. Bland plays with a nasty disposition on the football field and is a finisher. You have to admire his ability to pull as well as the effort he shows in getting down field to pick up more blocks for the ball carrier.
8. 2019 Nebraska commit breakdown
6/1/2018 - Desmond Bland - OT - 6-foot-4, 300 - Yuma, AZ (Flossmoor, Ill.) - 4 Stars
5/5/2018 - Rahmir Johnson - RB - 5-foot-10, 170 - Oradell, NJ - 4 Stars
4/9/2018 - Thomas Grayson - RB - 5-foot-11, 190 - Tulsa, OK - 2 Stars
3/5/2018 - Ethan Piper - DE - 6-foot-4, 280 - Norfolk, Neb. - 3 Stars
11/24/2017 - Garrett Snodgrass - ATH - 6-foot-3, 220 - York, Neb. - 3 Stars
6/24/2017 - Garrett Nelson - OLB - 6-foot-3, 236 - Scottsbluff, Neb. - 3 Stars
9. Commits by position
0 - Quarterback
2 - Running back
0 - Wide receiver
0 - Tight end
1 - Offensive linemen
0 - Defensive tackle
1 - Defensive end
1 - Outside linebacker
0 - Inside linebacker
0 - Safety
0 - Cornerback
1 - Athlete
0 - Special teams
10. Where are they from?
3 - Nebraska
1 - Illinois
1 - New Jersey
1 - Oklahoma