Defensive athlete Domann commits to Nebraska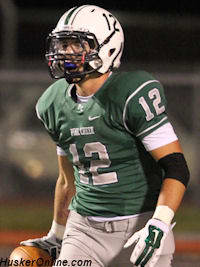 "I'm at a point where I've taken in everything from each school and I feel like I've chosen the best traits of where I could thrive the best on the football field and in the classroom," Domann said. "I'm so comfortable with (Nebraska) and that's very important. There is a family aspect to what they're doing there."
Domann said the Cornhuskers view him as a defensive athlete in a versatile role where he could slide around depending on the set. He was the state defensive player of the year as a junior last season and has shown the ability to cover from the safety position but also pursue ball carriers closer to the line of scrimmage.
The 6-foot-1, 208-pound prospect might take an official visit or two this fall, but he doesn't anticipate a change of heart in the future.
"I'm extremely comfortable with my school," Domann said. "I'm 100 percent committed and I'm all in. I'm ready to help them win championship."
Domann had 61 total tackles, including seven for a loss, to go along with seven interceptions last year. He also had 49 receptions for 797 yards and 10 touchdowns.