DE Neal reaffirms commitment to Nebraska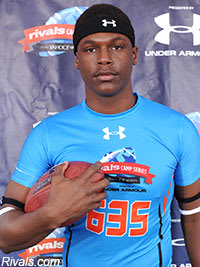 The last couple of months have been a wild ride for Omaha (Neb.) Central defensive end
Daishon Neal
.
The 6-foot-7, 245-pound Neal had been a solid commit to Nebraska since last April, but the floodgates opened up as teams started to come after him following the the coaching change that occurred in Lincoln, Neb. and Neal started to listen during the transition.
Neal took an official visit to Oklahoma a couple of weeks ago before following that up with his official to Nebraska this past weekend. Following his trip to Lincoln he announced that he was cancelling his upcoming official to Oregon and was no longer considering the Sooners.
Despite cutting out two schools, Neal added another yesterday as Michigan officially extended him an offer. However, the draw for playing for the Wolverines' new head coach and with friend and former NU defensive end commit
Reuben Jones
wasn't enough to sway him out of state. Neal announced his intentions on a local Omaha sports talk show
Sharp and Benning in the morning
on 1620TheZone.
"I will be taking my next four years to the University of Nebraska, Go Big Red," Neal said.
Neal said the main reason why he started listening to other schools in the first place was because he had a good relationship with the former coaching staff and wasn't sure who Nebraska would be hiring.
"During that process, I talked to my dad about, we thought about it that we should just open up my recruitment just to be on the safe side to see who was going to be coming," Neal said. "The only reason why I did not decommit right away was because my dad said, 'Just sit back. We're going to see who Nebraska brings in because they're not going to bring in some sorry coach.' So I was just waiting to see."
Neal said it was around that time that a lot of the other schools really started to reach out to him like Michigan, Oklahoma, Oregon, USC, UCLA and Notre Dame. From there, Neal wanted to only concentrate on a few schools and narrow it down to just one.
"When I got back (from my Oklahoma visit), I talked to my dad about it and I told him I wouldn't be going to Oklahoma," Neal said. "I didn't like the scheme. They run a 3-4 and they wanted me to be at like 310-pounds. I like to eat, but I don't want to be no heavy set guy.
"Then I went to Nebraska and had a good time. We had a good time with all of the other commits that just came in. I got to see Eric (Lee), Avery (Anderson), Aaron (Williams), and Dedrick (Young). I got to see some of the players that are already there playing. It just helped me a lot to decided that my family is here, my brotherhood is already in Lincoln.
"Then when Michigan came by they tried to do their best to recruit me."
Neal's father, Abraham Hoskins Jr., expanded further on Michigan's recruitment of his son.
"Well Michigan is a powerhouse," Hoskins Jr. said. "They came in and they stormed us, but they made one bad statement and it ruined them. He said, 'If it weren't for football DaiShon wouldn't be able to go to Michigan.' Like we couldn't afford to send him there or we couldn't get him there academically. Once he said that I pretty much escorted him out of the house."
So after several weeks of trying to sort through everything, Neal feels he's right back where he belongs.
"There's just no place like Nebraska so I had to stay home," Neal said.
Click
Here
to view this Link.