David Alston commit: What does it mean for Nebraska?
Nebraska added commitment No. 11 to its 2018 recruiting class Friday as Woodbury, Minn. outside linebacker David Alston announced his intentions via Twitter.
Here are some quick takes and analysis on what Alston's commitment means to the Huskers.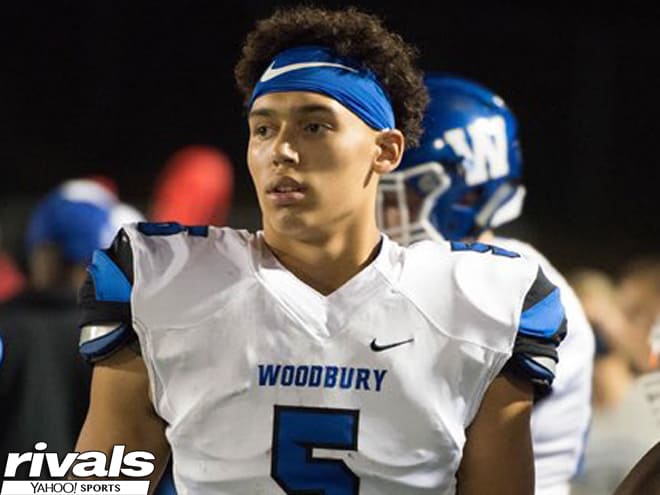 1. The Huskers break somewhat of a commitment drought as they landed the top overall player in the state of Minnesota for 2018 in Alston. Any time you can snag the top player from a state within your conference it is a very big deal.
2. Alston helps to fill a major need on Nebraska's roster. He plays most defensive in high school, but has been specifically recruited to play the CAT outside linebacker position for NU which will require him to cover people in space, but also rush the passer as a down or stand-up defensive end in certain packages.
3. Alston has a great frame to work with. He's a legit 6-foot-5 and is weighing around 215-pounds right now. He has the ability to fill out and carry more good weight going forward without losing and speed or explosion. He may even grow taller as his father is a very tall guy.
4. Nebraska is adding another athlete to the team that can rush the passer. That has been a weakness for the last few years and Alston should be someone that can come in and help give NU a boost in that area very early on in his career.
5. Nebraska is adding another big, long body to its defensive roster in Alston. He does a great job in using that length as a pass rusher getting separation from blockers as well as getting his hands up in the air to break up passes or screens.
6. Alston is a very smart individual both on and off of the football field. As a player, he reads and diagnoses plays very fast which allows him to be in position to make a big play a lot of the time. In the classroom, Alston is one of the top students at his school and will be a player that could possibly be someone that will be in position to become an Academic All-American at Nebraska.
7. Nebraska's recruiting success in the 500-mile radius continues with the addition of Alston. You've got to tip your hat to the job that linebacker coach Trent Bray did in recruiting Alston and his family and locking up a prospect that seems to be a great fit in pretty much everything that NU was looking for.
8. 2018 Nebraska commit breakdown
10/6/2017 - David Alston - OLB - 6-foot-5, 215 - Woodbury, Minn. - 3 Stars
8/7/2017 - Cameron Brown - WR - 6-fot-1, 175 - St. Louis, MO - 3 Stars
6/18/2017 - Joshua Moore - WR - 6-foot-3, 173- Yoakum, TX - 4 Stars
5/23/2017 - Mario Goodrich - ATH - 6-foot-2, 180 - Lee's Summit, MO - 4 Stars
5/2/2017 - Barret Pickering - K - 6-foot, 185 - Hoover, AL - NR
4/23/2017 - Chase Williams - CB - 6-foot-1, 175 - Corona, CA - 4 Stars
4/16/2017 - Tate Wildeman - DE - 6-foot-6, 245 - Parker, CO - 3 Stars
4/14/2017 - Brendan Radley-Hiles - CB - 5-10, 175 - Bradenton, FL - 4 Stars
4/8/2017 - Will Farniok - OL - 6-3, 260 - Sioux Falls, SD - 3 Stars
6/17/16 - Masry Mapieu - DT - 6-5, 290 - York, NE - 3 Stars
8/7/15 - Cameron Jurgens - TE - 6-3, 235 - Beatrice, NE - 4 Stars
9. Commits by position
0 - Quarterback
0 - Running back/fullback
2 - Wide receiver
1 - Tight end
1 - Offensive linemen
1 - Defensive tackle
1 - Defensive end
1 - Outside linebacker
0 - Safety
2 - Cornerback
1 - Athlete
1 - Special teams
10. Where are they from?
2 - California (Radley-Hiles counts towards California)
2 - Nebraska
2 - Missouri
1 - Alabama
1 - Colorado
1 - Minnesota
1 - Texas
1 - South Dakota