Confident Gophers priming for Big Ten title run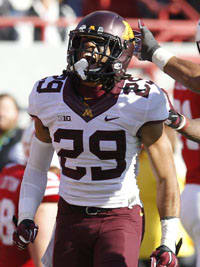 With spring practices finally all wrapping up around the country, HuskerOnline.com continues our look at where each of Nebraska's 12 opponents in 2015 currently stand coming out of spring ball and heading into the summer. Today, we check in on the Minnesota Golden Gophers, who will host the Huskers in Minneapolis on Oct. 17.
To get a feel for where the Gophers stand heading into their fifth season under head coach
Jerry Kill
, we spoke with
Ryan Burns
of GopherIllustrated.com to get his thoughts and perspective on the team and what to expect once the season gets underway in a few months.
Spring overview
It's been a long time since Minnesota football has felt as good entering spring practice as it did this year, as the Gophers are coming off an 8-5 campaign in 2014 (5-3 in Big Ten play) and a second-place finish in the West Division standings. All that optimism aside, though, the Gophers still have a lot of work to do in order to keep that success going on into 2015.
First and foremost, Minnesota must find ways to replace the loss of arguably its four best players from last season in running back David Cobb, tight end Maxx Williams, linebacker Damien Wilson and safety Cedric Thompson, all of which were selected in the first five rounds of the NFL Draft. The good news in UM returns quarterback
Mitch Leidner
, leading receiver
KJ Maye
and arguably one of the best secondaries in the conference and maybe the best the program has ever seen, according to Burns.
However, the Gophers still need someone to fill Cobb's bell cow shoes as well as develop a defensive front seven that will be capable of holding its own in the physical Big Ten. Also, UM has been experimenting with some no-huddle offense concepts for the first time under Kill, which should give the Gophers a much different look at times with the football.
Returning starters
The experience is certainly limited at tight end and receiver, though. After Maye, sophomore
Drew Wolitarsky
(10 catches for 106 yards in 2014) is likely the No. 2 option. At tight end, junior
Duke Anyanwu
is coming off a season-ending ACL injury he suffered last fall but appears to be the front runner to replace Williams.
Offensive star: QB Mitch Leidner
Regardless of how good Minnesota's secondary might be and whoever ends up filling those big voids on offense, few would argue that the ultimate determining factor in Minnesota's success this season will be under center with Leidner. After throwing for nearly 1,800 yards and 11 touchdowns and rushing for 10 more scores in 12 starts last season, the responsibilities will be on the junior's shoulders more than ever in 2015.
Leidner was fairly inconsistent during his sophomore campaign last year, and he didn't necessarily show much noticeable improvement in that regard this spring. If he can continue to groom his skills as a passer, the Gophers just might have an offense that can keep up with their stout defense.
Defensive star: The starting secondary
This was a first, but Burns didn't want to single out just one member of Minnesota's deep and talented secondary as the star player on defense. Instead, he opted to go with the entire starting defensive backfield, saying the group just might be the best Minnesota has ever had in its 100-plus year history. Burns predicts at least three of the four players will end up going on to play in the NFL next season.
Senior cornerbacks
Eric Murray
and
Briean Boddy-Calhoun
might have the highest ceiling among the starting four, but senior safeties
Antonio Johnson
and
Damarius Travis
are two of the best back end defensive players in the Big Ten in their own right. Together, the group recorded 24 pass breakups and nine interceptions, with five of those picks coming from Boddy-Calhoun, which tied for third all-time on the UM single-season list.
Spring surprise: RB Rodney Smith
There was obviously plenty of competition going on in Minnesota's backfield in trying to find Cobb's successor at running back, and one player who emerged as much as anyone over the course of spring ball was Smith. While the former two-star prospect might not have been as heralded coming out of high school as the four-star Jones or the three-star Williams, Smith still led the state of Georgia in rushing in 2013, and displayed a natural ability with the ball this spring.
At 5-11, 202, Smith showed he was physically capable of being an every-down back and certainly caught the attention of his coaches with his play practice as well as a strong showing in the spring game. He still has a lot of work to do before locking up the starting job, but Smith definitely put himself in great position going into fall camp.
Best spring position battle: Wide receiver
The competition at wide receiver this spring may have been the most intense of all, and that's because there are still so many unknowns surrounding a position that certainly wasn't a strength for the Gophers in 2014. After Maye, Wolitarsky is the next most experienced option, but he's been battling nagging injury issues.
That leaves three redshirt freshmen -
Melvin Holland Jr.
,
Isaiah Gentry
, and
Desmond Gant
- to provide the rest of the depth. Even though not much was settled in terms of how the depth chart at receiver will shake out for the season opener, the wide-open competition provided for some spirited practices within the unit, and that should only continue on into the fall.
Biggest question: Is Leidner ready?
For as good as Leidner was at times last season (like his career-high four touchdown passes in a 51-14 win over Iowa), consistency was his biggest issue (like his 12-of-30 passing day with three rushing yards in a 28-24 loss to Illinois). Minnesota needs to have the good Leidner show up week in and week out if it is going to take that next step as a program and compete for a West Division title this season.
The good news is that his experience should be a big help, as Burns said Leidner will be the Gophers' first upperclassman starting quarterback in maybe five years. Accuracy, decision making, sensing pressure in the pocket, not forcing passes and not taking bad sacks will be the main keys in his growth as a QB. As long as he can show at least some progress in each of those areas, Leidner could be in for a nice year.
Early outlook on Minnesota vs. Nebraska
Burns: "Well, I can tell you the Gopher players definitely remember the Nebraska game last year, and they know Nebraska is going to be a team they have to beat if they want to reach their goal of getting to that Big Ten Championship game for the first time. Ultimately I think it will be a close one. I know that the (UM) defense is going to be very good, and it's going to be interesting to see how this offense goes against you guys' Blackshirt defense after we lose Cobb, Maxx and a couple other playmakers. I think it will be a very close game. I know you guys are always well represented up here as well, so it'll be very interesting to see what happens. Maybe it's me being a homer, but I think this defense is going to be the best that this team has seen in a long time, so I think we can sneak one out at home."
Overall 2015 win-loss expectations
Burns: "Two things I know the fans and the team are expecting are they want to be in the Big Ten Championship game. They feel that they have a very good shot with Nebraska not having a great year and Wisconsin losing another head coach. The other is they really want to win a bowl game. They've been to three consecutive bowl games now, and Kill still hasn't won one yet. So if they can somehow reach the Big Ten Championship game and win a bowl game, that definitely would be a successful year."
Click
Here
to view this Link.
[rl]