Colorado vs. Nebraska: Keys to victory, HOL score predictions
After having their game canceled last week against Akron, the Nebraska football team will take on a much improved Colorado team that looked very impressive in their opener against Colorado State.
The Huskers and Buffalos will play four times over the next seven years in Lincoln and Boulder. Saturday is the first time Nebraska has faced a former Big 12 team since leaving the league after the 2010 season.

As things get closer to kickoff, here are today's keys to a Nebraska victory over Colorado. NU is currently a 4 point favorite over the Buffalos.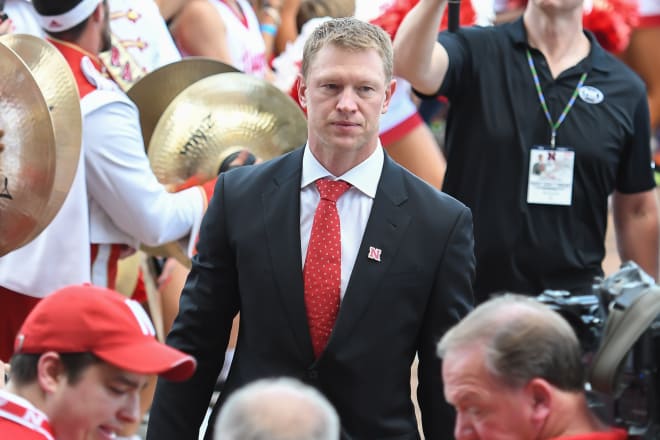 KEYS TO VICTORY: Colorado at Nebraska 
KEY 1: Start fast on offense
How much rust will the Huskers have out of the gates not having a football game last week? We are going to find out right away on Saturday. It will be important for the Husker offense to generate some early momentum to take the pressure off of their defense.
KEY 2: Tackling in space
Last week 22 of the 26 passes Colorado threw were 10 yards or less, and 17 of them were 5 yards or less. The Buffalos attacked Colorado State with a lot of short, quick-hitting throws that caused them to tackle in space. It will be important for Nebraska to use their physicality in the secondary and not let CU have as much success with their short passing game.
KEY 3: Pressuring Montez
Here's a stat to chew on from last week's Colorado game. Quarterback Steven Montez wasn't sacked, hit or hurried once on 27 pass plays according to Pro Football Focus. The Huskers need to find ways to get to him and not let him be as comfortable in the pocket.
KEY 4: Offensive balance
Offensive coordinator Troy Walters said on Wednesday NU can't let quarterback Adrian Martinez drop back 40 or 50 times on Saturday. With that said, the Huskers need to find the balance in their offense and utilize the depth they have at running back to rush for over 200 yards.
KEY 5: Don't get caught flat-footed on defense
Colorado will operate at a very high-tempo on offense. The good thing for the Huskers is they see that every day in practice. However, under live bullets, we still don't know what this group is going to look like. It will be important for NU to communicate and not get caught flat-footed on defense when the Buffalos operate with tempo. Also don't be afraid to burn a timeout if you don't think your group is set.
EXPERT TAKE: Colorado at Nebraska 
Sean Callahan - HuskerOnline Publisher
Nebraska is still a very hard team to read right now, but I think they can use that to their advantage on Saturday. I expect the Huskers to move the ball on the Buffaloes, but they still will struggle at times to match-up with CU's high-powered offensive attack. I'll take the Huskers in a shootout.
Nebraska 41, Colorado 31
##############################
Robin Washut - HuskerOnline Senior Writer
Even after last week's major letdown, I see Nebraska coming out ready to roll today. The problem is Colorado is operating at a very high level right now, so I expect the Buffaloes to go blow for blow with the Huskers. Nebraska's talent ultimately wins out, but CU is going to keep it interesting for a while.
Nebraska 48, Colorado 35
##############################
Nate Clouse - HuskerOnline Lead Recruiting Analyst
I can see Nebraska getting off to a bit of a slow start against Colorado before they work some first-game kinks out and Adrian Martinez gets settled in. While the Buffs may get out to an early lead, the Huskers grab some momentum behind a couple of big defensive plays aided by a loud Memorial Stadium and put up a late score to seal the win.
Nebraska 35, Colorado 31
##############################
Mike'l Severe - Omaha World Herald Bottom Line
This has all the indications of a shootout. My total was 58.5 for the game and the total is now up to 65. Colorado has several threats that the Blackshirts will have to slow down. CU allowed 37 sacks last season which could indicate a good day for the NU pass rush. How Adrian Martinez handles his first start will go a long way toward determining your winner.
I think CU makes a FG at the gun.
Colorado 36, Nebraska 34
##############################
Andy Kendeigh - KETV Channel 7 Sports Director
Which ever team runs it better will win. As a head coach, Scott Frost is 11-1 when his team outrushes its opponent. Nebraska has won 15 straight when winning the rushing battle. The committee of Husker running backs led by junior college transfer Greg Bell along with quarterback Adrian Martinez will run it best and the Cornhuskers will earn a win in Scott Frost's debut.
Nebraska 35, Colorado 28
HuskerOnline Week 2 Score Predictions 
Week 
Sean Callahan
Robin Washut
Nate Clouse
Mike'l Severe
Andy Kendeigh 

CU at Nebraska

41-31

Nebraska

48-35 Nebraska

35-31

Nebraska

36-34

Colorado

35-28

Nebraska

Iowa State at Iowa

27-20

Iowa

21-17

Iowa

24-17

Iowa

27-20

Iowa

17-10

Iowa

Duke at NW

34-27

NW

31-24

NW

28-20

NW

27-23

Duke

31-28

Duke

MSU at ASU

37-34

MSU

41-31

MSU

30-27

MSU

27-24

MSU

27-20

MSU

USC at Stanford

27-23

Stanford

28-27

USC

30-28

USC

34-32

Stanford

24-20

Stanford

Clemson at TAMU

41-31

Clemson

45-20

Clemson

28-13

Clemson

37-24

Clemson

37-21

Clemson
HuskerOnline Score Prediction Standings 
Expert Picker
Straight Up
vs. the Spread 
Cumulative Total 

Andy Kendeigh

KETV ABC-Omaha

4-1

3-2

7

Nate Clouse

HuskerOnline

3-2

2-3

5

Mike'l Severe

OWH Bottom Line

2-3

2-3

4

Sean Callahan

HuskerOnline

1-4

1-4

2

Robin Washut

HuskerOnline

1-4

0-5

1