Chryst, Riley share deep bond, even as rivals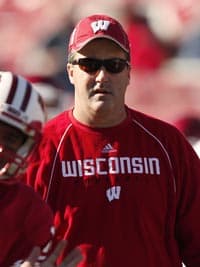 Back in 1991,
Mike Riley
took a chance on
Paul Chryst
and offered him a position on his coaching staff with the San Antonio Riders of the short-lived World League of American Football.
The job would only last two seasons, as the WLAF folded the very next year. But it was a gesture that Chryst would never forget.
Even today, as Riley and Chryst are now rival Big Ten coaches at Nebraska and Wisconsin, respectively, there is a bond between them that's been building for nearly 25 years that could never be broken by any result on the field.
"Mike has been a huge influence and has had a big impact on my coaching career, but really as a person too," Chryst said. "I'm looking forward to being able to see him more. He's been a big influence on my life."
Chryst and Riley's connection through football certainly didn't end with the WLAF, as the coaches worked together in some capacity for nine total seasons at three different levels of competition. After the San Antonio Riders, they reunited for two seasons in 1997-98 when Chryst joined Riley's staff at Oregon State as offensive coordinator and quarterbacks coach.
Chryst would later return to Corvallis as resume the same position from 2003-04. Sandwiched in between those stints, Chryst was Riley's tight ends coach with the San Diego Chargers from 1999-2001 (during which, coincidentally, Michigan head coach
Jim Harbaugh
was a quarterback for the Chargers).
During all those years of working together, Chryst said Riley not only taught him how to carry himself as a football coach, but also as a father and a person.
"It's everything," Chryst said. "I learned how, in coaching, ways to learn, ways to teach the game, ways to study the game. I was young and had just got married, and he was a great role model as a father to his kids in this profession. Here's a guy who's had a lot of success and could be judged from the outside world as a successful head coach, but also he showed you could do that and you didn't have to compromise who you were as a person.
"The list of things that I've learned from Mike go on and on."
Wisconsin athletic director and former NU player Barry Alvarez shares a similar fondness for Riley, and he thinks Nebraska made the perfect hire to both lead the Huskers and to represent the state.
"Mike will be a great fit," Alvarez said. "He's a good person. The people of Nebraska love their football. He'll be very open with them, and I think once they get to know him they're going to really enjoy him. He's a good football man, and they really enjoy that."
Chryst and Riley have kept in regular contact over the past two decades. For years they met every spring in San Antonio for four days to break down film of their respective teams and offer up advice and evaluations for one another.
Though they haven't talked as much since things got a little "crazy" for them this summer, Chryst said he's looking forward to beginning a new chapter on the field with Riley, this time as competitors.
"I've probably learned this as much from Mike as anyone, the game is never been about us," Chryst said. "I think we take coaching serious and we're fortunate to be coaching, but I also believe the game is played between the lines. Certainly you want to compete and you want to win, but our relationship goes a lot deeper than to where being rivals is going to get in the way of that."