Chris Hickman commitment: What does it mean for Nebraska?
Nebraska added a key recruit to its commitment list on Saturday as Chris Hickman announced his intentions to play for the Huskers.
The 6-foot-6, 205-pound tight end out of Omaha (Neb.) Burke had 14 offers to his name and picked NU over offers from the likes of Iowa, LSU, Oregon, Ole Miss, Wisconsin among others. Hickman becomes the 17th known commit for Nebraska's 2019 recruiting class.
Here are some quick takes on what Hickman's commitment means for Nebraska.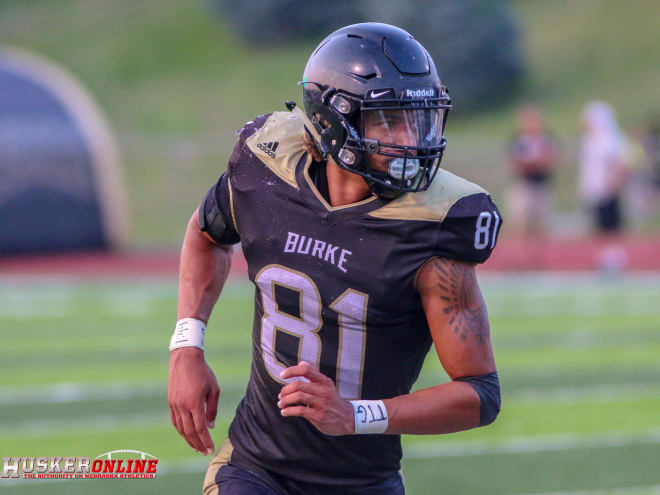 1. Every coach in the country talks about the need to lock down their borders and Nebraska coach Scott Frost was no different. When he was hired last December he stated how important it was to keep the best in-state kids at home whether it was as a scholarship or walk-on player. Well, so far the Huskers have done just that as Hickman's commitment means NU has secured a verbal pledge from every 2019 in-state player with an offer so far.
2. You have to tip your hat to inside linebackers coach Barrett Ruud for the job he has done with being the lead recruiter for all of the in-state players and especially for the job he did in recruiting Hickman and his teammate Nick Henrich. Less than six months ago it looked like both Hickman and Henrich would likely be leaving the state to play college football elsewhere. However, Ruud was relentless really made it be known just how much of a priority the Burke kids were to the Huskers.
3. This was another legit recruiting battle the Huskers won here. Often, it's just a matter of time until in-state recruits with offers from the Big Red announce their intention to stay home. That wasn't necessarily the case here. At one point or another, Hickman was looking at programs like Oregon, LSU, Ole Miss, Iowa, Wisconsin and TCU to name a few.
4. Hickman is a talented athlete that Nebraska likes on offense as a tight end. He automatically adds something a little bit different to the position room in terms of his combination of size and athleticism. His height and leaping ability make him a big target and his ability to run so well could make him a threat to stretch the field from the tight end position.
5. Hickman could also flex out from the tight end position and work out of the slot or even as a flanker. He has an extreme amount of versatility on the football field and, while Nebraska fans may not like to hear it, he reminds me so much of former in-state prospect and current Iowa standout tight end Noah Fant. The similarities between the two players as far as their size, build and athleticism is almost eerie.
6. Aside from having great height and the ability to run very well, Hickman also has the hands necessary to be a big-time threat as a tight end. He's also a physical player that isn't afraid to block and as he continues to fill out he will keep growing into a better blocker, too. Many times when you see a player that has the look of a hybrid wideout-tight end they aren't too keen on blocking. That's not the case with Hickman.
7. Not only does Hickman's commitment likely mean the Huskers can shut things down at the tight end position for 2019 if they want to, he will be on campus for the spring semester as an early enrollee. That means he will be able to get in the weight room with Zach Duval and set up with a nutrition plan with Dave Ellis and more than likely find a way to contribute very early on in his career.
8. 2019 Nebraska commit breakdown
9/15/2018 - Chris Hickman - TE - 6-foot-6, 205-pounds - Omaha, NE - 3 Stars
9/4/2018 - Dedrick Mills - RB - 6-foot, 200-pounds - Garden City, KS (Waycross, Ga.) - NR
8/6/2018 - Quinton Newsome - CB - 6-foot-2, 180 - Suwanee, GA - 3 Stars
8/5/2018 - Michael Lynn - OT - 6-foot-7, 280 - Greenwood Village, CO - 3 Stars
7/23/2018 - Mosai Newsom - DE - 6-foot-5, 260 - Waverly, IA - 3 Stars
7/21/2018 - Nick Henrich- LB - 6-foot-3, 210 - Omaha, NE - 3 Stars
7/19/2018 - Tony Fair - DT - 6-foot-3, 330 - Tucson, AZ (South Bend, Ind.) - NR
6/29/2018 - Jamie Nance - WR - 6-foot, 160 - Blanchard, OK - 3 Stars
6/22/2018 - Matthew Anderson - OL - 6-foot-7, 250 - Leesville, LA - NR
6/15/2018 - Ronald Thompkins - RB - 6-foot, 195 - Loganville, GA - 3 Stars
6/6/2018 - Jackson Hannah - LB - 6-foot-3, 234 - Nashville, TN - 4 Stars
6/4/2018 - Luke McCaffrey - QB - 6-foot-2, 180 - Highlands Ranch, CO - 3 Stars
6/1/2018 - Desmond Bland - OL - 6-foot-4, 300 - Yuma, AZ (Flossmoor, Ill.) - 4 Stars
5/5/2018 - Rahmir Johnson - RB - 5-foot-10, 170 - Oradell, NJ - 4 Stars
3/5/2018 - Ethan Piper - DE - 6-foot-4, 280 - Norfolk, Neb. - 3 Stars
11/24/2017 - Garrett Snodgrass - ATH - 6-foot-3, 220 - York, Neb. - 3 Stars
6/24/2017 - Garrett Nelson - OLB - 6-foot-3, 236 - Scottsbluff, Neb. - 3 Stars
9. Commits by position
1 - Quarterback
3 - Running back
1 - Wide receiver
1 - Tight end
3- Offensive linemen
1 - Defensive tackle
2 - Defensive end
1 - Outside linebacker
2 - Inside linebacker
0 - Safety
1 - Cornerback
1 - Athlete
0 - Special teams
10. Where are they from?
5 - Nebraska
3 - Georgia
2 - Colorado
1 - Iowa
1 - Illinois
1 - Indiana
1 - Louisiana
1 - New Jersey
1 - Oklahoma
1 - Tennessee