Cavanaugh talks about offensive line and the future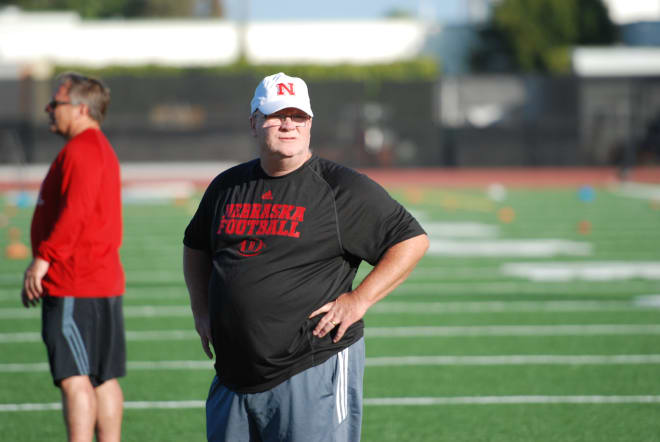 Perhaps no position group will lose more key players this off-season for Nebraska than their offensive line.
The Huskers graduate Alex Lewis, Ryne Reeves, Zach Sterup and Chongo Kondolo – four of their top six overall offensive linemen.
For offensive line coach Mike Cavanaugh he's already started to look ahead at putting together a new puzzle for 2016 in NU's bowl practices. When Cavanaugh talks about the future of the Husker offensive line his expectations are pretty high.
"There are some guys that really have to grow up and get stronger," Cavanaugh said. "I've told a lot of them 'you have to get serious.' I just looked at this: we haven't had an All-American (offensive lineman) here since 2001. So let's set our sights a hell of a lot higher.
"We've got to go to work and get a lot more serious and toughen up and all that other stuff."
The one position group that probably has the most questions on the offensive line is tackle. With Lewis gone, the Huskers only return four offensive tackles in 2016.
Redshirt freshman Nick Gates is a returning starter, but after that guys like sophomore David Knevel, junior Sam Hahn and freshman Christian Gaylord are the next guys in line.
Knevel is probably the most intriguing of that group because of his 6-foot-9, 310 pound frame.
"Knevel has all the tools," Cavanaugh said. "He's a real athletic guy. He's got all the tools that you want, but he has to get tougher and meaner and nastier and all those other things. He needs to have another great off-season in the weight room. But you talk about a guy that has everything you are looking for – great feet, he can bend his knees, he's a smart guy. I'm excited about him."
On paper today Knevel would probably be the projected starter, but the question is has he developed enough at NU the last three seasons? Can he take on that work load?
"You sure hope he would," Cavanaugh said when ask if Knevel knows the opportunity he has next season. "When you look around there's not a hell of a lot of tackles around here. We've got to work and get serious and get tough and get after it."
As the lone returning tackle with experience, Gates looks to take on more of a leadership role next season.
He's hoping some of the other tackles behind him can take that next step.
"They definitely have to step up to take the spot of Alex (Lewis)," Gates said of the tackle position next season. "Me and Dylan Utter will be the only ones next year that have starting experience, it will be a big thing next year to get those guys in."
Cavanaugh added the extra practice time, particularly early on in bowl preparations has been very beneficial.
"It's huge," Cavanaugh said of the extra bowl practice time. "We are all brand new and I have a certain way I like to teach technique, so you get a lot of time with the young guys. Mike (Riley) makes it an emphasis for us to work with what we call NYG – new young guys. It's a good thing to be able to work your craft."
Related HuskerOnline Links