Cameron Brown commit: What does it mean for Nebraska?
Nebraska added another commitment to its 2018 recruiting class Monday as St. Louis Christian Brothers wide receiver Cameron Brown announced he was going to be a Husker again.
Here are some quick takes and analysis on what Brown's commitment means to the Huskers.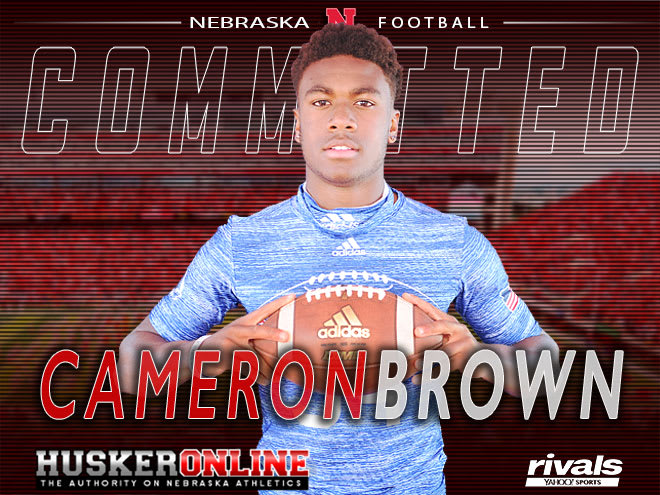 1. Brown was a big get for the Huskers the first time around in May and nothing has changed this with his commitment to NU in August. The fact Nebraska was able to secure his commitment twice is rare. Once is hard enough, but to do it again against some tough competition has to make it that much sweeter for NU's coaching staff.
2. Brown brings legit speed and play making ability to Nebraska's 2018 wide receiver class. He was the runner-up in the 100-meter dash at the Missouri state track meet with a time of 10.7. He also made it to the Under Armour illSpeed finals in Baltimore last spring.
3. Brown is a good route runner with excellent hands. He understands the nuances of playing the position better than most which makes him a nightmare for defenders to cover in high school and should certainly help him make the transition to college once he arrives in Lincoln.
4. Sometimes it can be easy for a player to be overshadowed by a teammate who is also an elite recruit. Brown still managed to put up ridiculous numbers as a junior even though Rivals100 wideout Kamryn Babb was always on the field as well. Brown had 1,023 yards and 11 touchdowns receiving as well as four interceptions as a junior at CBC.
5. Nebraska had success landing running Tre Bryant out of Christian Brothers high school a few years ago and know exactly what types of players come out of that program. Brown is a competitor on the field for CBC, has been a standout at nearly ever camp he's attended and is also a very good student.
6. Brown gives Nebraska another commitment out of Missouri in this class which was an important state for the Huskers to have success in. Maybe even more important than that is that the Huskers were able to get another St. Louis athlete committed to them which should help their cause in landing more down the road.
7. You've got to tip your hat to head coach Mike Riley and wide receivers coach Keith Williams in the way they recruited Brown. After he decommitted they could have gone a different direction, but they stayed after him and beat out the likes of Ohio State, Missouri, Georgia and Alabama once again for the impressive wideout.
8. 2018 Nebraska commit breakdown
8/7/2017 - Cameron Brown - WR - 6-fot-1, 175 - St. Louis, MO - 3 Stars
6/18/2017 - Joshua Moore - WR - 6-foot-3, 173- Yoakum, TX - 4 Stars
5/23/2017 - Mario Goodrich - ATH - 6-foot-2, 180 - Lee's Summit, MO - 4 Stars
5/2/2017 - Barret Pickering - K - 6-foot, 185 - Hoover, AL - NR
4/23/2017 - Chase Williams - CB - 6-foot-1, 175 - Corona, CA - 4 Stars
4/16/2017 - Tate Wildeman - DE - 6-foot-6, 245 - Parker, CO - 3 Stars
4/15/2017 - Manuel Allen - WR - 6-foot-1, 175 - Corona, CA - 4 Stars
4/14/2017 - Brendan Radley-Hiles - CB - 5-10, 175 - Bradenton, FL - 4 Stars
4/8/2017 - Will Farniok - OL - 6-3, 260 - Sioux Falls, SD - 3 Stars
6/17/16 - Masry Mapieu - DT - 6-5, 290 - York, NE - 3 Stars
8/7/15 - Cameron Jurgens - ATH - 6-3, 235 - Beatrice, NE - 4 Stars
9. Commits by position
0 - Quarterback
0 - Running back/fullback
3 - Wide receiver
0 - Tight end
1 - Offensive linemen
1 - Defensive tackle
1 - Defensive end
0 - Linebacker
0 - Safety
1 - Cornerback
3 - Athlete
1 - Special teams
10. Where are they from?
3 - California (Radley-Hiles counts towards California)
2 - Nebraska
2 - Missouri
1 - Alabama
1 - Colorado
1 - Texas
1 - South Dakota