C.J. Smith commit: What does it mean for Nebraska?
Nebraska added commitment No. 8 to its 2018 recruiting class Sunday evening as four-star defensive back C.J. Smith out of West Palm Beach (Fla.) Oxbridge Academy announced his decision following his official visit to Lincoln over the weekend.
Here are some quick takes and analysis on what Smith's commitment means to the Huskers.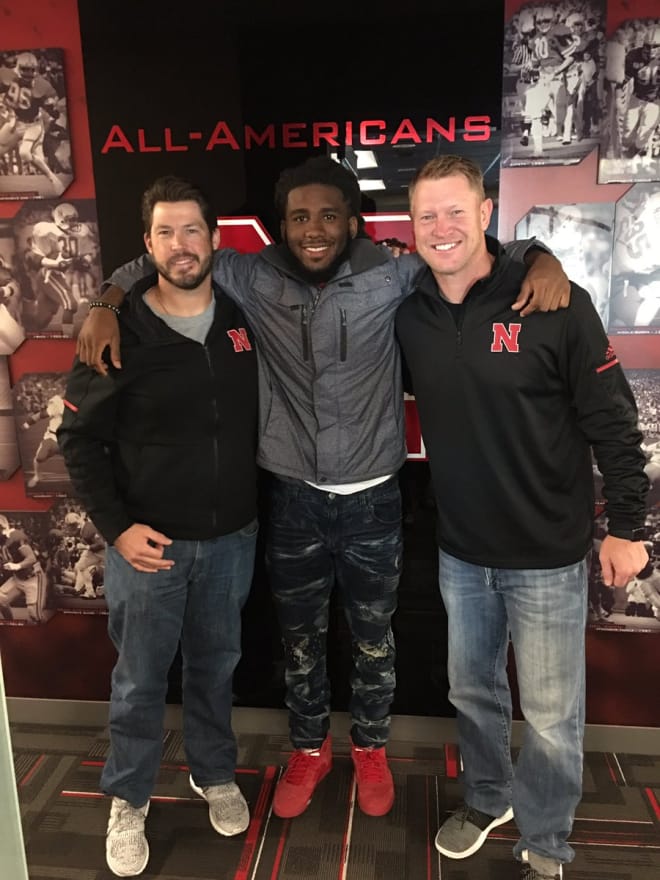 1. Nebraska broke a string of bad news on the recruiting front over the last several months by finally landing the first commitment of the Scott Frost era in C.J. Smith. Typically you'll see commitments come in waves under a new coaching staff and for NU's first one to come from a four-star prospect is a good sign.
2. One of the biggest needs in Nebraska's recruiting class is in the defensive backfield. NU has seen three highly ranked defensive backs decommit before the addition of Smith Sunday night. Smith will now be the cornerstone prospect in this class's secondary that needs to add at least three additional players to it.
3. Smith is a big safety prospect at 6-foot-3, 190-pounds that looks to have great length. He could project to play either free or strong safety and even played some nickel at times in his high school film. With his large frame, Smith could potentially even grow into a linebacker down the road.
4. Smith is a terrific athlete on the football field as he was a two-way standout on a team that ended up winning a state championship in the state of Florida. On film, Smith displays good ball skills and instincts on both sides of the football.
5. Smith is a fluid runner that covers a lot of ground quickly. His speed gives him great range in the defensive backfield to make plays on the football while it's in the air. He also shows the ability to get downhill to fill his fits against the run. Regardless of whether defending the run or pass, Smith shows he's a physical player that isn't afraid of contact.
6. Usually when a staff is going through a transition you'll see some reaches on the recruiting trail as they have a very limited amount of time to fill a recruiting class. That often leads to taking some players that you don't know much about. However, that will not be the case with Smith as Frost and his staff had been recruiting him at UCF and his older brother, Tre'Quan Smith, is a current wide receiver at Central Florida. So Frost and Co. know exactly what type of kid and player with are getting in C.J. Smith.
7. It was a given that the state of Florida was going to become an important area for Nebraska given Frost and his staff's connections in the area. To go out and land a four-star prospect that had previously been committed to the Gators and also taken an official visit to Oklahoma as their first commit from the state was big. It just might be an indicator that NU can become a player for more top-notch talent in the Sunshine State moving forward.
8. 2018 Nebraska commit breakdown
12/10/2017 - C.J. Smith - DB - 6-foot-3, 190 - West Palm Beach, Fla. - 4 Stars
10/6/2017 - David Alston - OLB - 6-foot-5, 215 - Woodbury, Minn. - 3 Stars
8/7/2017 - Cameron Brown - WR - 6-fot-1, 175 - St. Louis, MO - 3 Stars
5/2/2017 - Barret Pickering - K - 6-foot, 185 - Hoover, AL - 3 Stars

4/16/2017 - Tate Wildeman - DE - 6-foot-6, 245 - Parker, CO - 4 Stars

4/8/2017 - Will Farniok - OL - 6-3, 260 - Sioux Falls, SD - 3 Stars

6/17/16 - Masry Mapieu - DT - 6-5, 290 - York, NE - 3 Stars
8/7/15 - Cameron Jurgens - TE - 6-3, 235 - Beatrice, NE - 4 Stars
9. Commits by position
0 - Quarterback
0 - Running back/fullback
1 - Wide receiver
1 - Tight end
1 - Offensive linemen
1 - Defensive tackle
1 - Defensive end
1 - Outside linebacker
1 - Safety
0 - Corner back
0 - Athlete
1 - Special teams
10. Where are they from?
2 - Nebraska

1 - Missouri
1 - Alabama
1 - Colorado
1 - Florida
1 - Minnesota
1 - South Dakota