Bussey gives Huskers another 2015 commitment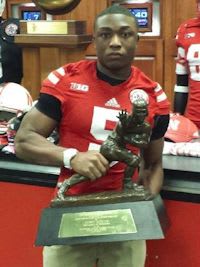 Nebraska's 2015 recruiting class got off to a bang on Saturday night.
The 5-foot-9, 195 pound Bussey committed shortly after Lee delivered the news to the Husker coaching staff.
"I just committed to Nebraska," Bussey told HuskerOnline.com. "I definitely knew it was a possibility, but after coming up here and seeing the school and talking to the coaches and the fact we have some fellow New Orleans kids coming up I just felt like this was right."
As a sophomore Bussey accounted for 1,382 yards of total offense and 26 touchdowns. He averaged 10.9 yards per carry on 79 attempts, finishing the year with 974 yards rushing and 18 touchdowns.
A number of things played a factor in his decision on Saturday.
"The hospitality is what stood out to me," Bussey said. "All the people in Nebraska were all behind the program. That really sold me. Just being able to come into this offense, which I think I fit in well, it just felt like the right place to be."
"From the weight room, to the locker room to the coaches offices and the academic support - everything was just wow. It was truly beautiful."
Bussey Sr. and Fisher played together at the University of Colorado, and that connection helped NU get an early foot in the door with the talented New Orleans running back.
"I knew that if I came up here Coach (Rich) Fisher would definitely take care of me," Bussey said. "Him and my dad had a past relationship. That definitely played a factor. He was my main recruiter, and coach Ron Brown was my secondary recruiter."
When comparing his game, Bussey said he has a very similar running style to Abdullah.
"Of course Nebraska is recruiting me as a running back and they talked about getting me the ball in space," Bussey said. "I see myself being much like Ameer Abdullah, their current running back."
[rl]

[rl]