Bryce Benhart commitment: What does it mean for Nebraska?
Nebraska added a monster piece, both literally and figuratively, to its 2019 recruiting class Sunday as Bryce Benhart announced his commitment to the Huskers.
The 6-foot-9, 300-pound offensive tackle, out of Lakeville (Minn.) North, had over a dozen offers to his name and picked NU over the likes of Wisconsin, Tennessee, Minnesota, Michigan, Notre Dame, Oklahoma, Oregon, and UCLA, among several others. Benhart becomes the 19th known commit for Nebraska's 2019 recruiting class.
Here are some quick takes on what Benhart's commitment means for Nebraska.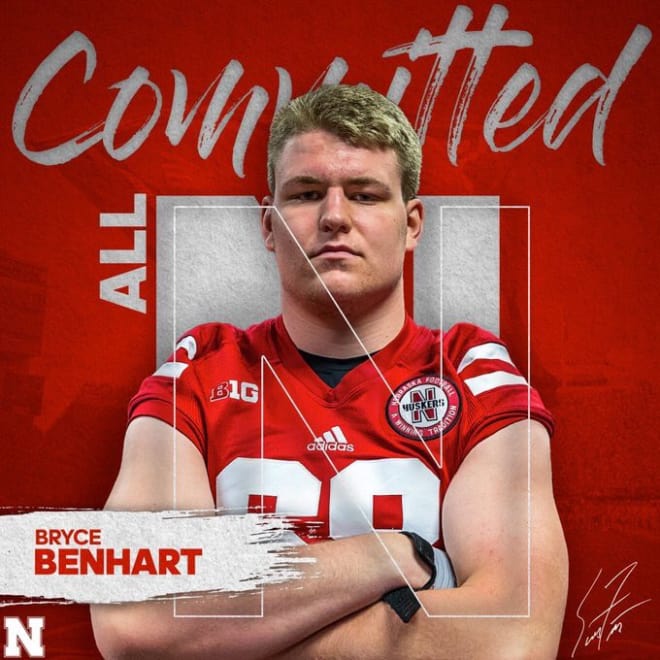 1. Tip your hat to Nebraska's coaching staff for being able to close with deal with Bryce Benhart. The competition for this elite level prospect was heavy, and the Huskers entered the picture a little later than what could be considered ideal because of the coaching change last year. However, they wasted no time in making sure Benhart knew he was a major priority for them. NU was able to get him on campus in the spring and twice this fall, and finally sealed the deal on Sunday.
2. Benhart was a player the Huskers absolutely had to get. The need for offensive linemen in the 2019 class is great, especially at the tackle position. NU had invested a lot of time and effort in making Benhart a target they could not afford to miss out on and they didn't. Landing Benhart now keeps the Huskers from searching for viable options down its high school offensive tackle board as the early signing period quickly approaches.
3. For as big as Benhart is, he is extremely athletic and surprisingly agile. He shows great flexibility and bend on film to go along with very good feet. You can tell that he's a wrestler by his feet, balance and how he plays with leverage. He spends very little time on the ground and, when he does, you can tell just how athletic he is by how easy he pops right back up. He's exactly what Nebraska is looking for in an offensive tackle. Someone that has dominant size, but yet is athletic enough to operate at the pace they ultimately want this offense to run at.
4. Benhart is extremely strong and, although he has an absolutely huge frame already, he's still got room for growth as he continues to physically develop. The best teams in the Big Ten have big, strong and athletic linemen, and Benhart fits that mold perfectly. It's no surprise most of the Big Ten's best wanted him badly.
5. Benhart is a winner and a major competitor. He comes from an extremely athletic and competitive family, so he doesn't know any other way than to compete at everything he does and win. His football team is currently 9-0 on the season and he's gunning for a state heavyweight title in wrestling. Offensive line coach Greg Austin has said he wants guys to compete at every single thing they do and that certainly describes Benhart.
6. Being able to play as a true freshman is a big deal to Benhart and he should absolutely get a chance to not only play, but possibly start as a true freshman at Nebraska. Landing a player as talented as Benhart should afford Nebraska a ton of flexibility along its offensive line now. I could see NU experimenting with sliding current right tackle Matt Farniok inside to guard and replacing him with Benhart next season. At the very least, the Huskers now have legitimate depth with Benhart in the fold.
7. The commitment of Benhart means 11 of Nebraska's 19 current commits hail from inside the 500-mile radius. I think that's exactly how you'd like to draw up most recruiting classes for the Huskers. Over half of the class comes from areas that are easily within driving distance and the rest are top-notch players you can cherry pick from across the country.
8. 2019 Nebraska commit breakdown
10/28/2018 - Bryce Benhart - OT - 6-foot-9, 300-pounds - Lakeville, MN - 3 Stars
10/25/2018 - Darien Chase - WR - 6-foot-1, 185-pounds - Vancouver, WA - 3 Stars
9/15/2018 - Chris Hickman - TE - 6-foot-6, 205-pounds - Omaha, NE - 3 Stars
9/4/2018 - Dedrick Mills - RB - 6-foot, 200-pounds - Garden City, KS (Waycross, Ga.) - 4 Stars
8/6/2018 - Quinton Newsome - CB - 6-foot-2, 180 - Suwanee, GA - 3 Stars
8/5/2018 - Michael Lynn - OT - 6-foot-7, 280 - Greenwood Village, CO - 3 Stars
7/23/2018 - Mosai Newsom - DE - 6-foot-5, 260 - Waverly, IA - 3 Stars
7/21/2018 - Nick Henrich- LB - 6-foot-3, 210 - Omaha, NE - 3 Stars
7/19/2018 - Tony Fair - DT - 6-foot-3, 330 - Tucson, AZ (South Bend, Ind.) - 3 Stars
6/29/2018 - Jamie Nance - WR - 6-foot, 160 - Blanchard, OK - 3 Stars
6/22/2018 - Matthew Anderson - OL - 6-foot-7, 250 - Leesville, LA - 3 Stars
6/15/2018 - Ronald Thompkins - RB - 6-foot, 195 - Loganville, GA - 3 Stars
6/6/2018 - Jackson Hannah - LB - 6-foot-3, 234 - Nashville, TN - 4 Stars
6/4/2018 - Luke McCaffrey - QB - 6-foot-2, 180 - Highlands Ranch, CO - 3 Stars
6/1/2018 - Desmond Bland - OL - 6-foot-4, 300 - Yuma, AZ (Flossmoor, Ill.) - 4 Stars
5/5/2018 - Rahmir Johnson - RB - 5-foot-10, 170 - Oradell, NJ - 4 Stars
3/5/2018 - Ethan Piper - DE - 6-foot-4, 280 - Norfolk, Neb. - 3 Stars
11/24/2017 - Garrett Snodgrass - ATH - 6-foot-3, 220 - York, Neb. - 3 Stars
6/24/2017 - Garrett Nelson - OLB - 6-foot-3, 236 - Scottsbluff, Neb. - 3 Stars
9. 2019 commits by position
1 - Quarterback
3 - Running back
2 - Wide receiver
1 - Tight end
4 - Offensive linemen
1 - Defensive tackle
2 - Defensive end
1 - Outside linebacker
2 - Inside linebacker
0 - Safety
1 - Cornerback
1 - Athlete
0 - Special teams
10. Where are they from?
5 - Nebraska
3 - Georgia
2 - Colorado
1 - Iowa
1 - Illinois
1 - Indiana
1 - Louisiana
1 - Minnesota
1 - New Jersey
1 - Oklahoma
1 - Tennessee
1 - Washington