Braxton Clark commit: What does it mean for Nebraska?
Nebraska continued to stay red hot on the recruiting trail in the state of Florida as Orlando athlete Braxton Clark committed to the Huskers Sunday night.
The 6-foot-3, 188-pound Dr. Phillips High product is being recruited as a defensive back by NU and is the third Florida native since last Thursday to have committed to the Big Red. Clark becomes the 19th known commitment in Nebraska's 2018 recruiting class.
Below are some quick takes and analysis on what Clark's commitment means for the Huskers.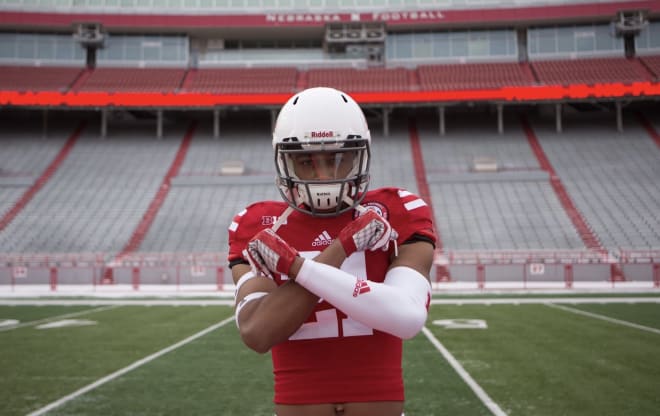 1. Nebraska is on a roll in the state of Florida. Their last three commitments have come from the Sunshine State, and the class now has a total of seven Florida natives in it. I think people expected this staff would recruit the state hard given their ties, but I don't think anyone could have predicted they would end up landing this many in year one. It's the most prospects from the state NU has ever landed in the Rivals.com era dating back to the Class of 2002.
2. The Huskers got a player they really wanted in Clark. It became clear that any player the Huskers brought in the first weekend coming out of the dead period was a major priority and the talented Florida athlete was among the visitors in Lincoln that weekend. The Huskers sealed the deal by sending nearly its entire coaching staff to Clark's house for an in-home visit. He's a player Scott Frost and his staff have had their eyes on for a long time as he was right in their backyard when they offered him at UCF last spring.
3. The Huskers need cornerbacks in this class, and they got a big one in the former Virginia Tech commit, literally. At 6-foot-3, 188-pounds, Clark is a tall, long-armed, rangy cornerback that automatically has an advantage against the majority of the wideouts he'll see just based off his size and overall length. At a position of great need, Clark is the first true corner NU has added to the class thus far.
4. Clark looks to be comfortable playing in a variety of coverages. He gets to put his physical size to use when he's playing press man coverage though. He's strong at the line and does an excellent job of finding the ball in the air and using his long arms to break passes up.
5. Clark has no problem being physical when it comes to tackling receivers or helping in the run game. He does a nice job getting off of blocks to get to ball carriers and is more than willing to be a physical presence on special teams which is another sign of being a team player.
6. Clark has deceptive speed as he covers a lot of ground due to his stride, but doesn't strike you as a burner by any means. However, on film, it appears he has no problem running with any receiver he faces, and there are times where you can see he has a whole other gear he can shift into when he needs to.
7. Clark is yet another commit that comes from a big-time, winning football program. Dr. Phillips has talent every year, so he is used to competing every day in practice and doing the little things the right way. They also play in the largest classification in the state of Florida, so he's used to facing off against top-notch talent. As a senior, Clark helped lead the Panthers to a 13-2 record and a Class 8A State Championship.
Clark's senior season stats: 41 tackles, two tackles for loss, seven pass breakups and two interceptions.
8. 2018 Nebraska commit breakdown
1/21/2018 - Braxton Clark - CB - 6-foot-3, 188 - Orlando, FL - 3 Stars
1/18/2018 - Dominick Watt - WR - 6-foot-1, 200 - Hollywood, FL - 4 Stars
1/18/2018 - Miles Jones - ATH - 5-foot-9, 166 - Plantation, FL - 4 Stars
1/16/2018 - Casey Rogers - DE - 6-foot-5, 240 - Avon Old Farms (NY) - 3 Stars
1/10/2018 - Mike Williams - WR - 5-foot-10, 175 - East Mississippi C.C. (FL) - 3 Stars
12/21/2017 - Will Honas - LB - 6-foot-2, 225 - Butler County C.C. (KS) - 3 Stars
12/20/2017 - Greg Bell - RB - 6-foot, 200 - Arizona Western C.C. (CA) - 4 Stars
12/20/2017 - Katerian LeGrone - WR - 6-foot-3, 220 - Atlanta, GA - 3 Stars
12/17/2017 - Deontai Williams - DB - 6-foot, 180 - Jones County C.C. (FL) - 3 Stars
12/12/2017 - Adrian Martinez- QB - 6-foot-3, 198 - Fresno, CA - 4 Stars
12/11/2017 - Justin McGriff- WR - 6-foot-6, 210 - Tampa, FL - 3 Stars
12/10/2017 - Jaron Woodyard- ATH - 5-foot-11, 175 - Arizona Western (MD) - 3 Stars
12/10/2017 - C.J. Smith- DB - 6-foot-3, 190 - West Palm Beach, FL - 4 Stars
10/6/2017 - David Alston- OLB - 6-foot-5, 215 - Woodbury, MN - 3 Stars
5/2/2017 - Barret Pickering- K - 6-foot, 185 - Hoover, AL - 3 Stars
4/16/2017 - Tate Wildeman- DE - 6-foot-6, 245 - Parker, CO - 4 Stars
4/8/2017 - Will Farniok- OL - 6-3, 260 - Sioux Falls, SD - 3 Stars
6/17/16 - Masry Mapieu- DT - 6-5, 290 - York, NE - 3 Stars
8/7/15 - Cameron Jurgens- TE - 6-3, 235 - Beatrice, NE - 4 Stars
9. Commits by position
1 - Quarterback
1 - Running back/fullback
4 - Wide receiver
1 - Tight end
1 - Offensive linemen
1 - Defensive tackle
2 - Defensive end
1 - Outside linebacker
1 - Inside linebacker
2 - Safety
1 - Cornerback
2 - Athlete
1 - Special teams
10. Where are they from?
7 - Florida
2 - Nebraska
2 - California
1 - Alabama
1 - Colorado
1 - Georgia
1 - Kansas
1 - Maryland
1 - Minnesota
1 - New York
1 - South Dakota