Booty, Jarrett lead Trojans past Huskers 28-10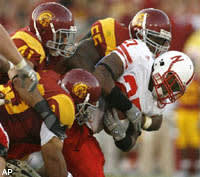 LOS ANGELES — John David Booty and Dwayne Jarrett were determined to keep Southern California's home winning streak alive.
Booty threw two of his three touchdowns to Jarrett as the fourth-ranked Trojans defeated No. 19 Nebraska, 28-10, to extend their Pac-10 Conference-record home winning streak to 28 games.
Making his second start since the departure of Heisman Trophy winner Matt Leinart, Booty completed 25-of-36 passes for 256 yards and Jarrett had 11 catches for 135 yards for USC (2-0), which has won 34 consecutive regular-season games.
Nebraska, which failed to score after a 31-yard pass from punter Dan Titchener to Todd Peterson on a fake punt play, took a 3-0 lead on a 38-yard field goal by Jordan Congdon with 3:23 remaining in the first quarter. Congdon's field goal was set up by a 31-yard punt return by Terrence Nunn to the USC 23.
In the teams' first meeting since a 21-21 tie here in 1970, the Trojans took the lead for good, 7-3, on a 12-yard pass from Booty to Jarrett on the final play of the first quarter.
Late in the second quarter, Booty found Jarrett for a 21-yard pickup on 3rd-and-20, and he tossed a 3-yard TD to Steve Smith on the next play for a 14-3 cushion.
A minute into the second half, Nebraska quarterback Zac Taylor and Marlon Lucky botched a handoff, and cornerback Cary Harris recovered at the Nebraska 31, setting up a 5-yard TD pass from Booty to Jarrett. It was Jarrett's 31st career TD reception, a USC record.
Taylor, who went 8-of-16 for 115 yards, pulled the Cornhuskers (2-1) within 21-10 on a 1-yard bootleg run on 4th-and-goal with 12:44 to play, but Chauncey Washington countered with a 7-yard TD run just over 6 minutes later to cap the scoring.
Nebraska will try to rebound when it plays host to Troy next Saturday at 6 p.m. at Memorial Stadium. The game will be telecast on a pay-per-view basis.