Blackshirts do their part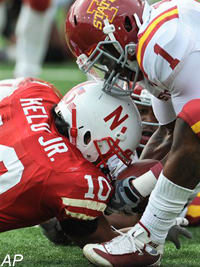 The Nebraska offense committed eight turnovers and scored just seven points against Iowa State on Saturday, but somehow the Huskers were still in the game right down to the final minute of the fourth quarter.
Thanks to the defense.
The eight Husker turnovers, including three near the Iowa State goal line, allowed the Cyclones to escape with a 9-7 victory, their first in Lincoln since 1977.
The Blackshirt defense held up its end of the gameplan for most of the afternoon, however, limiting Iowa State to just 11 first downs and 239 yards of total offense.
The NU offense didn't capitalize and the end result was a second straight Big 12 Conference loss in Memorial Stadium.
"Yes, the defense kept us in the game. We were lucky to be in the football game. Eight turnovers? We could have gotten run out of the stadium. I don't know if I've ever been around that in my coaching career."
Suh called his own game "average," noting that it wasn't good enough to secure a victory, and that's the bottom line.
"It wasn't enough to get the win," Suh said. "There's no point playing a good game if you're not going to come out with the win. I rather have no tackles and have the worse game of my life but come out with the win. All that matters is winning."
Suh said overall the NU defense played a good game, but he wasn't a one-man wrecking crew.
"It's disappointing. Even on the defensive side. We gave up a touchdown," Suh said. "We don't give that touchdown up, it's a different ballgame."
Suh added that he hasn't lost confidence in the ability of the NU offense, despite back-to-back home losses that produced a total of 17 points for the Huskers.
"It's tough because we expect a lot out of them. We know what they can do, as they did in the previous four games. We still know our offense is potent and will be potent again," Suh said. "That's where we've got to step up on the defensive side and the special teams side and pick that group up."