Big Ten coaches react to deaths of Foltz, Sadler
As the annual Big Ten Media Days kicked off on Monday at the Hyatt McCormick Place in Chicago, there was a notable absence.
Nebraska decided not to attend the event following the tragic death of senior punter Sam Foltz in a car accident in Wisconsin.
Former Michigan State punter Mike Sadler, who was driving the car, was also killed in the crash.
Several of the conferences other head coaches offered their condolences and support during Media Days, as did league commissioner Jim Delany. Here is a recap of what they had to say...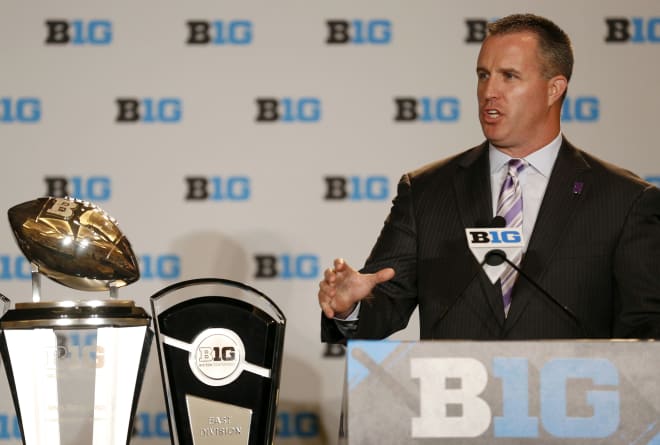 Jim Delany, Big Ten Conference Commissioner
"We join the Nebraska and Michigan State communities in sending our thoughts and prayers to the families, teammates, coaches, administrators and friends who have been impacted by the tragic loss of Sam Foltz and Mike Sadler.
"While we are deeply saddened by their untimely loss, we also recognize the impact they had and the success they achieved as students, athletes, citizens and representatives of their respective communities and institutions.
"On behalf of the Big Ten, we greatly appreciate the enduring contributions made by these two young men, and our hearts go out to their families during this difficult time."
Pat Fitzgerald, Northwestern
"It's with heavy heart and great sadness that I kick off here this morning. Obviously, the tragic news the passing of Sam Foltz and Mike Sadler over the weekend. On behalf of Northwestern, our football program and all our players we'd like to express all the thoughts and prayers to their families, Coach Dantonio, Coach Riley and the Spartan and Husker families on their tragic loss. We recruited Mike and know him well. And just sad, tragic news and our thoughts and prayers are with them."
Jim Harbaugh, Michigan
"Our most heartfelt condolences. A tragedy like this, it takes the breath out of you. It takes the air out of you. I don't have any words of advice. I don't have those words even in me. It's just right now you turn to prayer for those families."
Chris Ash, Rutgers
"I'd like to follow up by echoing the coaches comments to give the best to the players and the fans of Nebraska and Michigan State with the loss of Sam and Mike. Tremendous individuals from what I've heard, and I know it's a tough loss for those two programs. It's never easy when you lose one of your own and part of your family. We'd like to give our best to those guys and those programs."
James Franklin, Penn State
"Want to start by starting out by giving my condolences to both Nebraska, Michigan State and the Foltz and Sadler families. Devastating to hear that news. I've been through that in my coaching career as well and I don't think it's something you ever are prepared for or can handle. But our support and condolences go out to them."
Tracy Claeys, Minnesota
"I would like to express my sympathies and those of our players to the University of Nebraska, Michigan State University, friends and family over the loss of two great young men. Went way too early. Tough deal."
Darrell Hazell, Purdue
"Let me extend my condolences to Nebraska and Michigan State for their tragic losses. It's a sad day for those families there."