Big Red Business: Wheels up on Air Nebraska?
Today, HuskerOnline launches a new feature on the business side of Nebraska athletics. Call the multi-billion-dollar enterprise Nebraska Inc.
Responsible for business of sports coverage is Steve Rosen, an Omaha native who spent more than 38 years as a business reporter and editor at The Kansas City Star. Comments and story ideas are welcomed.
When Nebraska head football coach Mike Riley needs to visit a recruit at a destination far from a major airport, he can either hope a charter plane is available or fly commercial, hop into a rental car and enjoy the scenery for the final leg of the trip.
Ohio State's Urban Meyer, Penn State's James Franklin, and Purdue's new football coach Jeff Brohm have another option: University owned or leased private jets, which allows them to leave quickly and touch down near their destinations.
No lost baggage, no long security lines, no long delays. A recruiting advantage? Perhaps.
Indeed, private planes -- while still few in number -- are becoming increasingly more common at major universities, especially in the power conferences such as the Big Ten, the SEC, and the Big 12.
At least 20 schools own, lease or share ownership of private planes for school business, mostly for football and basketball recruiting, according to an Associated Press survey last February. Among the schools cited by the Associated Press were Texas, Florida, Tennessee, and Wyoming.
Owning an airplane is just another tool in swelling athletic department recruiting budgets. In many cases, taxpayers don't foot the bill, as athletic revenue and private donations pay for flights.
Schools can spend as little as $9 million for a new Embraer Phenom 300 or $40 million for a new Gulfstream G450, or take the pre-owned route with a $14 million gently used G450. Don't forget to factor in pilots, fuel, hangar space, maintenance, and insurance -- along with lots of compliance paperwork.
Even at schools where money seemingly is no object and plane ownership represents a fraction of the overall budget, this is an expensive proposition especially at a time when university budgets are facing sharp cuts at many schools nationwide.
To measure where Big Ten schools stand on the airplane issue, HuskerOnline surveyed athletic departments at every conference school., starting with Nebraska. For good measure, Nebraska's longtime rival Oklahoma was also questioned.
Based on responses from the 14 conference schools, Ohio State, Penn State and Purdue were the only ones with university-owned aircraft that are at the disposal of coaches. The Sooners are in the air race as well.
Will Air Nebraska be getting off the ground soon?
That question has taken on more relevance this year, now that Nebraska is reaping the larger financial benefits of being a Big Ten member. Then there's the recently disclosed new $2.64 billion, six-year conference television partnership with Fox, ESPN and CBS.
Yet, despite the stronger financial footing, don't count on Nebraska rolling out its own fleet of Cessna's, Gulfstreams, or Bombardier's, said Pat Logsdon, executive associate athletic director.
"Private aircraft is cost prohibitive to purchase," Logsdon said.
Instead, the athletic department relies on chartering planes, when feasible. And when not, coaches fly commercially, or drive.
While generous donors at many schools nationwide make their private jets available for athletic department business in exchange for royalties and other perks, that's not the case at Nebraska. All private charters "occur through charter companies," Logsdon said, as opposed to relying on donors.
"We keep an eye on our peers, but this system works for us right now," said John Jentz, the athletic department's chief financial officer. "Thanks to the generosity of our fans, our recruiting budget gives us flexibility."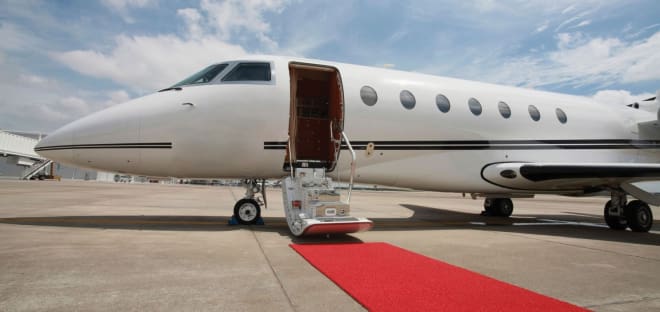 The Nebraska way 
Travel, not surprisingly, is actually among the athletic department's largest expenses annually, along with personnel and capital projects that pop up every so often, said Jentz. There's a steady flow of team travel, business travel, and recruiting travel, and because of its location of being far from major metro areas, time in the air adds up.
While the books have not been completely closed for fiscal year 2017, total athletic department travel expenses amounted to $10.57 million. That represents about 9.1 percent of total athletics expenses, Jentz said. The department does not track charter expenses separately.
To manage those costs for all the school's teams, the athletic department needs to be creative. For example, the department works with the Lincoln-based Silverhawk Aviation charter company for flight services, and two travel agents from Anthony Travel, a Dallas company that specializes in sports travel management, are embedded in the department to handle airline reservations, hotels, cars and other services.
The bottom line: travel needs to be cost effective.
Several years ago, Logsdon said the university looked into the possibility of buying a small bus to shuttle athletes to events. But after maintenance, drivers, insurance and other issues were factored in, the purchase could not be justified, she said.
There are more than just financial reasons for not purchasing private planes. Last-minute maintenance issues can mean no plane, no trip to Calabasas. And more so than bus travel, insurance liability coverage can be steep.
Jentz said every school in the conference is struggling with team charter travel costs. Toward that end, he said talks are underway among the schools to create a consortium to negotiate lower charter costs, and more practical scheduling of flights. Jentz expects more formal conversations later this year.
"Not all of us are going to get into the plane business," he said.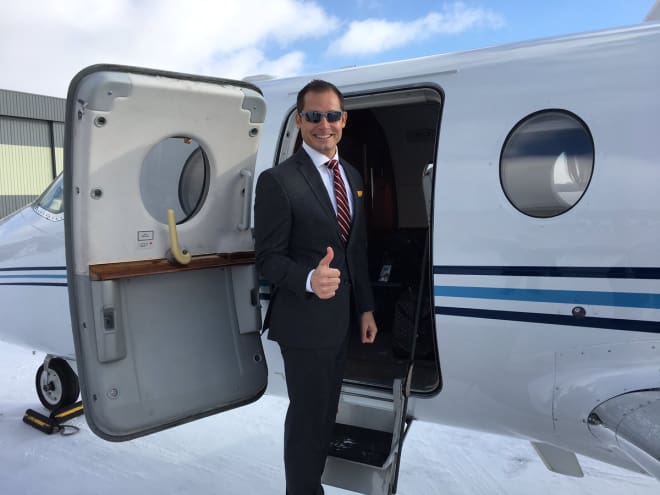 Conference survey 
Altogether, 10 of the 14 conference schools surveyed by HuskerOnline indicated they do not own or lease private planes and have no plans to do so.
Northwestern, the conference's only private school, declined to comment for this story.
Of the schools that are not in the plane business, most said they partner with aviation companies when the need arises for a charter. "It's more cost effective to work with outside companies," said Jake Ricker, a spokesman for the University of Minnesota athletic department.
Ricker said that in the last fiscal year that ended June 30, the athletic department logged about 66 hours of flying time, which cost about $232,000. So far this year, the department has logged 15 hours, costing about $67,000.
"Our current system meets our needs for private air travel while costing the department less than if we owned or leased a plane," Ricker said.
Michigan State's athletic department does not own a plane and there are no plans to add aircraft at this time, said Matthew Larson, a department spokesman. Rather, it charters planes for "select recruiting trips for coaching staffs as well as certain team travel," he said.
Illinois considered the option of owning aircraft, but passed. "When needed, we have agreements with several donors who allow us use of their plane," said athletic department spokesman Kent Brown.
Then there are Ohio State, Penn State and Purdue.
Ohio State has a lease and fractional ownership contract with NetJets, and the athletic departments usage is covered under that agreement, said Dan Wallenberg, an athletic department spokesman.
Under the agreement, head coaches of the football, and men's and women's basketball teams are allotted a total number of annual flight hours for recruiting and personal usage (which is reported as taxable income), Wallenberg said.
Penn State owns two planes, for business purposes university-wide. "Senior officials from intercollegiate athletics may also use the planes," said Kris Petersen, an athletic department spokeswoman.
Purdue owns several planes that the athletics program can use for a fee, said spokesman Tom Schott. Planes are used mainly for recruiting for football and men's and women's basketball as well as some administrative travel.
"Cost constitutes less than one percent of the entire athletics department budget," he said.
Finally, outside the conference, Oklahoma sports spokesman Mike Houck said "the vast majority" of the athletic department's plane use "occurs on university owned and donor aircraft."
According to university policy, he added, a review process insures that "all private planes be pre-approved before they can be used by university personnel."
Have a Nebraska business of sports story idea, or just want to comment? Reach Steve Rosen at sbrosen1030@gmail.com.