Big Red Business: Oct. 27 game could be worth over $6 million to businesses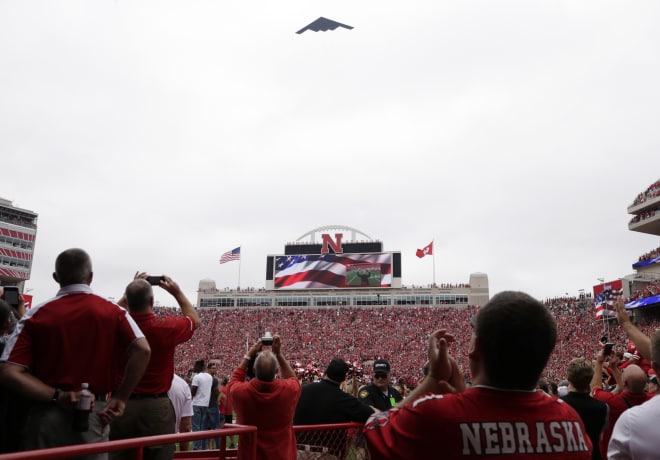 Finding a hotel room in Lincoln for the Oct. 27th Nebraska home game against Bethune-Cookman University will not only be challenging but pricier.
Many hotels are already fully booked or have only a handful of rooms for that weekend because of weddings, the Good Life Halfsy Marathon and other events that were scheduled months ago when the date was an open spot on Nebraska's schedule. There's even an ice hockey tournament down I-80 in La Vista that's eating up rooms.
With Nebraska's game against Bethune-Cookman now set to fill that bye week on the football schedule, fans may have to look beyond the shadow of Memorial Stadium for vacancies, hotel operators said.
And the supply and demand for rooms make it a seller's market, with room rates likely to shoot up. Perhaps not premium prices but higher nonetheless.
If there's some good news for travelers, it's that some hotels likely set aside rooms in anticipation of Nebraska using its bye week to schedule another home game to make up for the Sept. 1 Akron game that was canceled because of drenching thunderstorms. And, as is typical in the hotel business, more rooms will likely become available two to three weeks before the game, as people cancel reservations or rooms held in blocks are released.
But expect to scramble to find vacancies.
"We're already pretty much full," said Aaron Stitt, general manager of the 155-room Courtyard by Marriott in downtown Lincoln. Blocks of rooms were set aside months ago for weddings, he said. The hotel will also get its share of runners descending upon Lincoln for the Oct. 28 half marathon. That event is expected to draw about 6,500 participants, many from out of town.
His advice for football travelers? Try the hotels on the outskirts of Lincoln or in surrounding suburbs in all directions. If there's a morning kickoff for the game, that would likely mean more rooms available for Friday night only. Game time has not been determined yet, pending television scheduling to be announced six to 12 days before kickoff. However, the early speculation is the game will be at 11 a.m., and a University source said that is also Nebraska's preference for that day.
"If it's between morning kickoff and 7 p.m., we'll take 11 a.m.," said Ryan Funke, an owner of Gate 25, a restaurant and bar in the Haymarket entertainment district. "Of course, 2:30 is the sweet spot for us."
Economic impact 
While adding a game to the home schedule presents logistical uncertainty and challenges for fans, it presents a potential $5 million to $5.5 million windfall collectively for hotel operators, restaurants and bars, retailers, Uber drivers and everyone else who stands to make a buck from a football weekend in Lincoln.
That number is based on a 2014 report, an extensive review of the economic impact of Nebraska athletics prepared by the University of Nebraska-Lincoln's Bureau of Business Research. The bureau calculated that overall spending in the Lincoln economy on home football weekends amounted to nearly $43 million. That was based on an eight-game home schedule in 2013, plus the spring game.
The spending covered food, shopping, transportation, lodging, entertainment, and other expenses, but not tickets or other spending inside Memorial Stadium.
That number might be closer to $6 million now, assuming inflation, but it represents an increase from the $4 million calculated in an earlier study by the research bureau.
So far this season, through three home-game weekends, cash registers have had a distinctly louder hum than in recent years, businesses said.
Jeff Maul, head of the Lincoln Convention and Visitors Bureau, summed it up this way: "With the anticipation this year, I'm not sure that anything can curb Husker fans' enthusiasm, attendance and spending at this point. Many are just happy that there is life in the program and are showing up to tailgate and/or to attend games."
And the impact on the lodging industry? "I know our hotels have enjoyed renewed enthusiasm this year, as people began booking rooms upon Scott Frost 's appointment as coach" at the end of last season, Maul said. "It was not unheard of in the past several years that hotels had rooms the night before a Husker game and had trouble filling them, due to the lack of excitement program."
Which raises the question of where will Nebraska's opponent stay? Many visiting teams prefer to stay outside of town, in the Omaha suburb of La Vista, which puts them away from Lincoln's hubbub and makes for a straight-shot 40-minute drive to Memorial Stadium.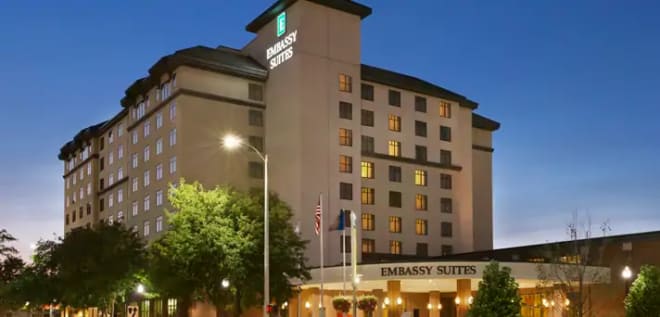 Rooms at the inn
If you're looking for a room for the weekend of Oct. 27, it could come down to timing, said David Scott, director of sales and marketing at the Courtyard by Marriott in La Vista and the neighboring Embassy Suites.
"It all depends on who you are talking to and when," said Scott. "I would work social media, websites...try them all."
As for the 257-room Embassy and the 246-room Courtyard, both are already close to being full for that weekend because of reservations made months ago for an ice hockey tournament and other events, Scott said.
Football weekends are always good for business, Scott said, but this time "it will be good for someone else's business."
Indeed, HuskerOnline randomly surveyed about a dozen large and small hotels in the Lincoln area and closer to Omaha on room availability for the weekend of Oct. 27. Operators said they were either at a full house or had only a handful of rooms available. However, they reported more rooms being available just for a one-night stay on Friday, Oct. 26, so setting the kickoff time will be crucial.
But Bryan Sullivan, general manager of the 252-room Embassy Suites in Lincoln, said he expects there will be more rooms available closer to game day than there are now
"Not all the rooms currently committed (for weddings and other events) will be utilized," Sullivan said. In those situations, hotels generally tend to release previously-booked rooms back into their inventory about three weeks before the event.
Sullivan said business at his Embassy Suites through the three September home games has been solid. And despite the team's record, cancellations haven't been a problem for the remaining home games on the schedule.
"We're situated better this year both in terms of occupancy and retention," Sullivan said.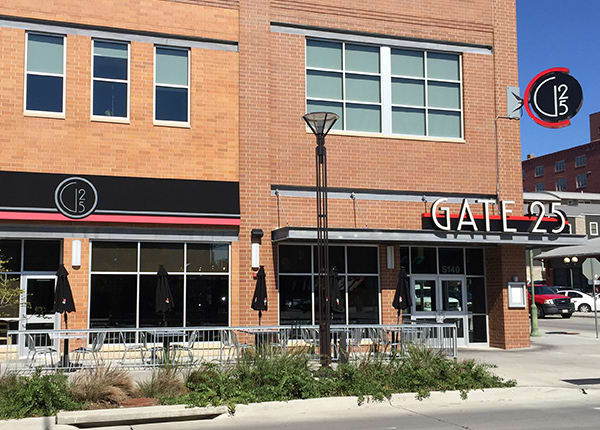 Haymarket foot traffic 
The prospect of an additional home football game is huge for restaurant and bar operators in the Haymarket entertainment district. That's because a large part of their annual sales is derived from football Saturdays at Memorial Stadium.
Count Ryan Funke among those counting on the extra game to generate an unexpected windfall. "It's a huge deal," said Funke. "It doesn't matter if it's Bethune-Cookman. It brings people to town."
Football weekends generate about one-third of Gate 25's annual revenue, Funke said.
Funke said business at Gate 25 was strong for the Akron game, despite the rains that washed out all but the opening kickoff. Week two, heading into the Colorado game, was "our best week ever, and one of the best Friday nights we've ever had."
The third game day against Troy was "just okay," Funke said. "It was the third game of the year, it was 100 degrees, and we lost. It's just part of the business."
Funke offered one other observation. Fewer tempers flaring.
"People are generally happier and in a better mood" compared with a year ago, he said. "There seems to be a sense of relief that we know this will be a better long-term situation."
A good problem 
You would expect Mike Osborne to provide an interesting perspective on the economic impact of adding an eighth home game. He's not only the son of legendary head coach Tom Osborne, but he also owns two Best of Big Red stores in Lincoln.
"Initially my main thought was the team would really need the off week with its lack of depth and youth at a few spots, and due to the brutality of the Big Ten. Wisconsin linemen are something to behold at field level," Osborne said. "I didn't think there'd be any consideration for adding the game back."
But after hearing coach Frost say he thought the team deserved to play a full slate of games, Osborne said he began to consider what that might mean for Best of Big Red.
"Mainly I wondered if we'd start to run out of inventory by adding an eighth home game," he said. " The first game, although canceled, still provided our business a full home game sales weekend, so for our purposes, adding a game would be an eighth home game for sales...good problems."
Sales are up about 20 percent this year compared with a year ago, including the last few weeks, Osborne said.
"The Frost Effect has been real for Best of Big Red," he added. Even with the slow start, "everyone is behind coach Frost and are buying new items as part of the support they want to show."
Osborne said his best-selling lines include Frost t-shirts and jerseys. However, Osborne's personal favorite is the "Frost Trucker Cap."
He has also created a new product line of framed pieces of old Memorial Stadium turf that was the field from 1992 to 1998 -- covering three national title teams, including Frost's two seasons as quarterback and coach Osborne's last.
The price: $199.
"We expect these items will sell well," he said.
New brands 
CornBorn, an apparel company owned by Randy Farwell, recently launched a new brand just for women called "Love Red." The line of licensed apparel targets younger customers looking for boutique gear, he said.

"Our early results have proven the concept, and there is definitely online demand for licensed boutique Husker gear," Farwell said.
Business overall -- both online and wholesale distribution to retailers -- is up more than 20 percent from a year ago, he said. As it gets deeper into the season, "it will be interesting to see if our wholesale customers are confident enough to re-order. We're hoping sales at their stores have been as strong as our online demand."
Adding the Oct. 27th home game will help CornBorn. "We always see website traffic spike leading up to and including game days and that translates into incremental sales. I'm sure our wholesale customers also see more sales on game days."
Steve Rosen covers the business of sports for HuskerOnline. Questions, comments, story ideas? Reach Steve at sbrosen1030@gmail.com.