Big Red Business: Diving into the salary pool and where Nebraska stacks up
Here's a dollar sign to ponder during the off-season about Scott Frost's coaching staff: $495,400.
That's the average salary paid to the football assistant coaches in the Big Ten conference – all 140 of them at 14 schools, according to recent pay data compiled by USA Today.
How many of Nebraska's 10 football assistants earn above the conference average? A total of 4 based strictly on salary.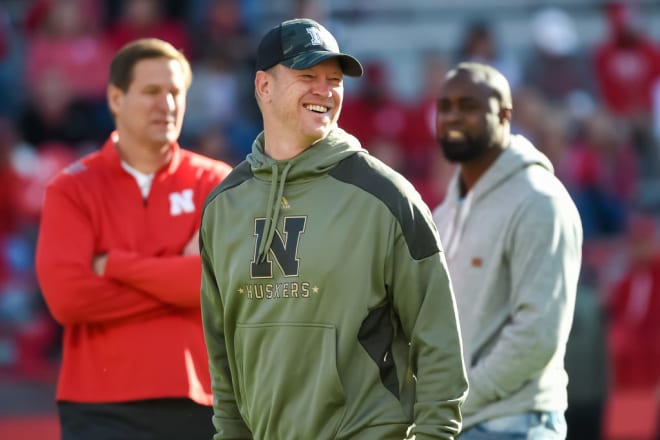 Those four include new offensive coordinator Mark Whipple, who will earn $875,000 this year with a bump to $900,000 in 2023; and new receivers coach Mickey Joseph, who is set to earn $600,000 this year.
The other two earning above-average pay coach the defense: coordinator Erik Chinander, at $800,000 annually, and defensive line coach Mike Dawson, at $500,000. We still don't know the detail of their new contracts for the 2022 season.
The salary of new running backs coach Bryan Applewhite, whose previous stint was at TCU, has not yet been released by the athletic department.
Nebraska has generally been in the middle of the pack among conference schools when it comes to the salary pool for football assistants. Even the money doled out to five new hires to Frost's staff won't change the payroll standings by much.
In addition, the salaries paid to Whipple and Chinander are significant digits lower than what's paid to some of their peers at other Big Ten schools.
Nebraska's salary pool for nine of its 10 coaches currently stands at $4.725 million. As for Applewhite, his TCU salary was unavailable, but for guidance, Nebraska's previous running backs coach Ryan Held earned $400,000. So assuming Applewhite is paid that amount, the total staff pool will climb to $5.125 million.
That's more than $2 million short of what Ohio State pays its assistants, and it also doesn't come close to SEC-type money either.
Ohio State's $7.5 million assistants' pool ranks sixth nationally, and first among Big Ten schools, according to a recent Cleveland Plain-Dealer story. That was on par with Florida's $7.5 million and just ahead of Alabama's $7.2 million pool.
SEC assistant coaches pocketed an average of $605,000 in 2021 in terms of total compensation – including base pay and bonuses, according to USA Today data. That's well above the average pay for assistants in the rest of the Power 5 conferences, and nearly six times more than the average pay to assistants at MAC-conference schools.
Does pay matter? Does it guarantee success on the field? Think of the trainwreck known as Bob Diaco, who was Nebraska's highest-paid assistant until Whipple's contract. Whatever the case, there's no argument that shelling out big bucks to football assistants is part of the college football arms race.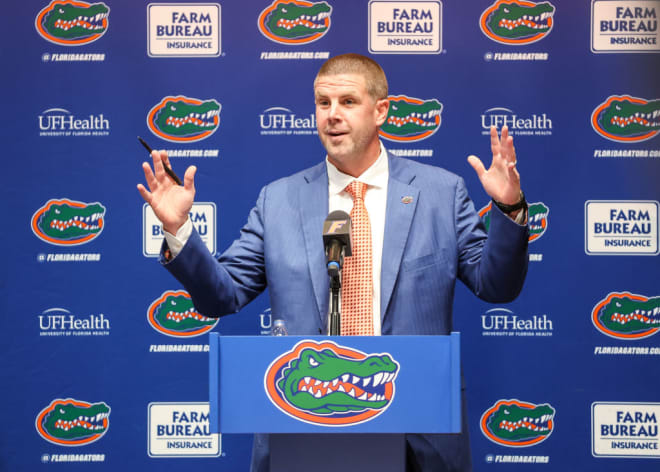 Defensive coordinator in demand 
If there's one coaching compensation trend that's been apparent in recent years it's this: Defensive coordinators have dominated the list of the highest-paid assistants compared to offensive-minded coaches, according to USA Today's compensation data bank.
Indeed, defensive coordinators were at the top of the pay scale in the SEC, the Big Ten, the ACC, and the Big 12. The Pac-12 was the only Power 5 conference with an offensive coordinator leading the salary race.
The highest-paid assistant coach in the SEC last season? Then defensive coordinator Mike Elko of Texas A&M, who pulled down $2.1 million in total compensation in 2021, according to USA Today data. Elko was named the new head coach at Duke in December.
Following the SEC, the Big Ten ranked second in average pay to football assistants. The ACC was third, followed by the Big 12, and the PAC-12, according to USA Today.
In total, 34 FBS assistants made at least $1 million in the 2021 season – and 16 were in the SEC.
The boost in assistant coach pay is partly the result of the leverage exerted by head coaches in contract negotiations.
For example, new Florida head coach Billy Napier' is working with a salary pool of $7.5 million to pay assistants. Lane Kiffin's contract extension at Mississippi called for an assistant coach salary pool that "will remain at or above league average," published reports said.
Around the Big Ten, defensive coordinators such as Iowa's Phil Parker ($1.1 million), Michigan State's Scottie Hazelton ($950,000), Michigan's Mike Macdonald ($1 million), and Wisconsin's Jim Leonhard (nearly $1 million), all are paid north of Chinander.
Ohio State's Kerry Coombs – at $1.4 million – was also on this list until being let go by the Buckeyes a few days ago. Penn State's former defensive coordinator Brent Pry was the highest-paid assistant in the conference. He made $1.45 million last year before taking the head coaching job at Virginia Tech.
On the offensive side of the game, here's a sampling of 2021 pay: Ohio State's Kerry Wilson earns $1.4 million, and Michigan's Josh Gattis, $900,000. Iowa's Brian Ferentz made $860,000 in 2021, while Wisconsin's Joe Rudolph pulled down $675,000 last year.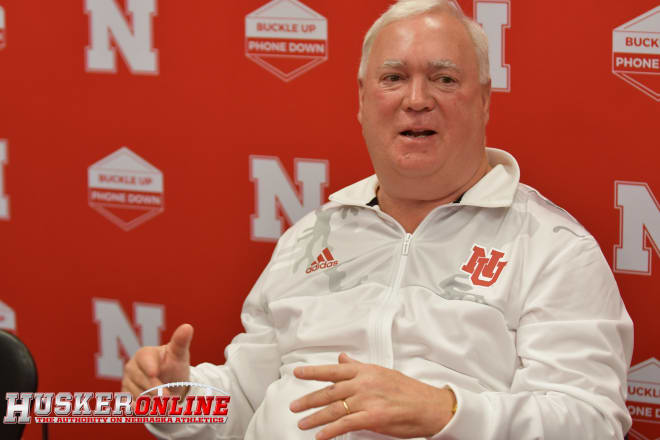 Salary pool
Jettisoning four offensive assistants, and losing defensive line coach Tony Tuioti to Oregon, freed up more than $2.175 million in Nebraska's budgeted salary pool, ostensibly to be spread among new and existing assistants. In addition, Frost's contract was restructured downward.
Joseph, the former LSU assistant and Nebraska quarter, was lured away from LSU where he was paid $500,000 last season. Whipple earned $476,450 at Pittsburgh.
As for the base pay for Frost's staff, the $4.625 million salary pool (as things stand now) is divvied up this way:
Nebraska defensive staff pay
Coach
Salary

Erik Chinander

Defensive coordinator

$800,000

Mike Dawson

Defensive front

$500,000

Travis Fisher

Secondary

$450,000

Bill Busch

Special Teams

$400,000

Barrett Ruud

Inside linebackers

$325,000
Nebraska offensive staff pay
Coach
Salary

Mark Whipple

Offensive coordinator

$875,000

Mickey Joseph

Wide receivers

$600,000

Sean Beckton

Tight ends

$450,000

Donovan Raiola

Offensive line

$325,000

Bryan Applewhite

Running backs

Details not released
Although not counted among the 10 position coaches, strength and conditioning coordinator Zach Duval earns $425,000.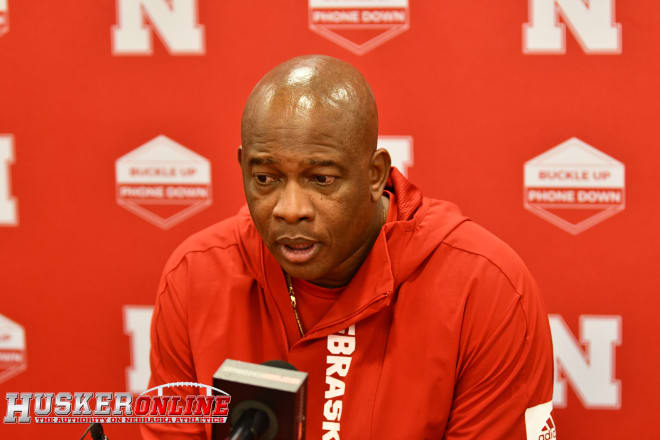 The fine print 
Two-year contracts for assistant football coaches at Nebraska have been standard in recent years.
The new contracts for Whipple, Joseph, offensive line coach Donovan Raiola, and special teams coach Bill Busch have standard benefits, incentives, and buyout language that include a cost of 25 percent of salary remaining on their contracts to leave for another job.
The coaches are also eligible for bonuses for conference championships and other post-season milestones.
Steve Rosen covers the business of sports for HuskerOnline. Reach Steve with questions, comments, and story ideas at sbrosen1030@gmail.com.