{{ timeAgo('2021-05-04 06:00:00 -0500') }}
football
Edit
Big Red Business: Business is booming, as sports fans return
As the start of the pandemic last spring shut down or sharply curtailed businesses that thrived on Nebraska football and other Husker sports, no one knew when the end would be in sight.
How long would fans be forced to keep their distance from Memorial Stadium, the Devaney Center and Haymarket Park? Would hotels, bars, restaurants, and sports merchandisers that rely on big weekend sports crowds survive to see better days ahead, and would fans be in a spending mood.
This spring is an entirely different story. Judging by the turnouts this past weekend for Nebraska's Red-White spring football game, a three-game home series featuring Nebraska's nationally ranked baseball team, and the thousands of contestants for the annual Lincoln Marathon, it is safe to say business is rebounding.
Consider this triple bank shot of events:
*With attendance capped at 50 percent of capacity, more than 36,400 fans paid $10 per ticket to attend Saturday's spring football game in sun-bathed weather at Memorial Stadium.
At kickoff, it was the third-largest crowd for an American sporting event since the start of the pandemic, topped only by the approximately 47,000 Alabama fans who attended the Tide's spring game in mid-April and the 38,238 fans who attended the Texas Rangers opening day baseball game at Globe Life Field. Later that same day, the Kentucky Derby drew 51,838 after the Red-White game ended.
By the way, Alabama charged $5 for general admissions tickets and limited capacity at Bryant-Denny Stadium to 50 percent for the spring game.
*Cornhusker baseball fans came out in droves for a three-game weekend series against Rutgers. Maximum capacity was boosted in late April from 2,700 to about 6,100 fans, or 75 percent of a full house. NU drew 5,013 on Friday, 4,653 on Saturday 4,422 on Sunday in the three-game series vs. the Scarlett Knights.
*More than 4,300 runners -- both in-person and virtually -- competed Sunday in the annual Lincoln Marathon.
Add it all up, and it's a whole lot of people spending money again in and around downtown Lincoln entertainment venues in the shadow of Memorial Stadium.
"This much-anticipated series of events (provided) a big boost to the merchants and hotels" particularly in the Haymarket district near campus, said Wendy Birdsall, chief executive of the Lincoln Chamber of Commerce.
Nebraska home-game football weekends generate at least $4 million in economic activity per game, according to a widely quoted study by the University of Nebraska Bureau of Business Research. Birdsall said the big sports weekend in Lincoln undoubtedly led to millions of dollars flowing into the city's economy.
For example, she added, area hotels expected occupancy rates of more than 60 percent -- a figure not seen for some time.
One more pop in business is expected this weekend as families arrive for Nebraska's spring commencement.
Fans in the stands 
When it comes to holding intrasquad spring football games with fans in the stands, no school in the conference does it bigger than Nebraska.
Not even Ohio State.
The Buckeyes limited seating at its April 17 spring game to 19,180 fans, with 10,000 free tickets going to front-line medical and safety personnel. About 4,500 tickets were made available to the general public for $5 apiece. The remaining seats went to students, and football players' and coaching staff families.
Some Big Ten schools punted on spring games in front of fans for the second year in a row, including Wisconsin and Indiana. Iowa held open practices on April 17 and again this past Saturday, but did not hold a spring game. Minnesota's spring game was open to 10,000 fans on Saturday at no charge.
Elsewhere, seating at Oklahoma's April 24 spring game attracted about 21,000 fans, with seating capacity limited to 25 percent, just like the fall 2020 regular season. Clemson's spring game was played before about 17,100 fans, whiles Texas A&M drew 17,612 fans.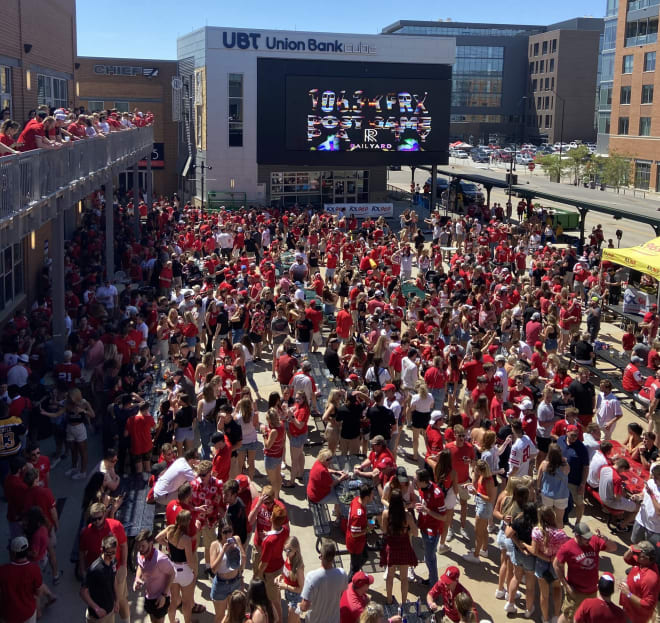 Getting back to normal 
Brandon Akert, co-owner of Gate 25 restaurant and bar in the Haymarket district, said he made a "fabulous oversight" over the weekend.
"Our sales exceeded expectations almost tri-fold," Akert said Sunday. "We expected a crowd and weren't disappointed." Tables were full both inside and outside, he said.
Akert said revenue trended higher in March and April, May started with a bang, and he's feeling good about sales momentum heading into fall. His biggest issue? Finding enough kitchen and service help.
Crowds were not confining their spending over the weekend to restaurants and bars. For example, the Best of Big Red apparel and memorabilia store "enjoyed its best-ever Friday and Saturday for a spring game weekend by 20 to 25 percent," said owner Mike Osborne."That's pretty significant."
People were in great spirits, and seemed to enjoy just being able to walk around. Some were wearing masks, some weren't, and, in a refreshing way, it seemed like people had "forgotten about the cloud we've been living under for so long," Osborne said.
"It's been concerning and interesting to see the whole arc of the impact of the virus on business," said Osborne,
He said there was virtually "zero retail business" last April and May at his shop, but since those low points, his sales have steadily increased. Revenue last June was about 40 percent of normal, but it grew to about 85 percent of normal through March, Osborne said.
Sales of Husker baseball "Bolt Ball" and "Gritty beats Pretty" shirts have been big sellers, he said, and a new line of recently arrived spring merchandise should also sell well.
"I'm hoping April and May will be really close to 100 percent" of normal business, he said. Confident that he'll hit those sales targets, Osborne has told employees he plans to restart a bonus and incentive program in May.
"I'm expecting a (post-pandemic) return to normal, and hoping for a bunch of wins by the Huskers," said Osborne.
Randy Farwell, owner of the CornBorn apparel and merchandise company, said he has weathered the Covid-19 storm. "Since our business is primarily online," Farwell said, "we typically benefit from fans buying new apparel prior to Husker sporting events. In fact, we see a distinct bump in activity every year for about two weeks leading up the annual spring game." This spring has been no exception.
While he said 2020 third quarter sales were down substantially because of the uncertainty surrounding the resumption of football and women's volleyball, CornBorn finished the year with its best-every four quarter and holiday season thanks largely to online business, Farwell said.
Farwell has also branched out, now holding licenses to sell apparel from 11 NCAA schools. That should drive 2021 sales, he added, along with his Nebraska apparel business as fans return to the stadiums.
"The pandemic further accelerated the trend of buying apparel online," Farwell said. "We're fortunate to be positioned to benefit from that trend."
Steve Rosen writes about the business of sports for HuskerOnline. Reach Steve with questions, comments, and story ideas at srosen@huskeronline.com.