Big Red Business: Big changes in athletics fundraising
Nebraska hopes to make a big statement this fall with a new gameplan, a new look and new faces -- except this one is not on the football field.
HuskerOnline has learned that the athletic department on Tuesday will launch an ambitious makeover of its donor fundraising program to attract more annual gifts from fans, boosters, and potential boosters. One of the goals is to lay the financial foundation for undisclosed major athletics projects that loom ahead.
A marketing blitz, with an email blast and accompanying video from athletic director Bill Moos, will outline the changes to donors and season ticket holders. The launch is timed just before Scott Frost's debut as head coach on Sept. 1 against Akron.
The rebranding, under the Husker Athletic Fund, will have a more distinct, grassroots feel aimed at getting more donors involved at smaller levels of giving, senior athletic department officials said in exclusive interviews with HuskerOnline.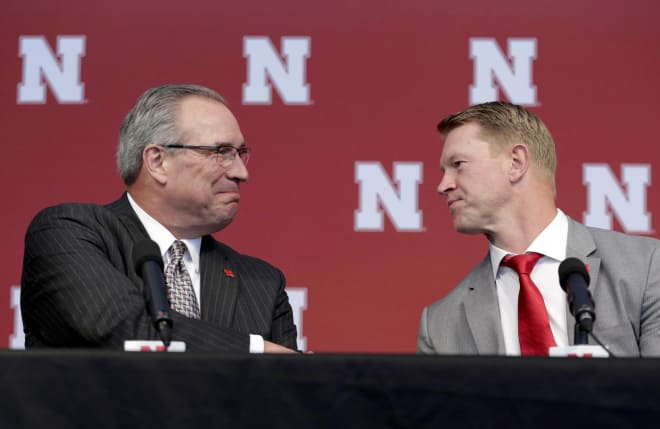 "People will be able to identify" with the Husker Athletic Fund, said Marc Boehm, executive associate athletic director who oversees the development office. " It says Nebraska. It says athletes. You will know exactly where your money is going."
Priorities will be placed not just on generating $1 million or $100,000 donations, but $100 gifts at the newly created "Walk-on" level, said Alex Kringen, assistant athletic director and chief development officer.
"We want to develop more relationships," Kringen said. "Whether you are donating $100,000 or $100, we want you to feel good" about the experience.
Five new categories of giving have been established, starting with the "Walk-on" level of $100 to $499; the "Blackshirts" from $500 to $1,499; "Captains" from $1,500 to $4,999; "Director" from $5,000 to $9,999; and "All Americans" from $10,000 to $24,999.
There's a separate giving program for more generous donors.
Among the other elements of the philanthropic rebranding:
*Taking the show on the road. This will kick off after football season ends, Kringen said. As envisioned, Moos, football associate athletic director Matt Davison and others will schedule meet and greets at a dozen or so cities around the country with large pockets of Nebraska fans, alumni and donors.
In-state visits will not diminish but Kansas City, Des Moines, Denver, Phoenix, Chicago, Dallas, and the east and west coasts will likely be part of the tour. It's a traveling upgrade from previous efforts.
"Omaha has been very good to us in terms of raising money," said Boehm, "but we also have to go outside of the state. Arizona is a hotbed. Denver is a key area…."
*Digital design. The website, at onehuskernation.com., is being redesigned with more information and "touch points" and how the money is utilized, Kringen said.
The site will include a monthly "First Four with Bill Moos" video designed to update supporters about the latest in Nebraska athletics straight from the boss.
*Staff additions. The development office recently hired Doug Banks as senior director of development. The former University of Kansas associate athletic director for development has 18 years' experience in athletic fundraising.
In addition, former Nebraska and NFL offensive lineman Brenden Stai has joined the department as director of development.
Kringen said the development staff now has six fundraisers (seven, if counting Moos), on par with most other Big Ten conference schools but on the lower end of Power 5 schools considering the size of its donor base. At one point recently Nebraska had just two fundraisers.
Other staff positions have been restructured to continue to attract donations from former players and other potential targets.
The development office has also hired two more employees to handle hospitality and event planning, Boehm said.
"We just didn't have the people to go out and fundraise," said Boehm. "Now we do," along with the vision and administrative infrastructure.
*Continue to court the big money. The "National Leadership Society" is the athletic department's annual philanthropic giving program, connecting with big-giving alumni, investors, and business partners.
There are four categories of giving, from "bronze" valued at $25,000 to "ruby," which requires a $1 million donation, plus lifetime giving.
Formed in 2016 with 181 members, the society has grown to 225 and Kringen said the goal is to reach 300 by 2020.
Overall, Nebraska's donor base of about 16,700 is not the largest in the Big Ten conference, but it's in the upper tier. The goal over the next five years is to get to 22,000 donors annually, Kringen said.
"Major gifts help finish out projects," said Kringen said, "but it's the small donors who provide the base."
How much new money will flow into the athletic department's coffers? Senior development officials didn't attach a dollar sign. But for perspective, consider that the athletic department is forecasting $18.435 million in revenue from gifts this fiscal year, up $4.797 million from the previous year.
Boehm said there has already been an uptick in giving, with at least three commitments in the last two months: More than $1 million for a naming-rights opportunity; about $500,000 for another naming opportunity; and about $500,000 in a planned giving contribution.
The endowment fund currently stands at $26 million.
"Now we have to tell our story," Boehm said.

Establishing an identity 
Nebraska's philanthropic gameplan has undergone several transformations over the years.
For many years, the athletic department relied heavily on booster clubs to generate donations for football and other sports, particularly from smaller donors. Remember the Touchdown Club?
But over time, those booster clubs went away, largely to meet newer compliance guidelines requiring more athletic department oversight.
Under former athletic director Shawn Eichorst, Nebraska focused on garnering gifts and donations for its Student-Athlete Experience Fund, an innovative program that provides eligible athletes with $7,500 scholarships to be used for study abroad, graduate school, and internships.
While the fund has been successful Boehm said, "what we found in talking to supporters and donors was that we didn't really have an identity."
Discussions about rebranding through the Husker Athletic Fund started in earnest about a year ago, well before Moos was hired to run the athletic department, Kringen said.
The Student-Athlete Experience Fund and other specific giving programs will not go away. They will be folded into the new fundraising arm for all Nebraska athletics -- the Husker Athletic Fund. Under this umbrella are annual gifts and contributions tied to seating, capital gifts for big projects, endowments, and other types of planned giving.
"If you are a donor you will know exactly where your money is going and how it is being used," Boehm said. "We don't want to lose sight of that. Every single dollar counts."
Moos, an experienced fundraiser from previous stints as athletic director at Washington State and Oregon, embraced the plan and has already taken a visible role in meeting donors and fans.
In a prepared statement, Moss said: "We have reorganized and provided needed staffing in our development office in order to best serve our loyal and passionate donors. So many people have invested financially in this program for years and years, and we need to regularly thank and re-engage them.
"At the same time, we are focused on cultivating new donors who want to be a part of the great things that are presently happening in Husker athletics. Those donors and relationships are vital to helping us create resources and opportunities that will build a foundation for Nebraska for the decades to come."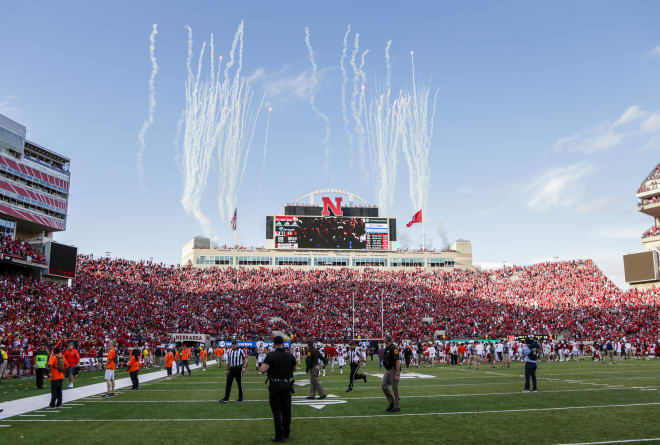 Giving without a ticket attatched
Unlike many Power 5 schools, Nebraska has historically generated much of its revenue from fans by relying heavily on selling tickets and premium seating packages to sold-out Memorial Stadium and other venues.
"We've sold a lot of tickets for a lot of years, along with contributions for those seats," Kringen said. "But in the same context, other Power 5 schools have made a huge investment in hiring professional fundraisers."
While Nebraska will still maximize revenue from ticket sales as best as the market will bear, Kringen said philanthropy will be a "larger driver" going forward in Nebraska's money machine.
According to Boehm and Kringen, there are three elements to fundraisings' new mission statement:
*Engage with donors.
*Communicate and educate donors about how their dollars are being utilized.
*Provide top-flight customer service.
"We cannot lose sight of the loyalty of our fan base and season ticket holders," Boehm said. "The last few years have been tough for football, but our (donations) have risen by $1 million each of the last three years. That's a testament to our fan base. Whenever we've needed help, Nebraska fans have come to the rescue."
A prelude of South Stadium project?  
Kringen said the new fundraising agenda is more about "building an army" than building a "treasure chest."
But he acknowledged that Moos has directed facilities upgrades at practically every stop in his career, and that involves raising money.
Is the long-awaited renovation of the south side of Memorial Stadium about to get the green light? What about the athletic and medical trainer facilities at the stadium? Then there's a new head of the nutrition program who has big ideas.
"We are not actively fundraising for any project right now," Kringen said. "But there will be some pretty large projects coming down the pike over the next six to 12 months."
Added Boehm: "This rollout is about the future, no matter whether it's a capital project or something more on the academic side of things….We are looking at everything across the board and saying 'how can we get better.' "
Potential challenges 
The changes in the donor program come as the university system grapples with budget cuts and belt-tightening. The athletic department, meanwhile, is seemingly awash in cash and is profitable.
Will there be backlash?
Certainly, there will be criticism, but Boehm had this to say: "If the athletic department is thriving, the economic impact is really pumping money back into the state and the entire university. It jumpstarts everything."
He also noted that unlike many schools, the athletic department gives about $10 million a year to the university's general fund to be used for scholarships and such for the general student base.
Around the conference 
Nebraska faces other challenges when raising money.
It is not a heavily populated state compared to its Big Ten brethren, and the same goes with its alumni base.
While Nebraska's donor base is among the largest in the conference, there is some ground to make up when it comes to donations and planned giving.
To gain a sense of donor support among rival conference schools, HuskerOnline surveyed most of the Big Ten athletic departments for the most recent data on donations, donor bases, and the number of employees assigned to solicit funds. Some schools provided more detail than others. Here's a rundown of the schools that responded:
*Michigan reported $59.47 million in donations for fiscal year 2018. It lists 26,343 donors. The athletic department has seven employees assigned to meeting with donors.
* Iowa completed its most successful year in athletic fundraising, with $52.3 million in pledges and contributions. The school has 16,000 donors, and a staff of eight full-time fundraisers.
*Ohio State raised $50.403 million from 12,108 donors in the 2018 fiscal year that ended June 30. The athletic department has a staff of eight full-time fundraisers.
*Penn State's Nittany Lions Club received $39 million in commitments from more than 23,000 donors in its fiscal year that ended in June 2017. That's up $5.5 million from the previous year. Data for 2018 is not yet available.
According to the school, the $39 million included funds covering premium seating, endowed scholarships, and capital projects.
Diving deeper into the numbers, Penn State said those donors who paid $500 or less collectively contributed more than $3.8 million. There were 33 gift commitments of $100,000 or more, and six pledges of $1 million or more.
*Purdue received commitments for $40.86 million from 8,965 donors in its most recently completed fiscal year. The school has eight full-time fundraisers.
*Illinois generated $42.1 million in contributions and pledges its latest fiscal year from 6,727 donors. The athletic department has a development staff of 19, including 12 fundraisers.
*Wisconsin generated $37.7 million in gifts in 2017 from about 14,000 donors. The athletic department has six fundraisers, and five administrative and support staffers.
*Minnesota generated $30.9 million in donations last year from 11,126 contributors. The Gophers have a staff of eight fundraisers.
What about Washington State University, Moos' former employer? The athletic department raised $15.494 million in donations and commitments in Moos' final year there as athletic director. The number of donors was unavailable.
Steve Rosen covers the business of sports for HuskerOnline.com. Questions, comments, story ideas? Reach Steve at sbrosen1030@gmail.com.