Big Red Blitz: Frost has big plans for Mills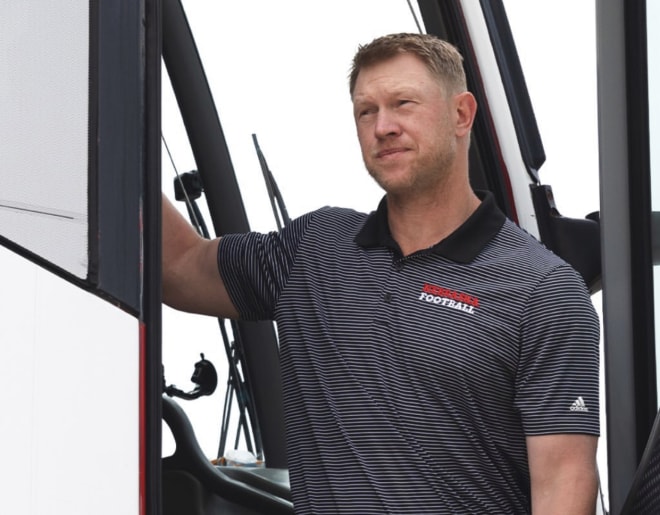 FREMONT – Scott Frost and his Nebraska coaching staff got a big weight lifted off their shoulders when running back Dedrick Mills officially arrived in Lincoln last week.
The 5-foot-11, 215-pound junior transfer from Garden City (Kan.) C.C. via Georgia Tech had the Husker staff and NU fans biting their nails as he awaited test scores to see when he would academically qualify to come to Lincoln.
Mills got the scores he needed and made it to campus in time for summer conditioning, and now Frost can't wait to see what he can do with his latest backfield addition this season.
"That was a fight making sure he got done everything that he needed to get done to get here," Frost said before his speaking engagement on the Big Red Blitz Tour on Thursday. "I wasn't worried about him getting to Lincoln; it was kind of when he was going to get there. The longer we have with him, the better chance he has of learning what he has to learn.
"He's really impressed already from a standpoint that he was able to step in and get right in the weight room with all of our guys and keep up. That speaks to the work he's been putting in while he's been trying to get qualified to come to school."
Mills brings a welcomed element of physicality to Nebraska's running backs room. He rushed for 1,358 yards and 19 touchdowns last season at Garden City after putting up 771 yards and 12 touchdowns as a true freshman at Georgia Tech in 2016.
Frost said he and his staff were immediately drawn to Mills' tough and aggressive style of running from the day they watched him in person for the first time.
"Oh yeah, he's a kid that when we went down and watched him practice at the junior college, our coaches were blown away with his competitiveness and his drive and his grit," Frost said. "I need more guys that are willing to go to battle like that, and I think he's going to have that spirit."
During his speech at the Big Red Blitz stop in Norfolk, Frost mentioned that it wasn't just Mills' power element that intrigued him, but also his versatility and experience. In fact, Frost thinks NU could come up with some new wrinkles they weren't able to use last season to showcase Mills' talent.
"We're going to be built on speed, and we want skill players that can really run," Frost said. "But he's a guy that's bigger in stature and is going to be able to give us some chunk yards. He's got a background at an option school back in the day playing at Georgia Tech, and he's done some other things that we might be able to utilize going forward as well."
Frost already seeing notable results from summer workouts
Nebraska's summer conditioning program is in full swing right now, as strength coach Zach Duval is now in his second year of reshaping the look of the roster.
Frost and his assistants aren't allowed to be involved in the workouts, but the constant reports he has been getting from Duval so far indicate the Huskers have already made a major jump in Year 2.
"Probably weekly I ask Zach Duval who's surprising and who's doing really well in the weight room," Frost said. "Last year I would get a few names, and this year he rattles off a dozen or more every time. I'm really pleased with the overall improvement of our team from a physical standpoint, and credit goes to him and his staff. I think we're in a lot better place."
Recruiting plan further ahead in Year 2
Frost also commented on how much easier the job has been in general entering his second season.
He said things were "starting to slow down a bit" in Year 2 after a whirlwind 2018, and that included much steadier footing on the recruiting front.
Part of that is because he and his staff had a better plan of attack for how they wanted to balance the summer camp schedule.
"I think in Year 2 in recruiting it's made a big difference because we're aware of more of the kids that we can recruit this year," Frost said. "I think we have a bigger pool of guys that we can try to target, and more of those guys are showing up on our campus this spring and this summer that did last year.
"So hopefully a bunch of those guys get to camps. There's a bunch of them that are slated to come to Lincoln and show up to one of our camps. We're going to kind of divide and conquer with some of the satellite things that we're able to go to. We're going to send three or four guys and the rest are going to stay in Lincoln."
One of the camps Frost is especially excited about is the Adidas "OL/DL Pipeline Camp," which will be held at Memorial Stadium on June 15 and will feature some of the top linemen prospects in the country.
Frost said there wasn't a better place in America to hold that type of event than Nebraska, and that was reaffirmed the other day when some of his former Husker linemen – Brenden Stai, Zach Wiegert, and Rob Zatechka - walked into his office to meet about helping promote the camp.
"Those are what linemen are supposed to look like," Frost said.
Quick hits
***Frost said there were no updates on the status of running back Maurice Washington and his legal situation back in California. He said the team is hoping the issue is resolved before the start of the season.
***Frost said receiver JD Spielman suffered a concussion during spring ball but was back to full-speed at summer workouts. "JD's going to be fine," Frost said.
***Frost said freshman linebacker Nick Henrich was on his way to a full recovery after undergoing shoulder surgery in the spring. "I don't think it will be very long," Frost said.