Best of the best: Huskers at the NFL Combine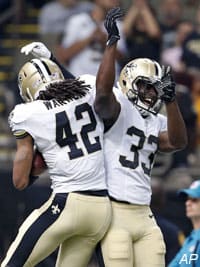 Testing at the NFL Combine officially begins Thursday as league executives, coaches and scouts have descended upon Indianapolis to evaluate players and set their draft boards. Three former Huskers - Ameer Abdullah, Kenny Bell and Randy Gregory - were among the players invited to take part in this year's event.
HuskerOnline will have much more on the performances of that trio in the coming days, but we also took a moment to look back at the performances of Nebraska players at past combine workouts. Below are the top five performers at each combine drill since 1999. Keep in mind that every player doesn't participate in every drill, and some guys (like Spencer Long last year) had to sit out the entire event because of an injury.
40-yard dash
1. Fabian Washington (2005): 4.29 seconds
2. Prince Amukamara (2011): 4.38
2. Daniel Bullocks (2006): 4.38
4. Zackary Bowman (2008): 4.39
5. Roy Helu (2011): 4.40
Few 2005 draftees benefited more from the combine than Washington, who watched his stock shoot up after his weekend in Indianapolis. Washington's time is tied for the fourth-fastest among cornerbacks since 1999 and it helped vault him into the first round (the Raiders took him 23rd overall). Amukamara was also a first-rounder, while Bullocks went in the second.
Random notes: Linebacker Demorrio Williams ran a 4.52 40 in 2004… Chris Kelsay (2003) and Kyle Vanden Bosch (2001) tied for the fastest time among Husker defensive linemen with a 4.75… Lydon Murtha (2009) had the fastest time among offensive linemen with a 4.82.
Bench press
1. Ryon Bingham (2004): 33 repetitions of 225 pounds
1. Adam Carriker (2007): 33
3. Toniu Fonoti (2002): 32
3. Ndamukong Suh (2010): 32
5. Carl Nicks (2008): 31
Bingham's strength didn't help his draft status much, as the defensive lineman was taken in the seventh round. But Carriker and Suh were both first-round selections and Fonoti went in the second. Nicks dropped to the fifth round but ended up making two All-NFL teams before health concerns forced him to retire after just six seasons.
Random notes: Linebacker Stewart Bradley (2007) put up 28 reps, the most of any non-lineman… Receiver Niles Paul (2011) had the most reps of any offensive "skill" position player with 24… Defensive end Mike Rucker (1999) put up just 17 reps but was still drafted in the second round and played nine years with the Panthers.
Vertical jump
1. Stanley Jean-Baptiste (2014): 41.5"
1. Fabian Washington (2005): 41.5"
3. Correll Buckhalter (2001): 40"
4. Rex Burkhead (2013): 39"
5. Prince Amukamara (2011): 38"
5. Daniel Bullocks (2006): 38"
Jean-Baptiste was a workout warrior at the combine and saw his stock take a jump after posting impressive numbers in several categories. His vertical jump was the second-highest in 2014, trailing only linebacker Ryan Shazier. Despite his relative inexperience at cornerback, the Saints took him in the second round. Those around Nebraska knew of Burkhead's athleticism, but his high marks opened some eyes around the league. He still fell to the Bengals in round six.
Random notes: Daniel Bullocks (38") out-jumped twin brother Josh, who left Nebraska one year earlier, by half of an inch… Demorrio Williams (37") is tied for NU's ninth-highest jump since 1999… Murtha (35") had the highest jump of any offensive lineman.
Broad jump
1. Fabian Washington (2005): 129"
2. Prince Amukamara (2011): 128"
2. Stanley Jean-Baptiste (2014): 128"
4. Rex Burkhead (2013): 125"
4. Demorrio Williams (2004): 125"
Three-cone drill
1. Rex Burkhead (2013): 6.85 seconds
2. Bobby Newcombe (2001): 6.86
3. Niles Paul (2011): 6.90
4. Daimion Stafford (2013): 7.06
5. Lavonte David (2012): 7.28

Click
Here
to view this Link.