Beast is back: Stoltenberg eager to make return in 2016
As Nebraska started its Foster Farms Bowl preparations for UCLA last December, Mick Stoltenberg was having arguably the best practice of his young college career.
The redshirt freshman defensive tackle who had only seen the field primarily on special teams was starting the show the kind of potential his coaches had been waiting for, and he seemed well on his way to establishing himself as a future fixture on the defensive line.
But just when things seemed to all be coming together, Stoltenberg planted his right foot into the turf the wrong way and tore his ACL, sidelining him for the bowl game and all of the upcoming spring practices.
That marked the second time in the past three years that the Gretna, Neb., native had a season cut short by injury, as he also tore his left ACL during his senior year of high school.
It was a setback that could have potentially derailed his progress completely. Instead, Stoltenberg ended up turning one of his biggest hurdles yet into a major positive.
"When you're watching all your brothers out there playing, you definitely wish you were out there," Stoltenberg said. "But I knew that I had a lot of work to do and that I'd eventually be back out there, so I couldn't get too down on myself. I tried to be there for the team every day and motivate and do what I could. It was tough, but there were some positives to it too."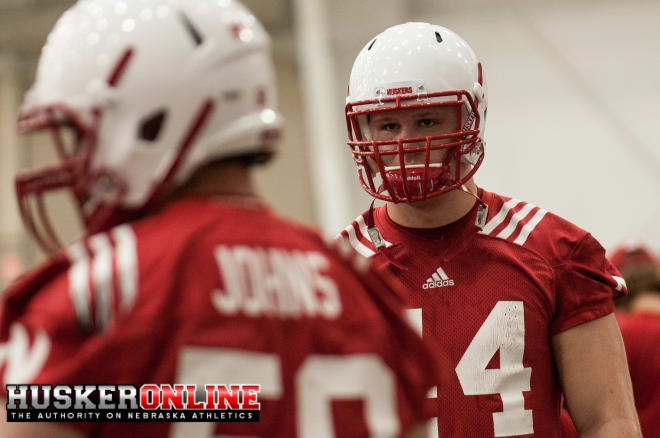 According to NU defensive coordinator Mark Banker, one of the biggest benefits Stoltenberg got from his injury was it forced him to concentrate on his lower body strength and flexibility during his grueling rehabilitation process.

While the 6-foot-5, 295-pound sophomore has always been one of the biggest and strongest players on the team, his rehab helped him make noticeable gains in his mobility and his "bend" coming off the line of scrimmage.
"It's really good to see Mick Stoltenberg on the field," Banker said. "It sounds crazy, (but) the injury might have been the best thing to happen to him… He's a big guy and he can bend. Let's hope that translates into him being a hell of a football player."
Stoltenberg saw action in nine games last season, registering his first career sack against South Alabama and recovering a fumble against Iowa.
While he missed out on a great opportunity during the extra month of bowl practices and then spring ball, Stoltenberg said he made it a point to be as mentally engaged as he could each day to help him hit the ground running once he returned to action.
So far, that's exactly how it's played out this fall camp.
"Obviously I'm shaking a little bit of rust off and everything," Stoltenberg said. "(Saturday) was the first day we went up against our o-line with a little one-on-one period. But as far as that goes, I think next week will be when I really get back into it and start doing a lot more engagement periods with the offensive line. Right now my knee feels great, and my body does too."
Now fully back in the fold in the defensive tackle rotation, Stoltenberg's goal is to pick up where he left off last December and establish himself as a starter by the time the season opener rolls around in September.
"I've got a lot of work to do, especially after missing the spring," he said. "I know nothing is out there just to take. I've got to go out there and earn it."
While many Husker fans have been delighted to see No. 44 back on the field this fall, maybe no one has been more excited than Banker and the rest of Nebraska's defensive coaches.
"I always have been (excited about Stoltenberg)," Banker said. "I can't wait to see what he does."