Avery Moss and Nebraska part ways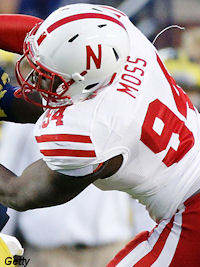 The waiting game is over for former Husker defensive end Avery Moss.
Moss has been suspended since December of 2013 for violating a University of Nebraska Residence Hall ban dating back to 2012. On Friday Moss and his lawyer were informed by the University of Nebraska that he would not be allowed back in when classes start on Monday.
"The University Administrators contacted my lawyer and told him that they didn't want to have me back into the University," Moss said. "The Title IX representative felt like I was too much of a risk and didn't want to deal with it.
"That's kind of all they said to me. They basically want to part ways. It looks like I'm just going to have to part ways myself."
This comes after Moss said he had numerous conversations throughout the year with the Dean of Students about his situation.
The only two things that have changed since his suspension is former football coach Bo Pelini is no longer at NU and the University also hired a new Title IX Coordinator.
"I definitely talked to the Dean of Students (last year) and they told me I'd have a really good chance of getting in," Moss said. "They weren't allowed to fully tell me I could come back because it was uncertain, but I'd been talked to by people that helped make this decision and they told me you should be able to get into the University come December or January."
"The only other thing that could've changed other than that was Bo (Pelini) leaving. (Pelini) and his people were really the only people that had my back on this thing. When he left I was just kind of on an island by myself."
Moss said he can live with the decision handed down to him on Friday, but what he has a hard time dealing with is the timing.
Moss will now have about a week to figure out his future plans since classes at nearly every Division I school resume on Monday. He's had a few different Division I teams make contact with him, but at this point he hasn't received any official offers in writing. Among the teams that have inquired or shown interest in Moss are Arizona and Auburn. He also has the option follow Pelini to Youngstown State.
"I'm not the kind of person that likes to talk bad behind people's back, but it does hurt a lot that the University waited three days before school starts to give me a decision," Moss said. "Even if it came down to the last day, I've been talking back and forth with the Dean of Students to check up on what I need to do. I thought it was poor on their side to put this off to the last possible date they could. Now it leaves me in a sticky situation. You have to keep on moving on and do what you have to do."
Even though Moss will leave Nebraska for good, he will always be grateful for his time at Nebraska and the people of this state that made him feel welcomed.
"I did enough to get my letterman's jacket here at Nebraska and I'm going to keep that forever," Moss said. "I will always be a Husker at heart.
"I can't look at all this negatively. It was great being here. I'll probably never have as good of an experience as I had here. It's just time for me to move on. I have to find something else."
Click
Here
to view this Link.