Austin pushing Jaimes to be 'best left tackle in the country'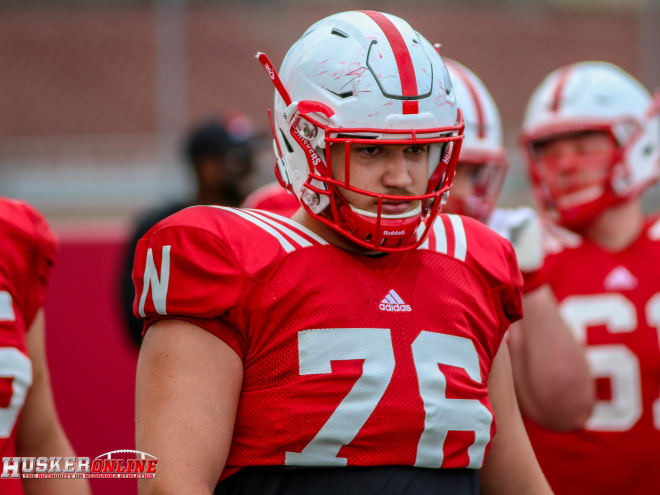 When Brenden Jaimes first arrived on Nebraska's campus a year ago as a true freshman offensive lineman out of Austin (Texas) Lake Travis, he immediately realized he had a lot of work ahead of him.

It wasn't that James, a former three-star recruit who held a slew of Power Five offers, wasn't talented enough to succeed at the Big Ten level. He was just going to be asked to be ready to contribute much sooner than he expected.
Despite initially weighing in at 275 pounds - "That was a good day," Jaimes joked - he ended up becoming just the fifth true freshman offensive lineman to start at NU and only the 11th to play in a game.
Jaimes held his own, starting nine games in 2017 to set the school record for the most starts ever made by a true freshman on the o-line. But as he turned the page to 2018 with a brand new coaching staff, he knew his path had only just begun.
"I'm just expecting more out of myself this year," Jaimes said. "I'm not that small, little freshman anymore. I'm past that. I have gained experiences, so there should be no excuses this year."
Offensive line coach Greg Austin recognized Jaimes' ability and potential from the first time he watched Nebraska's game film of last season.

After Jaimes beefed up to a listed 6-foot-6, 300 pounds over the course of offseason strength and conditioning, Austin turned the focus to building the true sophomore into the type of player everyone hoped he would become.
So far, Jaimes has embraced that process with open arms.
"I challenge him, and it's a challenge in mentality because you are the left tackle, so what is your mentality?" Austin said. "'Am I a badass?' Or am I just a young kid that's just a true sophomore? … So you have the talent and you have the talent to play as a true freshman … but now it's mentality.
"'You're the guy. You are the guy, so hold that down over there, you got me?'"
Austin added that this past week has been as impressive as any thus far from Jaimes, and much of it has to do with Jaimes taking a personal challenge from Austin to heart.
"To be honest with you, the last couple of days he's kind of taken his game to the next level, and I can see it," Austin said. "I actually challenged him Monday night because I still saw some things that I didn't like…
"I want him to be dominant, I don't want him to just be good. I want him to be the freaking best left tackle in the Big Ten and then the best left tackle in the country. And those guys know our standard is Outland trophies and Rimington trophies.
"I mean, that's the standard here. That was the standard established a long time ago, so that's what you're competing with. You're not just competing with these other guys from other schools that don't have the history. There's a standard that comes along with playing this position at this school, and he's getting that."
Jaimes said he took to Austin's coaching and motivational style from the day they first met, as he appreciates the former Husker lineman's delivery and honesty when it comes to trying to make his players better.
"You know, I love Coach Austin, and I love his coaching style," Jaimes said. "He teaches on the field and off the field, and that's going to benefit us to be better men and be better athletes. You know, I really enjoy that…
"Just keep getting better day by day, doing your job, focusing on your job, and if everyone focuses on their job than as an offense we'll be pretty good."