Armstrong's status now top concern for Huskers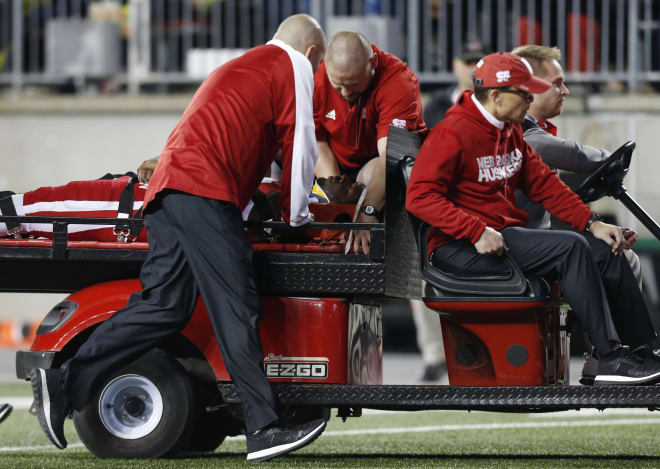 COLUMBUS, Ohio - Tommy Armstrong's scary head injury during the second quarter of Saturday night's 62-3 loss to Ohio State certainly took out any wind still remaining in Nebraska's sails for the rest of the game.
The main concern now is how much Armstrong's status going forward will impact the Huskers looking ahead to next week's home game vs. Minnesota and beyond.
Head coach Mike Riley had no clear answer on whether the senior quarterback would have to miss any further time, as the team won't have a full handle on the severity of the injury until Armstrong undergoes further concussion protocol back in Lincoln.
"It's too early to tell exactly what his situation is for next week playing football, but the good situation was that he came back out," Riley said. "Probably we'll find out what kind of plan we should make like that tomorrow (Sunday).
"I don't know that right now, but that (Armstrong missing next week's game vs. Minnesota) could be very likely."
When Armstrong left the game, senior backup Ryker Fyfe took over, and the frustrating results only continued for Nebraska's offense.
Fyfe - who entered the game already facing a 24-3 deficit - completed just 5-of-18 passes for 52 yards and had an interception returned for a touchdown. Armstrong wasn't any better before his injury, going 4-of-15 for 74 yards and a pick-six of his own.
After the game Fyfe said nothing would change in his preparation this week regardless of Armstrong's status, as he always practices like he will play in the game every week.
But the Grand Island, Neb., native said if he does end up getting the start vs. Minnesota the offense would be tailored a bit to better fit his skill set.
"I don't know what they'd do, but probably throw out some zone-read and put in some passes and different runs," Fyfe said. "Either way I've still got to go out and execute. There's no excuses."
If Armstrong has to miss any time, another pressing question becomes which player would move up to the No. 2 quarterback behind Fyfe.
True freshman Patrick O'Brien has been the third quarterback all season, but the plan all along has been to redshirt him this season.
Would the Huskers contemplate burning his redshirt if Fyfe were go down? Or would former quarterback Zack Darlington - now a wide receiver and holder on kicks - get the nod as an emergency No. 2 backup?
Those are situations that Nebraska is hoping it won't even have to address.
"I know Tommy, and Tommy always gets back up," senior safety Nate Gerry said. "That's Tommy. That's the Tommy I know."