Armstrong relishes time with NFL great Favre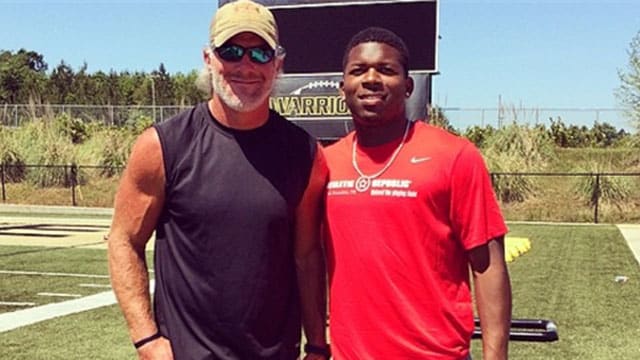 When
Tommy Armstrong
headed south for his annual summer trip home to see his family in Mississippi, he wasn't exactly expecting to end up picking the brain of one of the most successful quarterbacks in NFL history while he was there.
Yet there he was during a sunny May weekend on the Hattiesburg (Miss.) Oak Grove High School football field, getting personal instruction and advice from legendary former Green Bay Packer quarterback Brett Favre. The connection came through Armstrong's father, Tommy Sr., and Favre's older brother, Scott, who are longtime friends and former football teammates.
Scott told Tommy Sr. that the next time his son was back in Mississippi they should come out and spend some time with his famous younger brother, who is now an assistant coach at Oak Grove. The Armstrongs jumped at the opportunity, and Tommy Jr. did his best to soak up as much knowledge and information he could during his few hours with the former 11-time Pro Bowler.
"He helped me a lot just with preparing for games and how to look at film and what to mainly look at," Armstrong said. "That's what I pretty much focused on throughout the couple sessions that we did down in Mississippi when I went to visit my mom. He helped me a lot on that. It wasn't how I could do this in these certain areas, it was just the mental aspect of the game, and I think he helped me a lot on that."
Even though Armstrong has all but solidified himself as Nebraska's starting quarterback, which carries a bit of celebrity in its own right, he admitted he was a bit nervous at first to meet Favre in person.
"Yeah, I was," Armstrong said. "Most of the time when people think of Hall of Fame guys, they think that they really don't talk to people a lot. But he was just like a normal person. When my dad got out of the car, he called hi, 'T-Tom' and stuff like that. He acted like a normal person, and he greeted me like a normal person and we talked just like we were having a conversation."
Nebraska head coach
Bo Pelini
, who worked alongside Favre while he was the Packers' linebackers coach from 2000-02, said his quarterback couldn't have had a better mentor to learn all of the intricacies of the position at the highest level of football.
"To me, he loves teaching," Pelini said of Favre. "Brett has turned into a successful high school coach because he loves the game and loves to give back. Talking to Tommy, he felt it was invaluable to be around Brett. There are a lot of guys I have been around in the NFL where you could spend a couple days with him and not get a lot out of it. But knowing Brett, you could spend a short time around him and get a heck of a lot out of it."
[rl]