Arkansas State postgame nuggets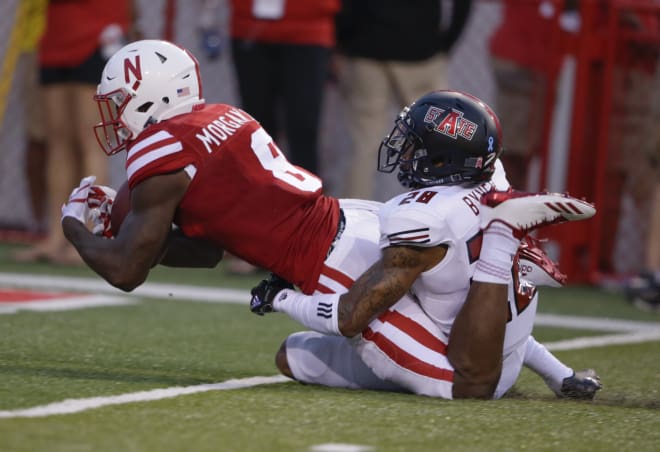 Here are some quick notes to pass along from Nebraska's postgame press conference following Saturday night's 43-36 win over Arkansas State…
***Head coach Mike Riley said Nebraska "ran into a buzzsaw tonight" against an ASU team that really played well tonight. He said without watching the film his biggest concern was eliminating the number of big plays they allowed on defense.
***Riley said the defense did some things with the cornerbacks to adjust to ASU's perimeter bubble screen passes, and part of it was just ASU's receivers making plays and good blocks.
***Riley said Nebraska could learn from "a lot of football tonight," meaning NU saw a bit of everything over the course of four quarters. Riley said the Huskers got some looks and game situations that you sometimes don't get until well into the season, so this would be a good teaching game to start the year.
***On offense Riley said there was good balance with pretty good execution, and that it looked like what he hoped it be for the most part, with some exceptions (i.e. penalties, protection breakdowns, etc.)
***Riley said the staff decided late this week that Tre Bryant would be the No. 1 running back and that they would "let him go." Riley said they weren't going to sub Bryant out until he got tired.
***Riley said the total number of plays ASU ran (89) made it really hard on defense, but they found out a lot about their team and they never quit.
***Riley said the break downs on special teams and bad penalties on both sides of the ball "ignited" ASU and kept the game close.
***Riley said despite the score and the final stats, "I really like where our defense is headed."
***Riley said Caleb Lightbourn's two punts pinned inside the 10 might have made the difference in the game.
***Cornerback Lamar Jackson said "it sucks that it was that close" but in the end all the team cares about is getting the win. He knows the defense is going to grow a lot from this game and will only get better from here.
***Quarterback Tanner Lee said the game was "definitely the most fun I've had in a while", and that he was looking forward to building on the performance this week.
***Lee said he definitely took a moment to step back and appreciate finally being back on the field for the first time since 2015. He said his first hit helped him get back into the flow of the game and settle him down.
***Lee said having to win a close game like that right out of the gates would actually play to NU's favor having that experience under their belt.
***J.D. Spielman said before his 99-yard runback for a touchdown he looked over and saw ASU celebrating on the sideline after their punt return for a score, and "I just wanted to put a stop to that."
***Bryant said he definitely didn't expect to get 31 carries tonight, but he had a feeling he'd be the guy this week in practice with the amount of work he got.
***Bryant said about 3/4 of his runs he was able to get to the second level of the defense untouched, crediting the offensive line for his big night.
Additional game notes courtesy of NU Media Relations
***Nebraska picked up its first win of 2017 and won its season opener for the 31st time in the past 32 seasons.
***The Huskers scored 43 points in tonight's game marking the 13th time in 18 openers since 2000 that NU has topped the 40-point mark.
***Nebraska improved to 3-0 all-time against Arkansas State and 13-0 against current members of the Sun Belt Conference.
***Nebraska won for the 20th straight time in a night game at Memorial Stadium and improved to 46-5 all-time in home night games
***Sophomore I-back Tre Bryant rushed 31 times for 192 yards, setting career bests in both categories. Bryant's previous bests were 13 carries for 56 yards against Maryland last season. Bryant passed the yardage total before halftime with 13 carries for 78 yards before intermission.
***Bryant's 192 yards were the most by a Husker since Terrell Newby rushed for 198 yards against South Alabama in 2015, and tonight's effort was the first 100-yard rushing game by a Husker since Newby had 102 yards at Indiana last season.
***Bryant's 31 carries were the most by a Husker under Mike Riley, bettering 28 carries by Newby against South Alabama in 2015. Bryant had the two longest runs of his career, a 35-yard run in the third quarter and a 24-yarder in the second quarter.
***The last time a Husker topped 30 carries was in 2014, when Ameer Abdullah rushed for 229 yards on 35 carries against Miami.

***Redshirt freshman JD Spielman returned a kickoff 99 yards for a touchdown in the first quarter to give Nebraska a 10-7 lead. The kickoff return for a touchdown was the first by a Husker since Kenny Bell returned a kickoff 99 yards for a touchdown at Penn State in 2013.
***The 99-yard return ties for the fifth-longest kickoff return in school history. Spielman also caught two passes for 44 yards.

***Junior wide receiver Stanley Morgan Jr. caught five passes for 102 yards, good for career highs in both categories. His previous highs were five receptions at Wisconsin in 2016, and 93 yards at Indiana in 2016.
***Morgan's 100-yard effort was the first by a Husker since Jordan Westerkamp and Alonzo Moore both topped the century mark against Wyoming in 2016. Morgan had a 44-yard touchdown catch in the second quarter, the second-longest of his career. He increased his career receiving yardage total to 859, moving him within 141 yards of becoming the 25th Husker with 1,000 career receiving yards.
***Junior quarterback Tanner Lee completed 19-of-32 passes for 238 yards and two touchdowns. Lee's 238 passing yards were the third most by a Husker in his first career start, trailing Ryker Fyfe (407, at Purdue, 2015) and Joe Ganz (405, at Kansas, 2007). Lee is just the third Husker to start a season opener at quarterback since 2010.
***Nebraska senior place-kicker Drew Brown connected on a 21-yard field goal to open the scoring, and added a 41-yarder in the second quarter, for his 48th and 49th career field goals. He is eight shy of second place on the NU career list held by his brother Kris Brown.
***Brown has made eight straight field goals since a miss vs. Purdue last season. Brown scored 11 points, increasing his career scoring total to 293 moving him past Ameer Abdullah (288 points) into sixth place on the NU career chart.
***Arkansas State quarterback Justice Hansen was 46-of-68 on the night for 415 yards and three touchdowns. The 68 attempts tied Tim Rattay (1998) for the most attempts by a Husker opponent and Hansen's 46 completions were one shy of tying Ratty's record of 47.
***Nebraska rushed for 225 yards in tonight's game and improved to 9-0 under Mike Riley when rushing for at least 200 yards. The Huskers are 12-0 under Riley when out-rushing the opposition.
***Nebraska gained better than 200 yards both rushing and passing in the game. This marks the first time NU has posted a 200-200 game on offense since doing so in three straight games last year vs. Oregon, at Northwestern and vs. Illinois.
***Nebraska did not commit a turnover in the game, marking the fourth time in its past five games the Huskers have been turnover-free. Nebraska has won 20 straight games when winning the turnover battle, including an 8-0 mark under Riley.
***Senior safety Joshua Kalu had an interception in the fourth quarter, marking his sixth career interception.
***Mikale Wilbon's seven-yard touchdown run in the second quarter was the first touchdown of his career.
***Sophomore Tyrin Ferguson had an interception in the second quarter to end an ASU scoring threat for his first career interception.
***Senior tight end Tyler Hoppes had three catches for 40 yards, marking his first career receptions.
***Six Huskers made their first career start in the game including tight ends Connor Ketter and Tyler Hoppes, quarterback Tanner Lee, I-back Tre Bryant, linebacker Luke Gifford and cornerback Eric Lee Jr.
***Arkansas State returned a punt 63 yards for a touchdown in the first quarter, marking the first punt return for a touchdown against the Huskers since Wes Welker returned a punt 85 yards for a touchdown on Oct. 20, 2001 in Lincoln. Iowa's Drew Ott returned a blocked punt for a touchdown against Nebraska in 2014, the marking the most recent score against the Nebraska punt unit.
***Arkansas State recorded a second-quarter safety, marking the first safety against the Huskers since Indiana blocked a punt for a safety last season against the Huskers.