Arkansas State keys to victory and HOL score predictions
The Nebraska football team will open up the 2017 season on Saturday with major changes on both sides of the ball, as the Big Red takes on Arkansas State.
As we get closer to kickoff, here are today's keys to a Husker victory over the Red Wolves.
NU currently sits as a 14 point favorite over ASU in tonight's game.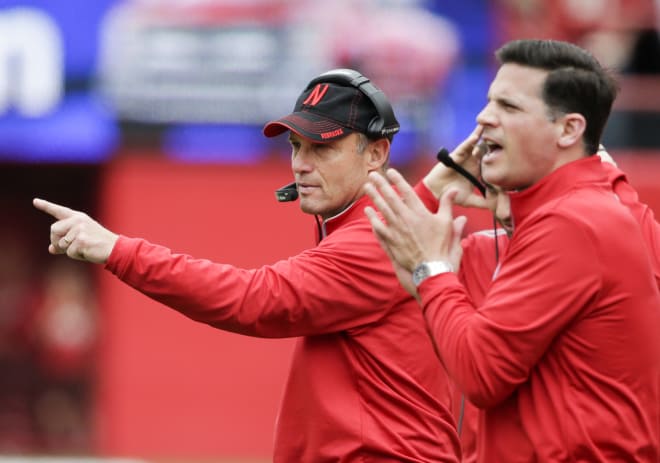 KEYS TO VICTORY: Arkansas State at Nebraska 
KEY 1: The element of surprise
Arguably the biggest advantage Nebraska has in this game today is the element of surprise. Quarterback Tanner Lee is making his first start at Nebraska, and defensive coordinator Bob Diaco will get to show his 3-4 defense for the first time at NU. These new looks should really gave the Huskers an early edge on Saturday.
KEY 2: Playing in space - Nebraska's young corners

Look for Arkansas State to go after Nebraska's young and inexperienced corners right away. It will be very important for the Blackshirts to get an early push up front to help out guys like Eric Lee, Lamar Jackson and DiCarpio Bootle on Saturday.
KEY 3: Expose the Red Wolves offensive line
The Red Wolves offensive line has a combined two starts across the board going into Saturday's game with Nebraska. This is an area NU has to expose early and often with their defensive line.
KEY 4: Keeping ASU's pass rush off-balance
It's well documented how aggressive Arkansas State is going to be with their blitz calls and pass rushers. Expect to see the Huskers counter that with a lot of screens, draws and quick passes to counter ASU's aggressiveness.
KEY 5: Playing pressure free
We heard all August how this was a "drama free" camp for Mike Riley's squad. That mentality starts with how the leadership is structured on this football team. Guys like Tanner Lee, Luke McNitt and Chris Weber are cool customers, and I expect that to trickle down to the rest of the football team.
EXPERT TAKE: Arkansas State at Nebraska 
Sean Callahan - HuskerOnline Publisher
This is an Arkansas State team that will come into Lincoln with some former high profile Power 5 players. However, the Huskers have the element of surprise on their side, and as we know Nebraska is nearly unbeatable in Memorial Stadium at night (45-5). I look for the Huskers to blow things open in the second half and cruise to a 24 point victory.
Nebraska 41, Arkansas State 17
##############################
Robin Washut - HuskerOnline Senior Writer
There might be some bumps along the way, especially early on, but Nebraska's overall talent and depth in the trenches eventually wear down Arkansas State to turn a relatively close game into a convincing Husker victory. Look for NU's defense to produce a couple takeaways and at least one big play on special teams to break things open.
Nebraska 38, Arkansas State 21
##############################
Nate Clouse - HuskerOnline Lead Recruiting Analyst
I see Nebraska coming out and being fairly conservative on the night which actually allows Arkansas State to stay in the game in the first half. The Huskers get in a groove in the second half though and pull away for good late in the third quarter.
Nebraska 42, Arkansas State 20
##############################
Mike'l Severe - Omaha World Herald Bottom Line
The Red Wolves return most of their skill players on offense. I'm anticipating a slow start for the Huskers offense dealing with the ASU pass rush. My head says it should be a 3 TD win for NU but the analytics show much closer game.
Nebraska 27, Arkansas State 20
##############################
Andy Kendeigh - KETV Channel 7 Sports Director
You have to expect some growing pains with the new defense and a new quarterback, right? This is Arkansas State's Super Bowl and will come out of the gates sky high. Nebraska's power and depth ultimately decides it in a four-quarter game to start the Tanner Lee era.
Nebraska 37, Arkansas State 20
HuskerOnline Week  1 Expert Score Predictions
Week 1
Sean Callahan
Robin Washut
Nate Clouse
Mike'l Severe
Andy Kendeigh

ASU @ Nebraska

41-17 Nebraska

38-21 Nebraska

42-20 Nebraska

27-20 Nebraska

37-20 Nebraska

Wyoming @ Iowa

27-23

Iowa

23-20

Iowa

30-21

Iowa

38-20

Iowa

27-14

Iowa

Michigan vs. Florida

20-13

Michigan

35-24 Michigan

34-17 Michigan

27-20 Michigan

21-17

Michigan

Alabama vs. FSU

Alabama

38-27

29-13 Alabama

31-21 Alabama

31-20 Alabama

27-17

Alabama

Texas A&M at UCLA

41-37

UCLA

52-49 Texas A&M

28-27 UCLA

34-27 UCLA

34-31 Texas A&M

Tenn. vs. Ga. Tech

30-24

Tennessee

27-26 Tennessee

37-31 Tennessee

38-35 Tennessee

31-27 Tennessee