Allen makes his case as one of state's best for 2017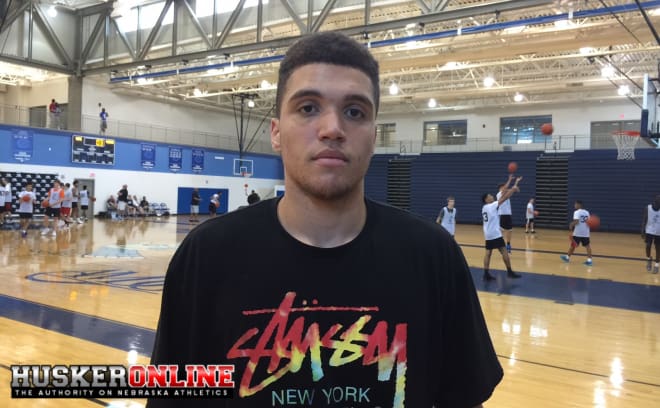 There might not be a player in the state of Nebraska who had a better month of July than 2017 Boys Town shooting guard Teddy Allen.
After moving from Mesa, Ariz., last August, Allen dominated Nebraska's Class C-1 last season as a junior, averaging 26.6 points and 12.3 rebounds to earn first-team all-state honors.
But because of the level of competition he was facing in high school, Allen knew he had to make his name even more on the AAU circuit while playing for the OSA Crusaders program this summer.
The 6-foot-6, 222-pound prospect did exactly that, posting three-straight breakout weekends in July highlighted by one of his best showings at the Fab 48 in Las Vegas. After dropping 30-plus points in two games that weekend, Allen picked up his first high-major offer from Iowa State.
Virginia Tech soon followed with an offer, as did DePaul and George Mason. His play also put him on the radar with a number of other high-major schools, including West Virginia, Cincinnati, Illinois, and Rutgers.
Another school that has been showing heavy interest is Nebraska, as head coach Tim Miles was courtside for one of Allen's games in Las Vegas.
"It was a great opportunity, because I knew we were going to play against some of the top teams in the country," Allen told HuskerOnline.com. "I just got my mindset right, got in the gym a lot right before Vegas. I talked with some of my coaches and they told me to try and show out out there, and I feel like I did a pretty good job of that."
Allen now holds seven offers as the AAU season comes to a close, and that list should only continue to grow over the next couple of weeks. In fact, many expect West Virginia to possibly be the next to offer, and possibly another high-major soon.
As for Nebraska, Allen said he's been in fairly regular contact with NU's staff recently and has been invited to participate in the Tim Miles Elite Camp this weekend. However, Allen said he might not be able to make it to Lincoln for the camp, as he plans to return to his home state of Arizona to visit his family.
Allen lived in Arizona all the way through his sophomore year of high school. Though he was excelling on the court at Desert Ridge High School - he averaged 18.7 points and 6.4 rebounds as a sophomore - he wasn't doing so hot in the classroom.
Realizing he needed to make a change to keep his academics from slipping any further, Allen's step-father - a native of Nebraska - told him about Boys Town and how it specializes in helping kids in exactly Allen's situation. He decided to move to Omaha on Aug. 10, 2015, and said he's been thriving both in school and in basketball ever since.
"I was kind of struggling with my grades in Arizona," Allen said. "I just needed to focus on basketball and school, and Boys Town is a really good school for that. It has a really good credit recovery system and they have opportunities for summer school, so it just seemed like a really good option.
"I needed to get away from Arizona and get into a new situation, and obviously it's been working out well. I made the right decision."
Maybe the only downside to the move has been a notable drop in the level of competition he faces at the high school level. Desert Ridge competes in Arizona's Division I, Section II, which is the second-highest classification in the state.
In his first game with Boys Town back in January, Allen posted 32 points, including four 3-pointers, along with 11 rebounds and four assists against Columbus Scotus. He went on to record 14 double-doubles by the end of the season.
"It's different," Allen said. "Honestly, I would probably say Arizona has better competition, but up top in each class (in Nebraska) there some players who could play in Arizona, easily… I mean, obviously being in Class C-1, you're not going to play against the cream of the crop by any means. But I think especially in July I was able to prove that I can play with anyone."
As Allen gets ready to go into his senior year, his focus will now shift to his school work as he continues to improve his academic standing. He plans on taking his first ACT in September, and once he gets a score he's happy with he will begin scheduling his official visits.
For now, the plan is to start setting up his visits for September and October, and if all goes well Allen hopes to make his college decision by the first day of the fall signing period in November.
"Obviously my top five is the offers I have so far and the others I think I'll be getting soon," Allen said. "But by the end of this weekend I'll probably have a couple more high-major offers, so I'll just have to look at everything and talk with my family about it."