All-American phenom Maurice Washington commits to Nebraska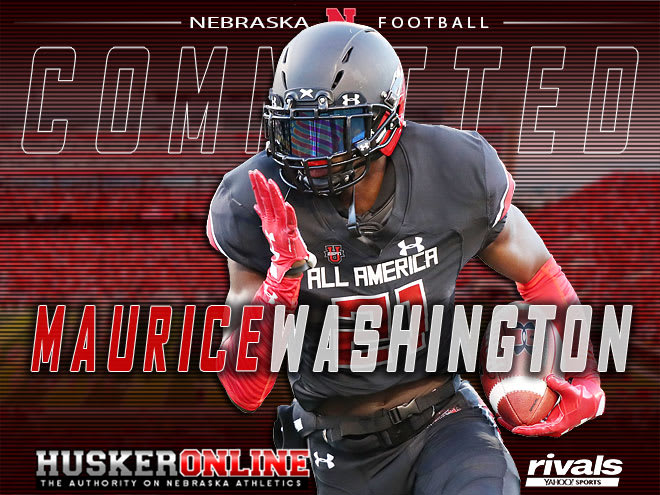 Perhaps no single prospect helped his stock more following an All-American performance than Dallas-area running back Maurice Washington. After a record-setting performance in the Under Armour All-America Game, he immediately piqued the interest of college football fans around the country, after he came into the game as a relatively unheralded recruit. Nebraska was one of the teams that jumped on him quickest and hardest, and the interest was pretty publicly reciprocated. Arizona State had been in the picture as well, but it never looked as though there was the same kind of mutual interest between school and player as there was between the Huskers and Washington.
WHY IT'S BIG FOR NEBRASKA
The Huskers signed a four-star junior college running back prospect in Greg Bell in December, but the excitement over landing an MVP from a major all-american game in Scott Frost's first class is a considerable victory in terms of public perception. Nebraska fans are understandably optimistic about the future of the Huskers offense after seeing what this staff was able to do at UCF and have already penciled in Washington as one of the crown jewels in the 2018 class. He showed not just in the game, but throughout the week at Under Armour that he can run with power, quickness, and catch the ball effectively, so there is plenty to be excited about should he live up to the promise he showed in early January.
WHAT'S NEXT FOR THE TEAMS THAT MISSED OUT
The Sun Devils class isn't that big, but if there's one thing its got, it's running backs. Even after graduating a few at the position this year, they come back with 2017 Rivals100 running back Eno Benjamin and have four - including junior college all-purpose back Isaiah Floyd - committed or signed in this class. Ohio State has had some off-and-on interest in Washington as well, but had three four-star running backs of its own signed heading into Wednesday. While Washington established himself as a playmaker that would be nice to have included in any of the classes discussed, the greatest opportunity and interest was always highest with the Huskers.