Alex Davis is N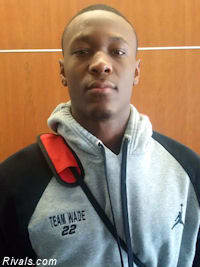 Well, the Huskers are going to see firsthand just how much potential Davis has as he committed to NU during his official visit to Lincoln this weekend.
"I got there with my family and everything and we saw the facilities and heard what the coaches had to say and how they wanted to be playing me," Davis said. "It all really caught my eye. Then just getting a chance to hang around with the players and to see how they feel about the school, the fans and all of that played a big part in it.
"So after all of that I talked with my parents and told them what I wanted to do and they were nodding their heads and said that they felt (Nebraska) is where I should be too."
The 6-foot-5, 225-pound Davis said he liked how the coaches plan to use him in their defensive system and how they plan on helping him grow as a player since he's so new to the game of football.
"They basically told me that they're excited to be working with me and they want to be a part of the grooming process and how they want to help me accomplish my goals of getting to the (NFL). I was very impressed by that."
According to Davis, there were a couple parts of his trip to Nebraska that really blew him away.
"It's snowing too. I love the snow. It's the first time seeing snow in my life. Last night I was sitting there playing with it. My hands got kind of cold, but it was alright. We had a little snowball fight last night, it was a lot of fun."