2019 OLB Nelson finds perfect fit at Nebraska
Nebraska's first commit following its monster recruiting weekend just so happened to be its first commit for the 2019 class as Scottsbluff, Neb. outside linebacker Garrett Nelson made things official.
The 6-foot-3, 235-pound athlete earned his offer a week ago after competing in the Huskers Big Man camp as well as Friday Night Lights later on that same day. His impressive showing that night led to an offer immediately following the camp.
Nelson and his family made the trek back across the state for Friday Night Lights and Big Red Weekend once again and it didn't take long for him to inform the staff of his decision.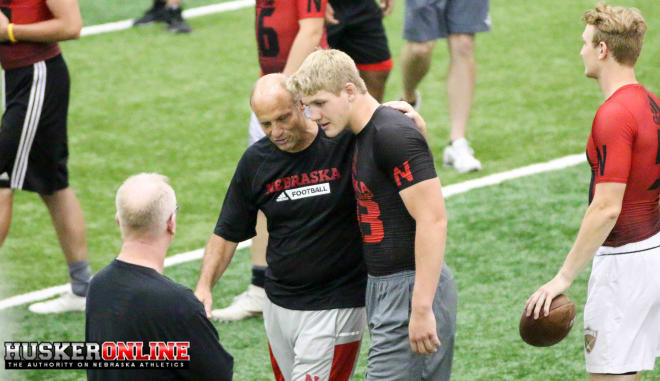 "I actually committed last night," Nelson said about his decision. "Last night I went out to the Friday Night Lights camp, I didn't participate, I just talked to the coaches and all of the coaches down there. It was just like I've known them my whole life. I was just talking with them like normal people and it was like they were all already my friends and coaches and they loved me and I loved being around them.
"I just love the whole atmosphere at Nebraska and what they are trying to do with the program. Also, just who they are as people mostly and their coaching style is just so precise. They will make you the best player in the world if you want to put in the time and the effort and that's what I love about them."
After committing, Nelson said he immediately felt like part of the team and really enjoyed hanging around the players and coaches on Friday night.
"Just talking with those guys, they're almost exactly like the people I have back home," Nelson said about the current Huskers he hung out with. "They are all just real friendly and talk on a down-to-earth level, I love the energy they give off and apparently they love me. I just love Nebraska, I love the players and I love the coaches. It's just the perfect fit for me."
Nelson says the Nebraska staff sees him as being a great fit at the boundary outside linebacker position and, after learning more about that spot, he can't wait to play in that role.
"I watched a little bit of film about the position they want me playing and I am so excited, I just can't even wait to play the position," Nelson said. "I get to be an athlete. I get to rush the passer on the edge. I get to play the run and squeeze the edge. I get to get back in coverage and cover a tight end or a receiver in space. I just get to be an athlete and that's what I really love about the position and I can't wait to play it.
"For me, the coaches said they love who I am as a person, they love my energy and how I lead and how I carry myself. I love how they actually recognized that as a coach and they just get fired up about me and can;t wait to get me into the college."
Now that Nelson's recruitment has ended shortly after it even began, he says he has his sights set on his team and helping to lead the Bearcats to wins this fall.