16 for '16: Osborne wins first title over Miami in Orange Bowl
For 22 years, the one big knock on Tom Osborne's legacy was that despite all of his success since taking over as head coach at Nebraska, he could never seem to win the big one.
That all changed on a hot, muggy night on Jan. 1, 1995, in Miami, Fla.
After rolling through the regular season a perfect 12-0 and capturing another Big Eight Conference title, the No. 1 Huskers took on third-ranked Miami on the Hurricanes' home field at the FedEx Orange Bowl.
With a chance to clinch the third national championship in program history and the first of Osborne's career, NU rallied back from a 17-9 fourth quarter deficit with two touchdown runs by fullback Corey Schlesinger to top Miami 24-17.
The victory not only gave Osborne his first title, it marked the first of three national championships over the next four years, cementing the 1990s Huskers as one of the best dynasties in college football history.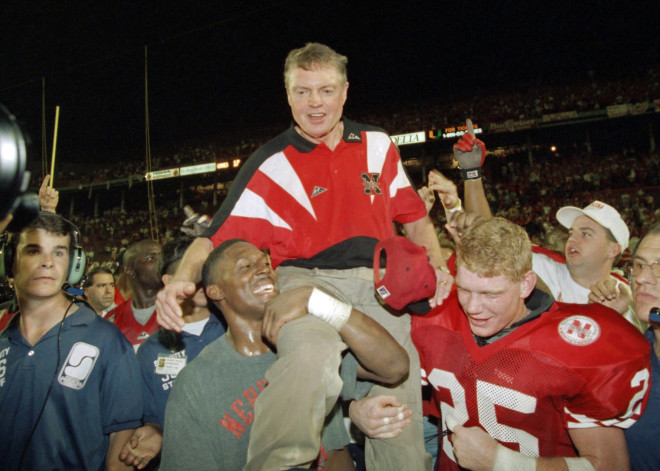 How it went down
One of the biggest concerns for Nebraska coming into the game was how it was going to slow down Miami's blazing team speed on both sides of the ball.
Those worries proved legitimate right out of the gates, as the Hurricanes jumped out to a 10-0 lead with the help of a 35-yard touchdown pass from quarterback Frank Costa to wide out Trent Jones.
The Huskers would answer back with a 19-yard touchdown toss of their own to tight end Mark Gilman from quarterback Brook Berringer, who took over on the third series for star Tommie Fraizer - who had missed the previous 98 days with a blood clot in his leg but returned to start the Orange Bowl.
After going into halftime down 10-7, that Miami speed would come back to burn NU once again to start the third quarter. This time Costa recognized the blitz and dumped off a short pass to Jonathan Harris, who sprinted past Nebraska's defense for a 44-yard touchdown to push the lead to 17-7.
That would be the last mistake the Blackshirts would make the rest of the night, however.
With Miami backed up near its own goal line late in the third quarter, Husker outside linebacker Dwayne Harris fired through UM's offensive line and buried Costa in the back of the end zone for a safety that cut the deficit to 17-9 going into the fourth and final quarter.
The Huskers appeared to get another big break when the ball was snapped over Miami punter Dane Prewitt's head and bounced back to the UM 10. Prewitt kicked it out of the end zone, and instead of another safety Miami was penalized for an illegal kick, giving Nebraska possession at the Hurricane 4.
But on the very next play, Berringer was intercepted by Miami safety Earl Little in the back of the end zone to end the threat.
The Blackshirts held strong and forced two straight three-and-outs by Miami, giving the offense the ball back at the UM 40 after the second stop. Frazier took over under center from there, and the Huskers capitalized with a 25-yard run by I-back Lawerence Phillips and a 15-yard trap by Schlesinger for a touchdown to make it 17-15.
Frazier then connected with tight end Eric Alford for a two-point conversion pass to tie the game up at 17-17 with 7:38 left to play.
The defense forced another Miami punt on the ensuing drive, and Frazier and the offense took over at their own 41. Frazier took an option keeper 25 yards down to the UM 27, and moments later Schlesinger struck again with a 14-yard rumble to end zone to give the Huskers their first lead of the night at 24-17.
Nebraska's defense would seal the deal from there, capping it off with the unforgettable image of rush end Terry Connealy celebrating over Costa after driving him to the turf for a sack with just over two minutes to play.
Roverback Kareem Moss officially ended Miami's hopes of a comeback by picking off Costa's desperation heave with 1:01 remaining. Frazier would kneel it out from there en route to capturing the game's Most Valuable Player award.
No. 2 Penn State defeated Oregon in the Rose Bowl the next day to post an undefeated season of its own, but Nebraska would end up finishing ranked first in both the final Associated Press and the Coaches polls.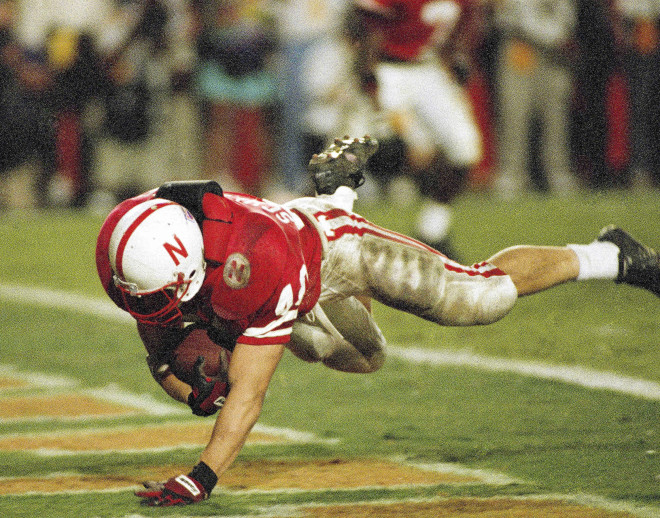 They said it
"We felt really comfortable on the last two drives. We knew their defensive line was tired, and that's the heart of their defense. Their guys were bent over exhausted. They gave me an opportunity to run, and that's what we did."
--Tommie Frazier, Nebraska quarterback
***********************************
"This feels so good. This is what we have been working for all year, and it happened."
--Corey Schlesinger, Nebraska fullback
***********************************
"I really feel national championships are great. I don't know that we've won it yet, but I suspect that we've got a chance. I told Joe Paterno I wouldn't do any lobbying, and I'm not going to. I don't think Joe will, either. Because it is a ballot box issue, I've tended to have a little more of an even keel on these things. If they give it to us, we'll be very grateful and certainly take it home. If they don't, I'll understand that, too. But I'll always be proud of the way we played."
--Tom Osborne, Nebraska head coach
***********************************
"He's is the type of person who doesn't show his feelings. But I guarantee you that once it sinks in for him, you'll see a couple of tears and a smile."
--Frazier on Osborne
16 for '16 archive