16 for '16: Nebraska's greatest upset win in program history
Former Nebraska head coach Bill Jennings never had one winning season at NU from 1957 to 1961, but he did deliver arguably the greatest upset victory in school history.
In 1959 Oklahoma came to Lincoln with a 74 game conference unbeaten streak led by legendary coach Bud Wilkinson.
The Huskers had lost their previous 17 games against the Sooners, with the last victory coming under head coach Glenn Presnell in 1942. OU won the national championship under Wilkinson in 1950, 1955 and 1956.
At one time Oklahoma had a 47 game winning streak from 1953 to 1957, which is still the longest in college football history. To go along with that Wilkinson's squad won 13 consecutive conference championships from 1947 to 1959 compiling a 74-1-2 record during that time in conference play.
Meanwhile the Huskers were not a winning program during that era under Jennings with records of 1-9 in 1957, 3-7 in 1958 and 4-6 in 1959.
That's why when you analyze NU's 1959 victory over Oklahoma it's still considered the greatest upset in program history when you compare where the two programs where at during that period.
How it went down
Statistically Oklahoma completely dominated the game in every area other than the scoreboard. OU had 19 first downs, compared to NU's eight. They outrushed Nebraska 240 to 127 and out-passed them 100-34 for a yardage difference of 340 to 161.
It didn't matter though, as the final scoreboard read 25-21 in favor of the Huskers.
The Huskers were sparked by a special teams touchdown in the victory. Offensive lineman Lee Zentic scooped up a blocked punt for Nebraska and scored a 36-yard touchdown.
NU's Ron Meade intercepted an OU pass in the end zone to end the Sooners final scoring threat.
Meade also was Nebraska's quarterback at the end and kicked a 22-yard field goal in the third quarter and a 33-yard field goal in the fourth quarter to provide the game's winning points.
The win over Oklahoma was so big at the time classes actually got called off the following Monday.
Don Bryant was the sports editor of the Lincoln Star in 1959 and he would eventually become Nebraska's media relations director. Bryant called the win "sensational" and said "the town went crazy. The fans stormed the field and down came the goal posts."
Bryant told Huskers.com in 2009 that the Extra Point Club later tore up those historic goal posts and sold pieces of them as paper weights to make money for NU's first major football booster club.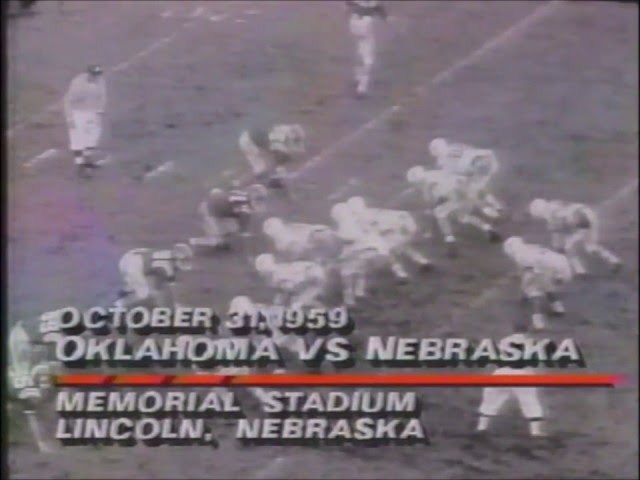 In their words
"It was the first time we'd beaten Oklahoma in 17 years, and the first time any team in the conference had beaten OU in 13 years, so it was a happy day for the whole Big Eight Conference."
--Harry Tolly, Nebraska Quarterback (Huskers.com)
***********************************
"It was a great victory, and this weekend will be a great reunion," guard Lee Zentic recalled 50 years later when NU honored the team before the Oklahoma vs. Nebraska game in 2009. "It'll be fun for all of us to get back together and rehash some old times. The thing about our team was we could beat anybody, and we could lose to anybody."
--Lee Zentic, Nebraska OL (Huskers.com)
***********************************
"They called off school the next Monday, so we were all very popular people on campus."
--Don Fricke, Nebraska Fullback (Huskers.com)
16 for '16 archive