16 for '16: Nebraska earns first major bowl win vs. Auburn
In both the 1961 and 1962 seasons the Big Eight champions were run off the field by teams from the Southeastern Conference in the Orange Bowl.
In 1961 No. 4 LSU beat No. 7 Colorado 25-7 in the 62' Orange Bowl, while in 1962 No. 5 Alabama beat No. 8 Oklahoma 17-0 in the 63' game.
Heading into the 1964 Orange Bowl Nebraska earned a bid to take Southeastern Conference Champion Auburn, who finished 9-1 in the regular season. The Huskers were also 9-1, with their only loss coming out of conference to Air Force. NU captured the 1963 Big Eight crown by taking down No. 6 Oklahoma 29-20 in the regular season finale.
Nebraska would go on to beat No. 5 Auburn 13-7 in the 1964 Orange Bowl. Today we look back at this historic victory in our latest edition of 16 for 16'. HOL will look back on 16 great games/plays/moments in Husker history to get you ready for the upcoming 2016 season.
How it went down 
One of the more unique stories to come out of the 1964 Orange Bowl involved future NFL Hall-of-Fame Nebraska lineman Bob Brown.
According to former media relations director Don Bryant there was a concern going into the game against Auburn because the Tigers had never faced a team before that had African American players. Auburn actually didn't have an African-American player on their roster until fullback James Owens in 1970.
Husker head coach Bob Devaney instructed Bryant to talk to Brown about what potential problems he might have against the Tigers, but as you can imagine there wasn't much that scared the massive 6-foot-5, 260 pound lineman from Cleveland.
Bryant wrote in his book that Devaney was only looking out for his star player, but there was absolutely no fear in Brown going into the game.
"Relax, Mr. Bryant, I've had a deep-seeded animosity toward the great state of Alabama," Bryant recalled Brown telling him in his "Tales from the Nebraska Sidelines" book.
It didn't take long for Brown to show he wasn't scared of the Tigers. On the game's second play Brown drove a Tiger defensive lineman 30 yards down the field, paving the way for Dennis Claridge's 68-yard touchdown run that put the Huskers up 7-0. NU ended up winning the game 13-7, giving the Huskers their first Orange Bowl victory in school history. It was also just their second bowl game victory, to go with their 1962 Gotham Bowl win against Miami.
That block by Brown and run by Claridge set the tone for the entire game. Up 13-0 at halftime, the Huskers were able to hold on against a physical Auburn team that limited them to just 234 total yards of offense and 11 total first downs.
Brown would go on to become a first-round draft pick and the second overall selection by Philadelphia in 1964. He enjoyed a 10-year NFL career, including five years with the Eagles (1964-68), two with the Los Angeles Rams (1969-70) and three with the Oakland Raiders (1971-73). Brown was known as one of the first professional football players to embrace weight training and year-round conditioning.
Brown battled knee injuries for most of his pro career, but he still earned NFL/NFC offensive lineman of the year three times and he was selected to six Pro Bowls.
Brown was named to the first-team All-NFL team seven times over his career and he was named to the NFL's all-decade team of the 1960's.
Brown's former coach George Allen of the Rams, a future Hall of Famer, had some very strong words to sum up his career.
"At his best, no one was better than big Bob Brown," Allen said.
Deacon Jones, a former teammate of Brown's also had some strong words to describe his playing career.
"He's a linebacker in an offensive lineman's body," the Hall-of-Famer Jones said about Brown. "He had a cold-blooded mentality. He'd kill a mosquito with an ax."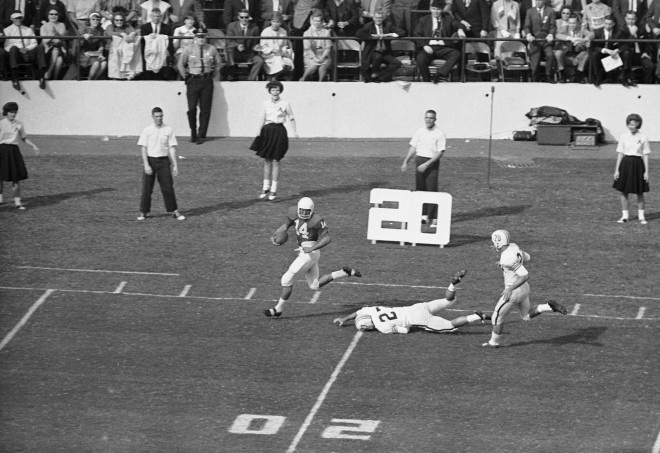 They said it
"That play was designed for about 2 to 3 yards. It surprised me as much as it did Auburn."
--Dennis Claridge, Nebraska quarterback
***********************************
"I think we wanted to justify being down here. The Southeastern Conference has sort of kicked the Big Eight (Conference) around the last few years."
--Bob Devaney, Nebraska head coach
***********************************
"When the going got tough, they came through. The whole state of Nebraska is proud of them."
--Frank Morrison, Nebraska Governor
***********************************
16 for '16 Archive