16 for '16: Huskers run past Michigan in Alamo Bowl thriller
In the grand scheme of things, Nebraska's 32-28 win over No. 20 Michigan in the 2005 Alamo Bowl wasn't all that significant compared to the program's previous postseason success.
But when considering the Huskers were in desperate need for some positivity and were facing a Wolverine squad loaded with future NFL players, the victory was arguably the brightest highlight of the Bill Callahan era.
The game was also one of the wildest finishes in NU bowl history, as the Huskers barely avoided potential disaster by ending a final play that saw Michigan use seven laterals to get the ball 15 yards from the end zone with no time left on the clock.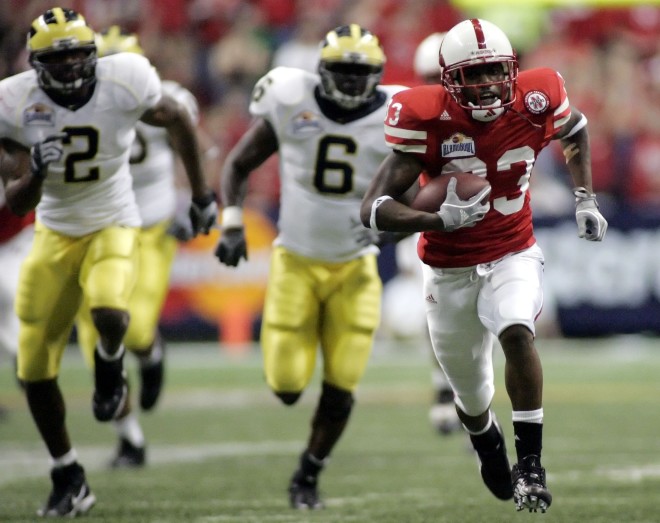 How it went down
Before crowd of more than 60,000 fans and a national television audience, Nebraska and Michigan traded blows for four full quarters en route to one of the most memorable finishes to a bowl game for either program.
After going into halftime tied at 14-14, the Wolverines jumped out to an 11-point lead early in the fourth quarter after quarterback Chad Henne hit Mario Manningham for a 21-yard touchdown and then ran in another score from 7 yards out with 11:40 to play.
The Huskers' offense had played an up-and-down game all night, but when their team needed them to step up the most, quarterback Zac Taylor and I-back Corey Ross rose to the occasion in a major way.
Ross got the rally started when he broke loose for a 31-yard touchdown scamper with 8:06 remaining in the game. A two-point conversion pass from Taylor to receiver Todd Peterson then cut it 28-25.
On the ensuing defensive series, senior safety Blake Tiedtke blitzed off the edge and knocked the ball away from Henne, and NU defensive tackle Ola Dagunduro picked it up and took it 13 yards to the Michigan 16-yard line.
Taylor, who had thrown two interceptions earlier in the game, made up for his mistakes by firing a 14-yard strike to wideout Terrence Nunn for his third touchdown pass of the night to give Nebraska a 32-28 lead with 4:29 to go.
The game eventually came down to the final play. Henne threw a quick pass to receiver Jason Avant, who lateralled to receiver Steve Breaston, who lateralled to running back Mike Hart.
Hart lateralled back to Avant, who threw across the field to Manningham, who pitched it back to Avant, who heaved it back to midfield to offensive lineman Mark Bihl.
Bihl couldn't control the ball, but it was still ruled a live ball and Hart quickly scooped it up and took off.
While there was confusion on both sidelines over whether the game was over, Hart flipped it to tight end Tyler Ecker, who raced 57 yards all the way down to the NU 15 before defensive backs Zack Bowman and Titus Brothers alertly shoved Ecker out of bounds to finally put an end to the play.
Star of the game: Corey Ross
Taylor and Nunn were credited with the game-winning touchdown when all was said and done, but had it not been for a workhorse performance by Ross, Nebraska likely would have never made that fourth quarter rally.
Along with his late touchdown, Ross piled up a game-high 161 rushing yards on 28 carries, including gaining 102 of those yards in the second half.
Playing in his final game as a Husker, Ross came up with big plays every time NU's offense was starting to sputter. He had a 20-yard run in the second quarter that marked the team's longest run since the second game of the season against Wake Forest.
Ross followed that up with a 25-yard scamper that set up a Jordan Congdon field goal to give the Huskers a 17-14 lead to open the third quarter.
On Nebraska's second-to-last possession starting at the Michigan 38-yard line, Ross carried 7 yards on the first play, and on the second play he found a crease on the left side and sprinted 31 yards for the touchdown.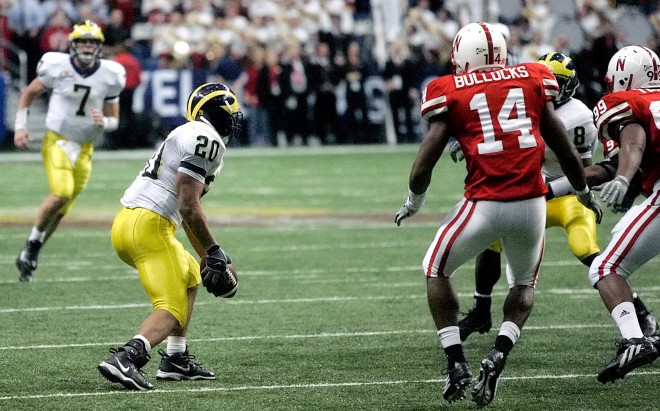 In their words
"We played this season as all day fighters all year long. We played a fourth quarter game, we're a fourth quarter team. And we showed that tonight."
--Nebraska I-back Corey Ross
***********************************
"I don't know what the ramifications will be, but I can tell you about the excitement in that locker room and how proud those players are. Their hard work, their effort, their blood, sweat, and tears... We've been through quite a bit of adversity this year, and to culminate this season with this type of victory feels very good. It feels good and it's something we want to build on as we go into the offseason."
--Nebraska head coach Bill Callahan
16 for '16 archive