16 for '16: Henery, Suh bowl over Buffaloes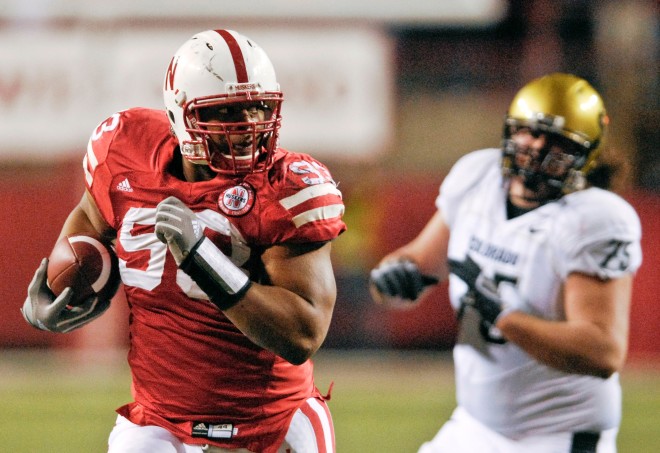 With the start of the 2016 season still more than two months away, we decided to take a look back at 16 of the best games in Nebraska football history.
Today we go back to one of the most memorable wins of the late-2000s, when the 2008 Huskers used a record-setting field goal and a walk-off pick six by one of their all-time greats to hand rival Colorado a 40-31 defeat.
How it went down
After a disastrous 2007 season, Nebraska was pushing for an eighth win and to secure a bid to the Gator Bowl when Big 12 rival Colorado came to town for their annual Black Friday showdown.
On the other side, the 18-point underdog Buffaloes were trying to keep their bowl hopes alive by earning their sixth win.
The two offenses traded blows all the way until the final minutes of the fourth quarter, when Colorado forced Nebraska into a fourth-and-25 at the CU 40 with the Huskers trailing 31-30.
Rather than try for a desperation Hail Mary, NU opted for a 57-yard field goal attempt by sophomore kicker Alex Henery.
With the game on the line, Henery came through with the go-ahead kick that just snuck over the crossbar and broke the record for longest field goal in school history to give the Huskers a 33-31 lead.
The game wasn't over yet, though, as the Buffaloes and quarterback Cody Hawkins still had 1:37 left to move into field goal range starting from the Nebraska 21. Two completions gave CU a first down at the Husker 33, but that would be as far as they would get.
Senior defensive end Zach Potter tipped Hawkins's next pass up in the air, and junior defensive tackle Ndamukong Suh hauled it in for the interception and rumbled 30 yards for the clinching touchdown.
Suh barreled over Hawkins on his way to the end zone, and the play would help set the tone for what would be one of the best seasons ever by a Nebraska defender the following year.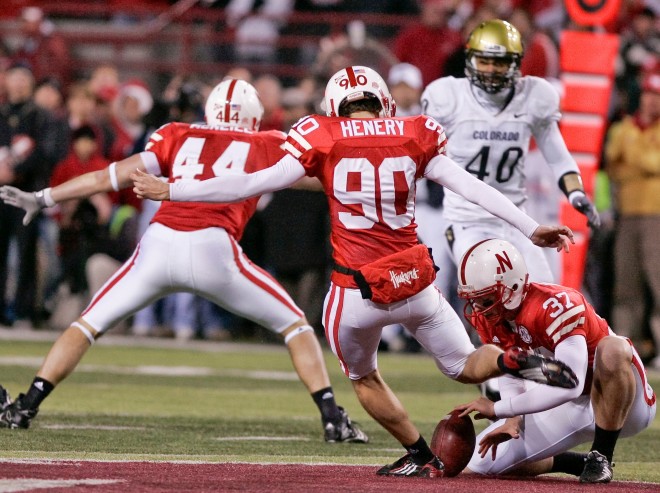 Star of the game: Alex Henery
Suh may have come up with one of the most unforgettable plays in recent Nebraska football memory, but the Huskers might not have even been in that situation at the end of the game had it not been for Henery.
In addition to his record-breaking game winner, the Omaha native made three other clutch field goals that helped NU keep pace as the game went on.
One of those makes came on a 37-yarder that got Nebraska to within 31-30 with 8:09 left in the game.
The Huskers actually might have been better off letting Henery try a fifth field goal at the end of the first half.
Instead, they called for a fake with holder Jake Wesch blindly flipping the ball over his head to Henery - a play NU had used just three weeks earlier vs. Kansas.
Colorado's Jimmy Smith wasn't fooled, and he sprinted in front of Henery and snagged the ball for a 58-yard touchdown to send the game into halftime all tied up at 24-24.
Still, Henery and Huskers ended up getting the last laugh.
In their words
"I hadn't been hitting it that far in pregame. We have our distances set, and I didn't hit one (from that far) in pregame, so it was weighing the yardage and whatnot...
"It took forever, first off, because of the TV timeout. It seemed like a year. Going up there, all I remember is hitting the ball. I don't remember much after that. T.J. (O'Leary) had a great snap, Jake had a great hold. They get a lot of the credit too.
"I don't remember watching it go through at all. I was pretty sure I made it. I hit the ball really well."
--Nebraska kicker Alex Henery
***********************************
"It was crazy. You have a bunch of things running through your head. Roy (Helu Jr.) had a great run down to the 25-yard line. I was thinking we were going to punch it in, and then they get a sack and punch us out of field-goal range.
"Obviously, they didn't push us far enough, thanks to Alex. He came with a clutch field goal to put us up by two points. On defense, all we had to do is shut them down, get after them and allow no long passes from that quarterback and that's what we did."
--Nebraska defensive tackle Ndamukong Suh
16 for '16 archive