16 for '16: Big Red invasion takes over Notre Dame Stadium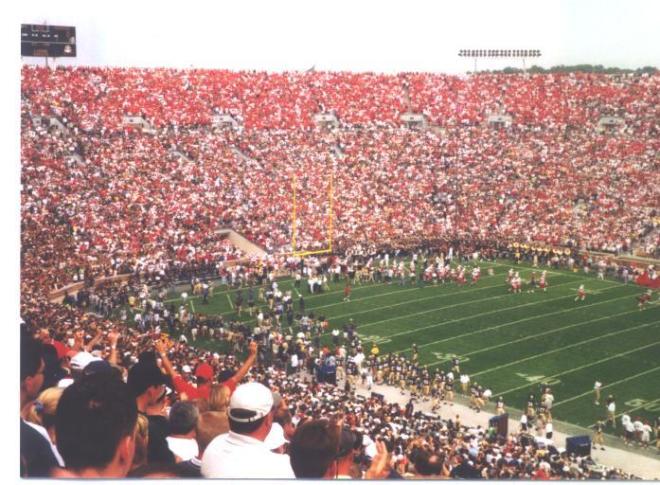 From 1949 to 2000 Nebraska and Notre Dame only played one time. Before that NU and ND met on an annual basis for 11 straight years from 1915 to 1925 and also played in 1947 and 1948, along with the 1973 Orange Bowl.
When the two historic programs agreed to play a home at home series in 2000-01, NU's trip to South Bend in 2000 was arguably the most anticipated road game in school history.
Husker fans from Nebraska and all over the country wanted to be in South Bend that Saturday afternoon to watch their team run out of the historic Notre Dame tunnel.
The University received 28,000 requests through the ticket office for the school's 4,000 seat ticket allotment. In comparison, NU received around 20,000 ticket requests for the Huskers first ever Big Ten game at Wisconsin in 2011 for their allotted 3,000 seats.
Notre Dame head coach Bob Davie was worried going into the game of a possible Big Red takeover in South Bend, and even warned fans not to sell their tickets.
Apparently they didn't listen, as the Omaha World Herald estimated 25,000 Nebraska fans made up the crowd of 80,232 that day in Notre Dame Stadium.
How it went down
With ESPN's College Game Day in the house, No. 1 ranked Nebraska was able to hold on for a 27-24 overtime victory at No. 25 ranked Notre Dame.
The Huskers jumped out to a 21-7 lead over the Irish, but then allowed a kickoff return and a punt return for a touchdown that allowed Notre Dame to send game into overtime despite being out-yarded 377 to 224.
The Irish kicked a field goal on their first overtime possession to take a 24-21, but Husker quarterback Eric Crouch would score a 7-yard TD on the Huskers next possession to give NU a 27-24 walk-off victory.
The game itself was really overshadowed by Nebraska's fan base, as to this day no opposing team has overtaken Notre Dame Stadium like the Huskers did that Saturday in South Bend.
"This will be remembered as the Saturday when the only green that mattered to many Notre Dame ticket-holders was the color of money," wrote Skip Bayless in the Chicago Tribune. "On Sept. 9, 2000, a priceless tradition finally had a price — up to 500 bucks a ticket."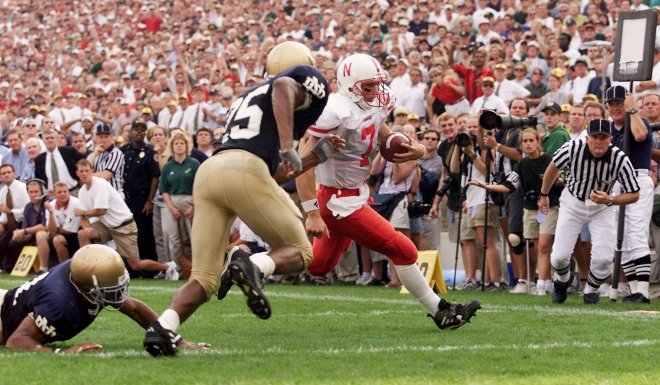 Star of the game: Eric Crouch
The future Heisman Trophy winner carried Nebraska on his back, scoring three of the Huskers four touchdowns, including the game-winner in overtime.
Crouch finished with 16 carries for 80 yards to go along with 103 yards of passing offense.
Statistically it wasn't his best game, but he made plays that counted and helped the Huskers win ugly. It was a day where Nebraska clearly wasn't at their best, but still found a way to win.
In their words
"The last time there were more outsiders at Notre Dame was the first day of freshman orientation. There were estimates that 20,000-30,000 Nebraska fans had wedged their way into the 80,000-seat stadium despite the school getting only 4,000 tickets from Notre Dame."
--Dennis Dodd, CBS Sportsline
***********************************
"It looked like they stole tickets or beat people up outside to get in. There was way more people than I anticipated being here."
--Nebraska Quarterback Eric Crouch
***********************************
"When I was on the field before the game I wish I was color blind. Disappointing, very disappointing."
--Notre Dame Athletic Director Kevin White
16 for '16 archive